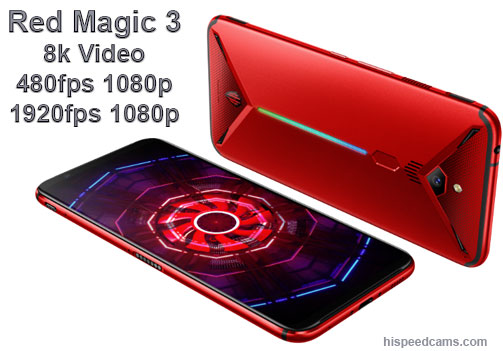 The Nubia Red Magic 3 phone is something of a hyper-customized piece of gear for the performance-oriented gamer with crazy high-quality 3D specs and even fan cooling inside the case which is a first for a phone and a testament to the engineering to get it to fit in such a slim case.  The specs that really caught our attention are that the phone does 8k video recording and 480fps 1080p with a beta mode to bring that all the way up to 1920fps.
We had no indication that the 1920fps mode is indeed real for a few days until we found out it is actually an option on the phone and not a typo which many including us thought up as 1920pixels for 1080p not frames. But yes it is frames which makes it confusing but in our estimation also allows for decoding the truth behind this spec and if it is actually all that it claims to be.
Nubia Red Magic 3 Camera Specs: 
Software Settings
Exposure compensation
Camera Features
Digital Zoom, Auto Flash, Face detection, Touch to focus
Image Resolution
8000 x 6000 Pixels

48 MP, f/1.7, 26mm (wide)

Sensor
Exmor-RS CMOS Sensor IMX 586
Autofocus
Yes
Shooting Modes
Continuous Shooting, High Dynamic Range mode (HDR)
Resolution
16 MP Front Camera
Physical Aperture
F2.0
Flash
Yes Dual LED Flash
Video Recording:
4320p 8k – 30fps
2160p 4k 30fps & 60fps
Slow Motion 480fps Full HD and 1920fps Full HD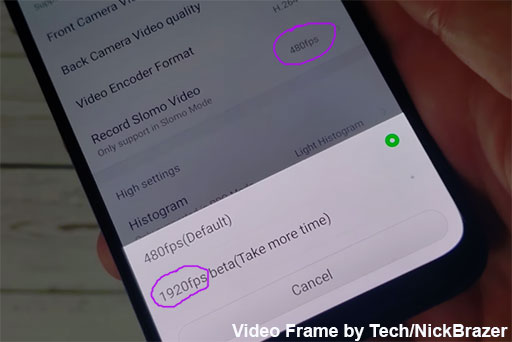 Looking at the specs it seems the phone can do no wrong but the first clue in discovering the truth about frame rates comes from the IMX 586 sensor that the phone uses.
Sony IMX 586 Frame Rate Specs:
Frame rate
Full
30fps
Movie

4K(4096×2160)

90fps

1080p

240fps

720p

480fps(w/crop)
The 48 Megapixel IMX 586 is a marvel of sensor design by allowing a 4k capture at 90fps but there is a limit as to the power of their stacked design. It can only deliver 480fps 720p video in a severe crop of the sensor area which shows just how misleading the 1920fps spec. You can see the full Sony IMX 586 specs here!
The phone is upconverting the 480fps 720p to 1080p which is also a misleading spec then it is in our estimation doing interpolation or just slowing down the playback by 4x to give exactly 1920ps. 480fps * 4 = 1920fps.  It is not uncommon for Chinese phones to tout crazy specs and that is why you have to take them with a big grain of salt since the beginning.  Reviewers that have the phone from China as an import also have the trouble of having nearly no Google Play store app support so it is a dicey proposition until Google approves it as a supported device.
The video below by Tech/NickBrazer shows the frame rate interface on the Red Magic 3!
Nubia Red Magic 3 Unboxing & Initial Review – The Everything Smartphone by Tech/NickBrazer:
The phone could, in theory, do the 90fps 4k feature of the IMX 586 some justice but the current 60p at that frame size is probably the limit of the frame buffer. However, being able to shoot 8k means that it should easily pump that many frames to a file. There is also the horrible rolling shutter performance when shooting 8k, any slight motion creates a wobble effect that ruins the 8k video feature.  You are much better of recording in 4k and getting usable video.
The Video below claims to be a real sample from the 1920fps feature of the Red Magic 3.  It looks like 480fps slowed down by 4x which would make sense but we are unable to authenticate the veracity of the footage.
Nubia Red Magic Mars 3 1920FPS Super Slow motion and 8k Support by Sparrows News: 
The Red Magic 3 should also shoot 1080p 240fps as the sensor supports it and it is almost a given this day and age of fast flagship smartphones.
We are disappointed by the marketing this phone shipped with. The Beta features seem to be cooked up in the marketing department and not the engineering area of the company.   It would be a good thing if phones showed a disclaimer of how they get to such frame rates aside from the spec like i.e. 1920fps (*Interpolated from 720p 480) .  But we are probably not getting there soon as smartphone makers aim to one-up each other.
As far as slow motion phones go we still have to see what the OnePlus 7 will bring later this month and we already saw how good the Galaxy S10 can be when recording it at 960fps for up to 8 seconds playback at 30p.  We will keep you informed and include samples of the Red Magic 3 and other phones when available. -HSC
(Visited 1,719 times, 1 visits today)