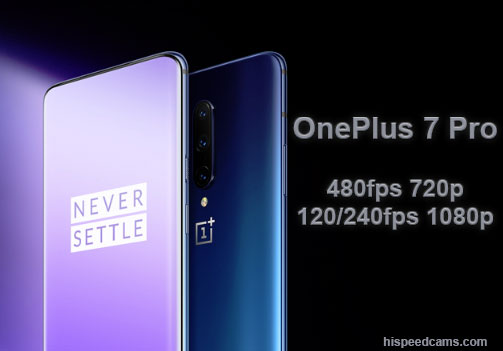 Today the OnePlus 7 Pro was announced after a plethora of leaks over the previous weeks. However, the Slow Motion capabilities were not disclosed in the leaks so we had no rumor to report on that front. Today with the full spec list released we can see that the OnePlus 7 Pro camera has the new Sony IMX 586 mobile sensor which is the same as many other phones recently released included as their main shooter. The 48MP sensor is used to supersample data and allow for better optical crop zoom and noise reduction by averaging neighboring pixels as some of its capabilities.
The problem is that the 48MP sensor is terrible in the rolling shutter department the larger the sensor area is used. We saw that in the Nubia Red Magic 3 and it's 8k 30p video mode which was unusable at the first sign of movement. That means that 1080 and 720p video modes will have a very severe crop on the sensor and probably much worse low light performance than that found on Last Year's OnePlus 6 and 6T which allowed for also 720p 480fps for up to 3.75 seconds of recording.
OnePlus 7 Pro Rear cameras – Main Specs:
Sensor: Sony IMX586
Megapixels: 48
Pixel Size: 0.8 µm/48M; 1.6 µm (4 in 1)/12M
Lens Quantity: 7P
OIS: Yes
EIS: Yes
Aperture: f/1.6
Telephoto Lens
Megapixels: 8
Pixel Size: 1.0µm
OIS: Yes
Aperture: f/2.4
Ultra Wide Angle Lens
Megapixels: 16
Aperture: f/2.2
Field of View: 117°
Flash
Dual LED Flash
Optical Zoom
3×
Autofocus
Multi Autofocus (PDAF+LAF+CAF)
Video
4K video at 30/60 fps
1080P video at 30/60 fps
Time-Lapse
Video Editor
OnePlus 7 Pro Slow Motion:
1080p video at 240 fps
720p video at 480 fps
4k 60p
Features
UltraShot, Nightscape, Studio Lighting, Portrait, Pro Mode, Panorama, HDR, AI Scene Detection, RAW Image
Huge Specs But Compromises exist:
The OnePlus 7 Pro specs for a starting price of $669 USD make it a no brainer for the cost-conscious phone enthusiast which looks for ultimate performance and design without breaking the bank. With competitors like the Galaxy S10 by Samsung being a 1000USD+ for similar screen size there is really no justification for not considering the OnePlus 7 Pro as your top choice.  WItha 90hz refresh rate OLED screen which is the first of its kind in the phone space and no notch or punch hole for the front camera due to a servo protruding selfie camera, it is a nearly all screen phone with excellent performance all around with the combination of the Snapdragon 855, up to 12GB of RAM and the speedy Oxygen Android-based OS.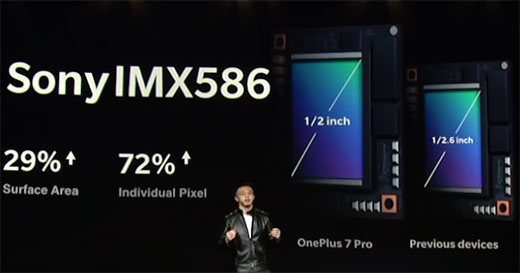 The compromises to the sensor slow motion are apparent due to the limitations of the IMX 586 sensor with 48MP in a 1/2″ area.  It is a stills sensor optimized system with a cropped 1080p and 720p mode which uses 1 µm pixels which are very crowded and will probably have a hard time in low light situations.  The Sensor on the 6T and 6 was the Sony IMX 519 with 16 Megapixels and a Pixel Size of 1.22 µm which is still small compared to larger APS C cameras by a factor of 6 but that sensor was smaller than the one on the 7 Pro by 29%.  That 16MP sensor allowed 480fps 720p as-well with a 3.75 second recording time.  Now on the OnePlus 7 pro we keep the same frame rate specs but will have a very severe crop of the sensor center to 720p for 480fps and a little less so for 1080p 120 or 240fps.
The video camera supports 4K video @ 60 fps and slow motion using the main camera. Those features are not available on the telephoto or ultra wide angle cameras except for the 4k on the Tele mode (Slow Motion is only in the 48MP main camera). Oddly enough OnePlus 7 Pro isn't able to shoot videos using its ultra wide-angle lens camera module at all.
OnePlus 7 Pro vs Galaxy S10 Plus Comparison with Camera Test! by Danny Winget:
We estimate that the slow motion mode will remain the same as in the OnePlus 6 and 6T with similar duration. Neither OnePlus in their specs, keynote or early reviews mention the length of slow motion capture. Last year the high speed was a prominent feature on the marketing materials and this year as was with the Samsung phones it is just a spec bullet point.  2019 seems to be a year where high frame rates on phones are not a main feature but an also-have advantage.
Should I get it now?
The OnePlus 6 and 6T were one of the best phone lines for slow motion in 2018 with 480fps recording for 3.75 seconds which even with the lower resolution and line skipping, allowed a much better capture experience with the time limitations greatly reduced compared to the competition.  OnePlus is not showing the full slow motion specs aside from the resolution and frame rate. We estimate they will at least keep the 3.75 second recording time with a possibility of extending that due to the faster internal memory and faster thruput.
We believe you should wait to pre-order until video samples are released showing a comparison in the slow motion spec between this phone and the older OnePlus 6 line as with the competition phones which will be the Galaxy S10 and Sony Xperia 1.  If Slow motion is not your main focus and want to take a chance, the OnePlus 7 Pro seems to be the best value for money phone today when it comes to power and affordability.  For a starting price of $669 compared to other starting at $899 for similar specs it is a very good deal all around. You get incredible 90hz screen refresh and a new more fluid touch experience not available on 60hz phones.  We expect most newer phones to start shipping with these higher refresh rate screens in the near future. Apple should in our opinion go with such a solution on this year's iPhone refresh.
There will be a OnePlus 7 non-pro phone released this year with the 6T body design but expect to wait a few months. It will probably retain the 48MP shooter and the same slow motion specs for much less money.
OnePlus has made the best phone they have ever built with the 7 Pro and while the price is higher we can't help but marvel at how many features they were able to cram in this restrictive price range. We are sure they have a winner on their hands.   We will have slow motion video samples and compare its resolution to other phones when they become available. We still would have liked to see a headphone 3.5mm jack on this phone but you really can't get it all can you?  -HSC
(Visited 5,461 times, 1 visits today)