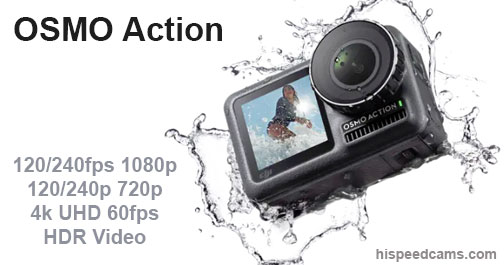 The Introduction of the DJI OSMO Action camera marks what many called the ultimate silver bullet to counter the GoPro Hero camera line. It is an evolutionary step that takes most of what made the GoPro Hero Black series amazing and even goes further by improving in areas where GoPro has fallen behind. The Stabilizer seems better as is the addition of a secondary selfie screen in order to frame yourself while recording.
It gets the usual frame rates of 120fps & 240fps 1080p full HD and the 4k 60fps spec. None of these are revolutionary or groundbreaking which means this is a version 1 product for DJI.  Phones, for example, are already in the 960fps and 1000fps spec even when they are limited to fractions of a second. A Camera like the OSMO Action could have gotten a bit of this slow motion prowess and differentiate from GoPro even further but not this time around.  We have a few samples of the higher frame rates for you too look at and see if it makes sense to acquire this camera instead of other options.
OSMO Action Frame Rate Support List:
Video Rec
4K (16:9) – 60, 50, 48, 30, 25, 24fps
4K (4:3) – 30, 25, 24fps
2.7K (4:3) – 30, 25, 24fps
2.7K (16:9) – 60, 50, 48, 30, 25, 24fps
1080p – 240, 200, 120, 100, 60, 50, 48, 30, 25, 24fps
720p – 240, 200fps
Slow Motion
720p 120, 240fps
Speed: 4/8
1080p 120, 240fps
Speed: 4/8
HDR Video
4K – 30, 25, 24fps
2.7K – 30, 25, 24fps
1080p – 30, 25, 24fps
OSMO Action Demo Video:
The OSMO Action is only as good as it needs to be in order to further slice the pie for GoPro and other competing action cameras. With more features that capture the selfie and Vlogger market, it could really replace GoPro for most users. We, however, think that GoPro will not be standing still and will at some point not only catch up to the OSMO Action's new features but introduce some even higher specs in order to remain relevant.
For $349 USD the OSMO Action it is at least $100 USD cheaper than the best GoPro Hero 7 Black was at launch which leverages the Chinese manufacturing advantage to undercut GoPro's US operations which carry a higher cost of research and assembly.  For most everyone, this difference in price is big enough to justify going all in with DJI gear instead of fiddling with other action cameras. Gopro Hero 7 Black is now $349 in order to compete with the OSMO.
In this excellent comparison video review, of the OSMO Action vs the Hero 7 Black by TEAMSUPERTRAMP you can clearly see that DJI's Rock Steady beats the GoPro Hypersmooth by some margin plus it is also working on 4k 60p which the GoPro cannot do with their ultra-smooth mode. The DJI camera is actually more advanced as a gimbal replacement.
The dynamic range on both cameras is comparable but the OSMO Action is a tad sharper and less wide which may please some users. The Slow motion modes also look cleaner on the OSMO compared to the Hero 7 Black but not by a wide enough margin to justify one over the other. The GoPro tends to flicker more and has a UV blue tint on white surfaces which the OSMO Action seems to counteract by what we think is a treated UV element on the lens system which is also a great feature.
All Manual Control (Action First):
Yes the OSMO Action has a full manual control mode of shutter speed, ISO, and exposure mode which allow you to stop the camera guessing the correct exposure like abrupt indoor/outdoor transitions and from underwater to above water.  This is in our view one of the most important features of the camera and something we would like to see in GoPro cameras from now on. Manual exposure in Slow Motion is also a must to avoid motion blur as much as possible and get sharper footage.  DJI did a great thing by including this feature.
DJI Osmo Action Camera Slow Motion Initial Samples:
DJI Osmo Action Camera Sample — Slow Motion at 1080p/240 fps by Reviewscom:
DJI Osmo Action TEST – Su manubrio – FHD 240fps con registrazione 30p – RockSteady e Dewarp OFF by Hardware Upgrade:
DJI Osmo Action hands-on: Waterproof and slow motion test! by Abacus News:
Osmo Action vs. GoPro 7 by TEAMSUPERTRAMP: (Excellent Review MUST WATCH) Slow Motion at 4:30 mark.
「Osmo Action」1080p 240fps by Engadget Japanese:
Once you have looked at the samples it is easy to see that in Slow Motion the GoPro Hero 7 Black is a pretty close match to the OSMO Action. No camera can easily take the crown here but the OSMO has that manual control which is very important for serious capture work. DJI has been innovating in the camera space for many years now by stepping out of their Drone hegemony comfort zone and getting in a direct fight with established camera makers. The OSMO Action as was the OSMO pocket all are unique in that they offer features never before seen in these form factors.
As it stands right now, it is easy to recommend the OSMO Action above the GoPro Hero 7 Black for most users. It offers so many new features and the image quality necessary to be a serious capture device with the same price tag of the Hero 7. It is really the Action camera of the year so far. If GoPro can release a Hero 8 Black with killer new features that may change but we are hard pressed to see this happen in a way that will work for the cost conscious consumer. If 480fps or 960fps makes its way into the Hero camera than they will have our vote, especially if they do it well but somehow we believe this year is for DJI to take home the Action camera trophy.
We will have more slow motion samples of the OSMO Action Camera as they become Available.  -HSC
(Visited 964 times, 1 visits today)