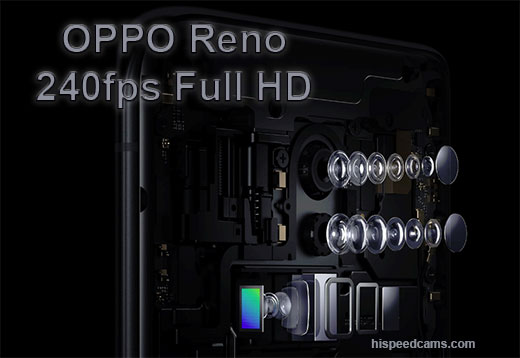 The OPPO Reno 10x is getting a lot of attention due to the inclusion of a supposed 10x optical telescoping lens which uses a prism and a series of stabilized lens elements to create the first built in telephoto option on a camera phone.  In testing, this turns out to be about a real 5x optical lens with very clever processing to generate even higher software magnification.  However, you will be sad to know that the 10X version of the phone does not shoot Super Slow Motion.
The Regular OPPO Reno which is cheaper and lacks the 10X camera does shoot up to 1080p 240fps which is not class leading and there are as of this time no samples to speak of. We believe this phone uses slow motion as an after-thought spec and focuses more on the stills and 4k 60p video mode only on the 10x version which are a higher selling point.  We still believe the OPPO Reno is a worthy phone for anyone wanting cutting edge optics on a phone but not as a slow motion contender.
OPPO Reno Series (Non 10x Zoom) Camera Specs:
Rear Sensor : 48MP & 5MP
Front Sensor : 16MP
Aperture :
Front: 16MP F2.0
Rear: 48MP F1.7 + 5MP F2.4
Features :
Rear 6P camera of 48MP, PDAF;
Front 5P camera of 16MP with beauty function
Camera Mode :
Photo, Video, Expert, Pano, Portrait, Night, Time Lapse, and Slo-Mo
OPPO Reno 10X Camera Specs:
Rear Sensor : 48MP + 8MP + 13MP
Front Sensor : 16MP
Aperture :
Front: 16MP F2.0
Rear: 48MP F1.7 + 8MP F2.2 + 13MP F3.0
Features :
Rear 6P camera of 48MP, PDAF, dual OIS;
Front 5P camera of 16MP with beauty function
Camera Mode :
Photo, Video, Expert, Time-lapse, Pano, Night, and Portrait
Other Features : 10x telephoto
When we dig deeper in the camera spec differences
we see that the regular
OPPO Reno
has a 5MP rear sensor for the standard non-high megapixel camera and the Reno 10x has an 8MP sensor in the same spot.  We estimate that the 5MP sensor has a higher possible frame rate than the 8MP which means that the 240fps mode being only included in the regular Reno and not the 10X is a function of which sensor is used as the standard camera.
As we saw on
the Galaxy S10 phone
, the slow motion feature is only available in the standard focal length 12mp camera and absent in the telephoto and or wide angle cameras.  Which means not every sensor is the same and the high speed memory access needed is only on the standard imager on that phone. It is why if you need to set up a shot for slow motion you have to stop thinking about the other two cameras.
The
OPPO Reno
has a similar compromise but even phone wise. If you need slow motion you need to only get the
Reno
(Non 10X version) for 240p and that is still not competitive with Samsung, OnePlus or Sony phones on the high frame rate feature.
Oppo Reno 10x Zoom Hands On: Peek-a-boo by Pocketnow:
OPPO Reno Slow Motion More High Frame Rate Innovation needed:
The trend so far in phones that shoot slow motion makes it hard to be optimistic in 2019 about what we will see when we look for the feature in new phones. All these new multi-sensor/Multi-Lens cameras have trade-offs which are dependant on their intended focal lengths. The fact that the slow motion feature is absent from the zoom and wide lenses means that the high frame rate trend might be put to the wayside in future phones as a gimmick.
If sensors and lens systems evolve to use a unified sensor with interchangeable internal lens elements we have a better chance of having the slow motion feature be consistent in camera selection. We, however, do not see this happening anytime soon.   How cool would it be to have a 10x zoom or super wide slow motion phone feature?  We will have to wait a long time to see this unless manufacturers take the feature as seriously as they did in 2017 and 2018.  We have some hope from Apple and OnePlus that their solutions could include slow motion in more than one sensor.
Oppo Reno vs 5G vs 10x Zoom | Series comparison by Tech Spurt:
Oppo made an interesting phone in the Reno and their swing out selfie camera frees the screen from notches and punch holes which is very nice. Of course, weather sealing will suffer from this. The 10X lens is innovative and a first of many to come for making the phone the all in one camera solution we have been expecting.
Some experts say that in 10 years time we will have indistinguishable quality from large sensor dedicated cameras and phones in most circumstances. The Google Pixel 2 and 3 with their computational photography power shows us what is possible. However large cameras will also have to evolve to incorporate that technology. One thing is for sure, that camera in your phone will probably capture more of your life and vision than that large and bulky professional solution you hardly carry day to day.  -HSC 
(Visited 2,840 times, 1 visits today)