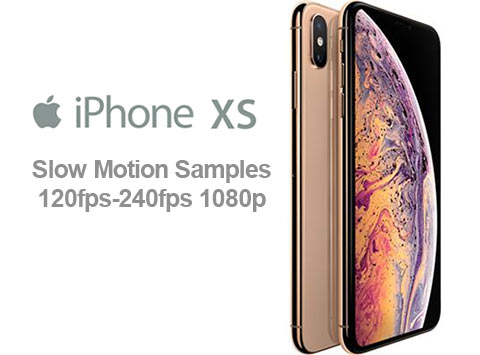 After a few weeks of iPhone XS ownership, we can already gage the quality of the video coming out of the device in 1080p slow motion mode. We have a dozen samples for you too look at and make a decision. It is, however, a bittersweet realization that last year's iPhone X is pretty much just as good as the XS in slow motion with just a tiny difference in per-pixel quality and dynamic range.
If you own an iPhone 8, X or Samsung Galaxy S8 or S9, for example, the slow motion feature on the iPhone XS should not be a factor in your decision to upgrade. The new XS has the best 4k video the iPhone has ever produced and the image stabilization is also much improved. The XS camera shoots pretty amazing still images and regular frame rate video but it is competitive with the best out there. The phone still is the best 240p 1080 mobile device today, see why below.
iPhone XS Slow Motion Samples:
iPhone XS Ducks SlowMo 2 FullHD by e PHOTOzine:
Trafalgar Square Fountain in Slow Motion 1080p@240fps by Johnny Chan:
Reverse Slo-Mo (iPhone xs max) by DECAY 80: Daily Tech News TV
Prova Slom Motion iPhone Xs Max
iPhone XS SloMo Cute Puppies at 1080P 240 FPS by awesomesid:
iPhone Xs Max: camera demo (slow-motion, 1080p, 240 fps) by SMARTmania.cz – nahraná videa:
iPhone XS Slow Motion test – Skateboarding by Joey Phillips:
Phone  XS max slow motion by Yucel Guldali:
iPhone XS Max 1080p 240fps slow motion test by Sy Doveton:
iPhone XS Max Slow Motion Camera Test by Phone Battles:
Amazing low light slow Motion iPhone XS Max footage by Tech Fest:
What about iPhone XS quality vs Samsung?
In the amazing video by Max of AppleInsider below you can see a direct comparison of the slow motion modes starting at minute 3:00!
iPhone XS Max vs Note 9 Video Quality Comparison! by AppleInsider:
It is clear the iPhone XS is the superior 240fps slow motion phone of 2018 but it lacks any frame rates in the 480 and 960fps modes that other offer. The quality of the iPhone XS at 240p 1080 is also really not that impressive compared to even a 720p quality image from a dedicated video camera or mirrorless system body.  The image is full of aliasing, moire and detail loss. Compression is harsh as is the line loss at that mode.  We would rate the iPhone XS 1080 240fps mode at 85% 720p resolution which is really not going to get you images good enough for broadcast.
The Samsung 960fps and the OnePlus 6 480fps modes are also lossy in detail and quality so it is great for analyzing motion but hardly even web quality you can depend on. We still have a long way to go before phones match dedicated cameras that can shoot higher frame rates. We really recommend you see our Camera Guide for the picks that are really worthy of your dollars in the camera world when it comes to slow motion performance over price.
(Visited 1,146 times, 1 visits today)