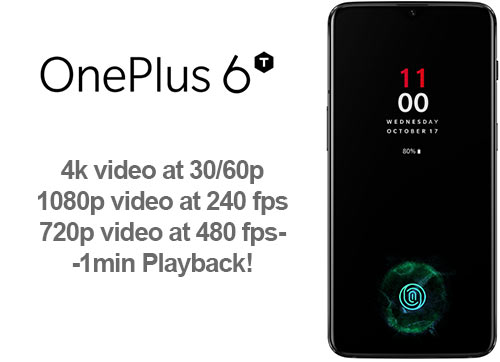 It seems that phones have been coming out every couple of days this year and OnePlus with a still nearly brand new and fully relevant flagship on the OnePlus 6 is now releasing the updated OnePlus 6T which has a slightly larger screen, smaller notch, a few photo features and an in-glass fingerprint reader which may be reason enough to get one as it may cause friend envy.
The video modes remain as good as the OnePlus 6 which uses the same exact camera configuration in hardware but with some software tweaks to photo modes for better people, food and text capture.   The Slow motion component is kept the same as well with 1080p 240fps and 720p at 480fps with a one minute or 60 seconds playback at regular 30p speed from the 480p initial capture.  That translates to 1800 frames captured or 3.75 sec at full speed.
OnePlus 6T Camera Specs:
Rear Camera – Main
Sensor: Sony IMX 519
Megapixels: 16
Pixel Size: 1.22 µm
OIS: Yes
EIS: Yes
Autofocus: PDAF
Aperture: f/1.7
Rear Camera - Secondary
Sensor: Sony IMX 376K
Megapixels: 20
Pixel Size: 1.0 µm
Autofocus: PDAF
Aperture: f/1.7
Flash
Dual LED Flash
Video Modes:
4K resolution video at 30/60 fps
1080P resolution video at 30/60 fps
720P resolution video at 30 fps
Super Slow Motion:
1080p video at 240 fps
720p video at 480 fps for 3.75sec-1min playback at 30p.
Features
AI Scene Detection, Portrait Mode, Pro Mode, Night Mode, Panorama, Time-Lapse, HDR, HQ, Studio Lighting, RAW Image
OnePlus 6T – Tap into the future by OnePlus:
OnePlus 6T – Unlock The Speed by OnePlus:
Big changes compared to the OnePlus 6:
New Improved Photo Modes for People, Food, Text and Night Mode!
3,700mAh vs 3,300mAh in the Regular 6!
 6.41-inch 1080 x 2340 AMOLED display vs 6.28-inch
Improved 86% screen-to-body ratio (up from 83.8% OnePlus 6)
On-Screen Below Glass Fingerprint Unlock
Gorilla Glass 6 vs OnePlus 6 Gorilla Glass 5
Smart Boost Faster App Response
No Headphone Jack! 🙁  Regular 6 still has one!
128GB 6T Starting Memory vs 64 on the 6!
For about a $20USD difference we would have to say the 6T is the clear winner here as you get a more capable better-looking phone with in-screen fingerprint reader. If you already have the OnePlus 6 then the 6T is not really a big enough upgrade. What is clear is that OnePlus is not resting on its laurels and is releasing some of the best phones in the market today with cutting-edge features at a price that is nearly half of the Apple or Samsung flagships. There are some that will not touch these phones due to Oxygen OS and the Chinese spy craze but for most regular users that are not in critical jobs, these phones offer some of the best value and performance around.
OnePlus 6T Review: New Design, Same Price! by Marques Brownlee:
OnePlus 6T  Slow Motion Component:
240fps 1080p and 60fps 4k:
OnePlus 6T Camera 4K 60fps Video and Slow Motion Test! by Danny Winget:
OnePlus 6 Slow Motion Video 480fps by Fun4sure: (Same Quality as 6T)
As you can see the OnePlus 6T which shares the same camera module and software as the regular OnePlus 6 is no slouch when it comes to slow motion capture. The 480fps mode is 3.75 seconds rec time which eclipses all other phones before it which max out at 0.4sec rec times in a higher 960fps but very unfriendly time frame.
In fact, the OnePlus 6 and 6T are in our view the best value slow motion phones out there in price/performance. At under $600 both phones are cheaper than other alternatives except the Sony XZ2 which does 1080p 960fps for 0.1sec which is ridiculously limiting. We would take the 480fps 3.75sec rec time any day over the 960fps mode on other phones because it is really usable. It may also be the golf swing portable recorder you have been dreaming about for quite some time.
Looking at where OnePlus is going it seems they may be on their way to 960fps for their next product and hopefully bring 1080p 480fps forward with a  720p 960fps mode to boot. At usable recording lengths, this phone so far in our view is unbeatable for the price and performance and have no issue in recommending it.  If you already own a OnePlus 6, the 6T will not improve your slow motion but if you are on the market for a relatively affordable flagship phone then the OnePlus 6T with its awesome video modes is hard to beat in 2018. -HSC
(Visited 1,421 times, 1 visits today)