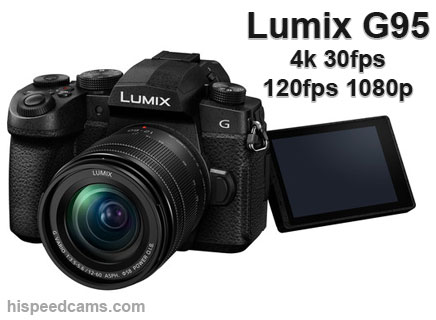 Let us start by saying that we are huge fans of the Lumix line by Panasonic and their cameras in general. The GH5 is still a powerhouse of a camera for serious video work and the 180fps FUll HD slow motion is better than many others before or since at that frame rate while at 120fps is as good as the best Sonys out there.  However, the recently announced Lumix G95 drops the ball in several fronts when it comes to really good video performance which has become a trademark for Panasonic.
The G95 has all the looks and character of a great hybrid camera but has a crippled video mode that may put off many buyers looking for the perfect intermediate camera. The 4k, for example, has a 1.25x crop on top of the nearly 2x crop of the micro 4/3 sensor. Making it a little larger than the area of a 1″ sensor. This will sacrifice video quality in the lack of supersampling and low light will suffer from the added megapixels.
Lumix G95 Main Features:
20.3MP Digital Live MOS Sensor
Venus Engine Image Processor
UHD 4K30p Video, Pre-Installed V-Log L
5-Axis Sensor Stabilization; Dual I.S. 2
120fps, 90fps and 60fps Slow Motion in 1080p*
0.74x 2.36m-Dot OLED Viewfinder
3.0″ 1.24m-Dot Free-Angle Touchscreen
Advanced DFD AF System; 4K PHOTO
ISO 25600 and 9 fps Continuous Shooting
Bluetooth LE and Wi-Fi Connectivity
Lumix G Vario 12-60mm f/3.5-5.6 Lens
So the G95 camera has the latest Dual IS 5 axis IBIS stabilization including IS Lock which was on the GH5 and is a near tripod like substitute on the go.  It has a mic jack and headphone jack but all of those great video features including the V-Log L bundled in have little to do with recommending this camera.
The 1.25x crop in 4k is massive as it is added to the already smaller Micro 4/3rds sensor compared to a 35mm full frame camera. It becomes an exercise in frustration to use wide angles here. Sure telephoto and macro video will benefit but you have to deal with cramped pixels and much more noise in low light.
1080p has no crop but the slow motion mode at 120p, 90p and 60p have a lack of manual controls. That means that setting a shutter speed and aperture combination is left to the camera with only exposure compensation available as a setting to aid the shot.  As you know slow motion requires precise control of the shutter speed to be able to avoid motion blur and get a crisp subject.  In a sunny day with bright objects, you might give the camera a pass but anything else and you are leaving the creativity behind and entering the decision making of the software which will surely get it wrong more often than not. That is why the slow motion mode cannot be counted for serious users.
Same fail of

 

DfD Auto Focus, Why?
The GH5, G9 and GH5s all suffer from the use of the Depth from DeFocus AF system from Panasonic. Works amazingly well in still images but it is horrendous in video mode especially when you want to keep a subject in focus and not hunt around the background or foreground. It is always stuttering and breathing in and out of focus even in situations that should be extremely easy.  Panasonic needs to grow up and accept that this AF mode is a keeper for stills at best and a total failure for continuous video AF.  Phase detection with dual pixel AF on the sensor is a proven technology that works wonders for video mode and photo mode. It is time to bring a camera in the Lumix line that uses that tech and eliminates DfD for video.  Competition is only improving on an already great system while the stubbornness of the Panasonic team is only frustrating owners with sub-par video AF performance.
Panasonic, its time to do the right thing and offer Dual Pixel AF in video mode!
The video below by Richard Wong who has been a Lumix AF tester for a couple of years now shows the problem with the DfD system in the G95.  His perseverance is admirable but Panasonic needs to accept defeat here unless they crack real smart AI for a camera AF system.
Panasonic Lumix G90 | G91 | G95 Face Tracking Video Continuous Autofocus Test by Richard Wong:
Lumix G95 Slow Motion Quality:
One good thing about the G95 is that the 1080p video quality is very good and that translates to the slow motion HFR mode as well.
With Lumix G95 Slow Motion we have performance very close to the GH5 and G9 in Full HD which means there is excellent supersampling to 1080p and 90p and 60p on this camera. The detail and overall sharpness is very good at higher frame rates.  You also have to know that you are not getting 4k 60p which is available on the GH5 and G9.
Panasonic G95 slow motion at 120fps by Panasonic Lumix Québec:
The video above shows the 120fps mode on the G95 and it is comparable to other Lumix cameras we recommend. Too bad it does not allow manual adjustments aside from exposure compensation.
G95 Price Vs Other options:
The camera retails for $1,197.99 with estimated release May 31st, 2019 and includes a 12-60mm kit lens which is exactly the same price of the now reduced price G9 which retailed for $1,699 when released last year; which is a superb stills camera and a wonderful video option if you don't need the prowess of the 10-bit video features on the GH series or a slowish 12-60mm f3.5-5.6 kit lens. The Lumix GH5 retails for $1,497.99 now from it's original $2,000 USD MSRP. If you can add $300 to your purchase option you can own that camera instead which is a much better option than the G95 aside from a slightly less stable IS mode.
For us, there is really no possible recommendation for the G95 as a video camera when there are so many options on the market in this price range. Even Sony RX cameras and the Lower class APS-C Alphas have a better video mode with dual pixel AF tracking that really works.
Panasonic dropped the ball in video mode on the G95 and charged way too much for it, maybe that is why they added a kit lens to soften the deal. At less than $1,000 you could make a case for it of $899 for a body only kit would make sense.  For $1,198 you really can do much better out there.
We leave you with a great slow motion video made on the Lumix GH5 at 180fps full HD and 4k at 60p. A camera we can easily recommend for serious video production along with its slow motion mode.
PANASONIC GH5 SLOWMOTION TESTS (HD 180fps + 4K60fps) by Roms Prod:
As for the Lumix G95 just move along, nothing to see here, aside from stills and regular video frame rates at 1080p-HSC
(Visited 1,948 times, 1 visits today)