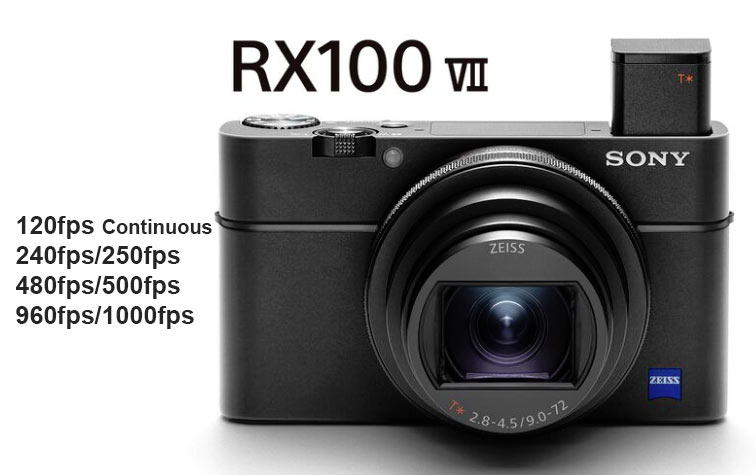 The Sony RX100 VII or also known as the RX100M7 is the latest in the stacked 1″ CMOS sensor line from the company in what amounts to another evolutionary incremental step without a real revolution.  New is the impressive real-time AF technology from the Sony a9 professional camera now miniaturized into this pocketable beast with up to 20fps at full resolution and up to 90fps in high burst mode but for only 7 shots which is kind of a letdown as it is very limited.
The HFR mode in previous RX series cameras have been one of our favorites among the cameras released in the past few years by including truly usable 240p, 480/500p, and 960/1000p depending on NTSC or PAL mode selection with also the ability to trigger a pre and post record time to not miss the moment. This ability is akin to what a real dedicated serious slow motion camera can deliver. The problem is that the RX cameras are severely time-limited at 4 seconds quality priority time and or 7 seconds in shoot time priority.
Sony RX100 VII Main Features:
ZEISS Vario-Sonnar T* 24-200mm1 F2.8 – F4.5 high magnification zoom lens  8x Optical Zoom!
World's fastest (0.02sec) AF, 357-point phase detection and 425-point contrast-detection
Up to 20 fps Blackout-free Shooting, using up to 60 times/sec.5 AF/AE calculations
Single Burst Shooting captures 7 shots at up to 30/60/90 fps in JPEG/RAW
AI-based Real-time Tracking for stills and movies,and Touch Tracking
Real-time Eye AF for human (stills and movies), and for animal (stills only)
Newly developed 20.1MP10 1″ Exmor RS stacked BSI CMOS sensor with DRAM (Better AF, Not Better HFR)
4K movie with direct pixel readout, no pixel binning, HLG instant HDR; Interval Shooting
Microphone Jack!
Flippy Screen with Vlog 90 degree function.
HFR Mode with up to 1000fps Slow Motion Video Capture!
HFR Mode Details:
Quality Priority (Same as Older RX100 VI from 2018):
4 seconds expected (Not Confirmed)
240fps/250fps (1824×1026) – Near full 1080p
480fps/500fps (1824×616)
960fps/1000fps (1244×420) 
Shoot Time Priority (Same as Older RX100 VI from 2018):
7 seconds expected (Not Confirmed)
240fps/250fps (1824×616)
480fps/500fps (1292×436) 
960fps/1000fps (912×308)
Recording: NTSC/PAL Selector:
[PAL] mode XAVC S HD: 50p 50M(1920×1080/250fps), 50p 50M(1920×1080/500fps), 50p 50M(1920×1080/1000fps)/25p 50M(1920×1080/250fps), 25p 50M(1920×1080/500fps), 25p 50M(1920×1080/1000fps),
[NTSC] mode XAVC S HD:60p 50M(1,920×1,080/240fps), 60p 50M(1,920×1,080/480fps), 60p 50M(1,920×1,080/960fps)/30p 50M(1,920×1,080/240fps), 30p 50M(1,920×1,080/480fps), 30p 50M(1,920×1,080/960fps)/24p 50M(1,920×1,080/240fps), 24p 50M(1,920×1,080/480fps), 24p 50M(1,920×1,080/960fps)
Sensor Readout Number of effective pixels:
Quality Priority:
240fps/250fps(1,824×1,026)
480fps/500fps(1,824×616)
960fps/1000fps(1,244×420)
Shoot Time Priority:
240fps/250fps(1,824×616)
480fps/500fps(1,292×436)
960fps/1000fps(912×308)
Audio recording is not available. A Class 10 or higher SDHC/SDXC memory card is required.
Super slow motion at up to 40x slower speed
The stacked CMOS sensor enables an extra-high frame rate of up to 960fps/1000fps39, so even when shooting at 200 mm20 telephoto it's possible to record impressive close-up, super slow-motion footage40. The frame rate and recording setting can be set independently for slow-motion playback speeds from 1/4 to 1/40th of real-time speed and can be captured using either start or end triggers to record even the most fleeting of moments.
The New along with the Old:
The new in this camera is all about speed and Auto Focus accuracy. Eye AF and Face AF are now the best in the entire Sony camera line and a sign of things to come in other camera platforms.  You can now rest assured the camera will have people and objects in focus while video is recording with an extremely accurate hit-rate with very little second-guessing.
The camera also includes a new Microphone jack that allows along with the 90 degree flip screen to directly Vlog either in horizontal or vertical mode for the web with an external microphone. Suddenly a full 4k HDR camera kit with pro audio can fit in your pocket if you can live with the low battery life of around 1hr recording at best.
The HFR mode which enables high-speed video is as we have shown above remained the same resolution wise but the jury is still out on recording time.  There is no mention in the current crop of specs about the HFR mode and any modification in the allowable rec time. With the new burst modes it seems the camera buffer has been increased which may mean we may get longer quality recording times for slow motion. But judging by the lack of a mention, we believe there will be no changes. The resolution being the same as the two previous cameras the V and VI mean that Sony is not innovating in the HFR mode anymore.  Has slow motion gone to the background for the foreseeable future on camera specs?
The RX100 VII is a marvel of technology and it is by any measure a superb technological milestone. The evolution of these series is still untouched by the competition in features and image quality. The 1″ sensor continues to be the state of the art in pocketable cameras. We may also see an RX100 VII VA version with a shorter zoom range and faster glass which was released last year alongside the RX100 VI to appease low light enthusiasts.
Should I get this instead of the RX100 VI?
Right now the price difference between an RX100 7 and 6 is just $200 USD between the old camera and a new pre-order. We expect the price on the older camera to drop considerably as stock dwindles and the new model becomes widely available.  We should see an RX100 VI (6) at less than $998 by Thanksgiving November 28th.
If you have money to burn and want this camera, pre-ordering makes sense now as this camera will probably be a best seller and inventory wise hard to find the first few months.
The RX100 VII should be available on Friday August 16th for $1,199 on the standard kit without accessories.
Last year's RX100 VI ($998) was already an amazing all-rounder of a camera and the improvements this time around even while impressive when it comes to AF tracking, make not a must-have for previous owners. If you absolutely need a Microphone jack then this new model is the one you been waiting for in the RX100 line.
As a slow motion camera, there is no justification for choosing this camera above the previous two years of releases considering the feature is essentially unchanged resolution wise and most probably time recording limited to the previous spec also.  We will know more about this when the manual is released and we can confirm this is the case.
We will have more info including HFR samples of the RX100 VII when they are released which should be in about a months time. In the mean-time make sure you check out the pretty excellent explanation of the RX100 VI HFR mode from last year's camera so you can get acquainted and tailor your expectations accordingly.  Thanks for reading -HSC
(Visited 4,451 times, 1 visits today)