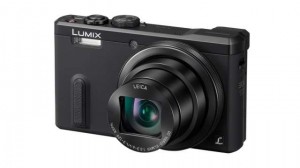 The relatively new camera from Panasonic "Available March 31st" hides a hi speed mode on the cheap with relatively good specs for such a small camera.
Named Lumix ZS40 in the US and TZ60 EB in Europe the camera boasts the following specs:
30x  Optical zoom at  f3.3 wide – f6.4 Tele
US Model Hi Speed: 120p 1280*720 plays back 30p,  240p 640*480 vga.
EU model Hi Speed: 100p 1280*720 plays back 25p,  200p 640*480 vga.
HYBRID O.I.S.
1/2.3-inch High Sensitivity MOS Sensor / Total Pixel Number 18.9 Megapixels
ISO 100 – 6400
Video quality wise it seems better than some recent low cost hi speed efforts but not comparable higher end Panasonics.  It suffers from aliasing in the video samples at hi speed. Regular 50p and 60p seem on par with very little scaling artifacts. Bitrates are quite low however
At a MSRP of $449 in the US it is a very low cost option if you need 120p 720 video on the go.  However don't expect pro image quality for video or stills on this small sensor compact.
We found some TZ60 samples of hi speed video on the net by  Gordon Laing  of Camera Labs and with downloadable from camera video files for you to sample quality.  Full review here!
Sample 1 Vimeo 100p 1280*720 conformed to 25p PAL
Sample 2 Vimeo 100p 1280*720 conformed to 25p PAL
>>> Pre-Order the Camera from Amazon Here <<<
(Visited 508 times, 1 visits today)