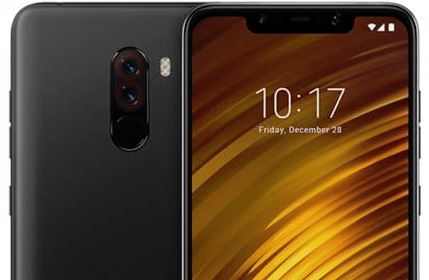 The Pocophone F1 by Xiaomi is an ultra-budget phone about $289 USD on some places for the 64GB model which feels anything but cheap. It has a 4000mAh battery, 6GB of RAM, dual cameras and a Notch screen all powered by a Snapdragon 845.  Now the software updates will include a 960fps mode in 1080p for a very short rec time. Some initial tests put it at 25MB in size which might be about 0.2sec.
So you get a phone that also will shoot the 4k 60fps spec with the update but what about the video quality?  Actually, it is not that bad and quite competitive with some mid-range phones.  It will not be flagship quality like those $800 USD + phones but it will get the job done. When it comes to slow motion 120 and 240fps 1080p mode it does lower quality quite a bit which may be a preview of the quality that the 960fps mode will deliver.
Pocophone F1 Software update in February:
The MIUI 10.8.12.4 beta update was being pushed to testers in early December and the full update should be released in February with a focus on improving video features.
-960fps Slow Motion mode
-120 and 240fps Slow Motion
-4k 60fps video mode UHD
-Interface improvements
-Usability improvements
-Super Low Light Mode for Photo- 8 image stack for low light improvement!
The update should be pushed to Pocophone F1 owners by mid-February and be a seamless update.
Pocophone F1 slow motion video 240fps 1080p by babaroga73:
The Truth About the Pocophone F1! by Marques Brownlee:
Does this mean slow motion will be more affordable?
The sub $300 USD smartphone market is really ushering a new era of super value devices that have professional features. You get a lesser quality build, design cuts and a few missing features like NFC but you are really getting a lot for your money and it also includes a 3.5mm Audio jack which is being made extinct nowadays. Let's hope it is reinstated in many more phones as really there is no substitute for good headphones.
Sure the camera quality will be lower than the best out there and the video is also a lot more compressed but it makes us look into the future for a v2.0 of this phone in a Pocophone F2 which may now include a much better camera that does a lot more with computational photography without needing a very expensive camera module.
For those needing cheap 120fps, 240fps and 960fps slow-motion modes and really don't mind a lower quality image then it is hard not to recommend this phone with a sub $300 price-tag.  If you, however, can afford a bit more then we recommend you go for our Slow Motion Phone of the year the OnePlus 6 which offers a full minute of 480fps slow motion played back at 30p.  Plus it offers an excellent camera, screen, speed and a plethora of features for about $200 more.
Xiaomi has a winner here on the Pocophone F1 and with a little more in the camera department it makes it a brand to consider going forward -HSC
(Visited 2,217 times, 1 visits today)