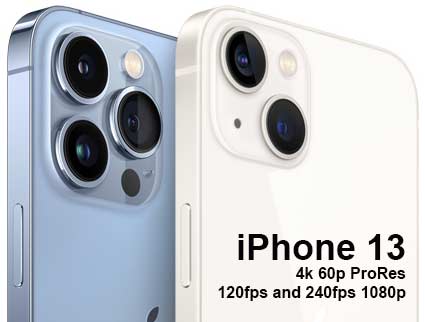 Apple has finally announced the iPhone 13 which may be one of the most underwhelming refreshes of the handset in many years. While there is a lot of new stuff, nothing added is really groundbreaking in the way previous phones have awed when it comes to features in imaging. It is certainly a clear refinement of nearly every aspect of the hardware and software with better low light gathering and a first for a phone the addition of ProRes recording at 1080p and 4k 30p depending on the phone storage spec.
There are neat features like rack focusing which allows for AI-assisted machine learning depth of field selection based on people's faces whenever their eyes are visible and or enter or exit the frame.  It is kind of gimmicky as it seems to do away with precise manual control of the feature but this is yet to be explored fully by reviewers. When it comes to Slow Motion capture, we have essentially no change for the 4th year in a row!
iPhone 13 and 13 Pro Main Video Specs:
Cinematic mode for recording videos with shallow depth of field (1080p at 30 fps)
HDR video recording with Dolby Vision up to 4K at 60 fps
4K video recording at 24 fps, 25 fps, 30 fps, or 60 fps
1080p HD video recording at 25 fps, 30 fps, or 60 fps
720p HD video recording at 30 fps
ProRes video recording up to 4K at 30 fps (1080p at 30 fps for 128GB storage)*
Dual optical image stabilization for video (Telephoto and Wide)
Sensor‑shift optical image stabilization for video (Wide)
3x optical zoom in, 2x optical zoom out; 6x optical zoom range
Digital zoom up to 9x
Audio zoom
True Tone flash
QuickTake video
Slo‑mo video support for 1080p at 120 fps or 240 fps
Time‑lapse video with stabilization
Night mode Time‑lapse
Cinematic video stabilization (4K, 1080p, and 720p)
Continuous autofocus video
Take 8MP still photos while recording 4K video
Playback zoom
Video formats recorded: HEVC and H.264
Stereo recording
It is clear that this is a powerhouse of a phone for video with so many features that not only work well but are fine-tuned to use the A15 Bionic chipset to its full extent. Features like sensor stabilization instead of lens-based shake reduction is a welcome addition by adding it to both the Pro and non-Pro phones. This should translate as better less jittery video for all modes in video capture including the slow motion modes.
iPhone 13 Pro – Hollywood in your pocket | by Apple:
The continuous AF mode is supposed to be good enough to trust by the user most of the time and while features like Rack Focus make it more usable, many will opt to handle it manually and leave the guesswork to their own finger presses instead of the software.  The most impressive thing is that you can change to depth of field focus after the shot is taken which is metadata that blurs the background or foreground to mimic a larger sensor camera. It will be interesting to see how convincing this will be when put in action and if this will be available in slow motion video modes.  There is a tap to focus feature and lock focus for fine control so you can get customized results. We would also like to see a speed of focus change setting included as it sometimes feels too artificial, quick and jittery. A 2x or 3x slower focus change could work better.  Don't be fooled by the quality of the Apple videos, the lighting is done by professionals which is the main aspect of a movie looking cinematic, you will not get as good a shot while shooting with you available or indoor light. 
ProRes will only work on the iPhone 13 Pro and you will be limited to 1080p modes if your iPhone has the base 128GB of space. If you get a 256GB or higher you will get a 4k 30p ProRes recording mode, sorry no 60p which is a bummer.
iPhone 13 Slow Motion Sadly Nothing New:
Slo‑mo video support for 1080p at 120 fps or 240 fps
  There you have it, we have the same feature set available since the iPhone 6 of 2014, that is 7 years of not improving frame rates on the high or low end. It is almost a joke at this point when Huawei and Samsung phones have frame rates in the thousands for several years. We do see incremental improvements in per-pixel quality with less noise, less moire and aliasing, and better dynamic range and color space with every iteration of the phone but no new frame rates. 
Whodunnit | Cinematic mode | iPhone 13 | Apple:
Where is 4k 120fps?
You would think that the iPhone 13 Pro would have had a differentiator in 4k frame rates compared to the non-pro version but nothing changed. 
120fps at 4k is now a standard for flagship phones across several android manufacturers and some are in their 3rd year of including the spec. The quality of 120p 4k is really good on phones and it does help when editing footage to get that 4x slow motion time change that for people, shows pretty good usability.
It is time for Apple to update this spec and step up to the times, there is no excuse for a phone above $1,099 USD for the base model Pro to have only 4k 60p at this point. Apple is asleep at the frame rate wheel and they simply don't seem to mind.
Many comments regarding the iPhone 13 event compared the show to last year's refresh but with just the version number change. IT is of course far from the truth as many features were newly added but when it comes to slow motion there is no real change.
There should be better video quality in slow motion and possibly an absence of aliasing and moire this time which is yet to show in any iPhone at 1080p 240fps. If they deliver it clean and flawless then it would be excusable, but if it is the same bolted-on feature with line-skipping, it seems we are in for a lot more disappointment. 
We do get the Macro mode on one of the lenses which allows for 2cm close focusing distance even in slow motion video which should yield very good results for detailed close-ups. This is one feature most other phones do not offer in high frame rates so this might be the differentiating aspect for Apple when it comes to slow-mo. 
For slow motion, there are overall better options in Android land, we will look at the samples for slow motion when available but we don't expect a huge leap. 
iPhone 13 event in 15 minutes by The Verge:
What to do?
If you own a recent iPhone like an 11 or 12 we see no reason to upgrade now to the 13th unless you absolutely need a 120Hz display with 1000 nits of brightness in direct sunlight conditions. 
If you own an older iPhone X or earlier, we feel this is a plenty good upgraded phone in the Pro version if you need ProRes recording and an extra telephoto lens, if you do not need those features then the non-Pro iPhone 13 should be good enough for your needs and very little difference exists between these handsets in the overall comparison.  Most features are shared between both versions. 
If you are not married to the Apple ecosystem then you should look at the Asian handset makers like Huawei, Samsung, and Sony for 4k 120fps specs and in some cases multi-thousand frame rates.  The iPhone at this rate will probably not support 1000fps for at least a few more years if ever. We do feel that 2022 will introduce 4k 120fps in the iPhone 14 for sure but by then phone makers may be at 4k 240fps which shows how much behind the curve Apple is with their conservative frame rate options.
We will revisit the iPhone 13 with samples when they become available, we are mutely disappointed but hopeful that maybe the quality of the 120fps and 240fps 1080p modes have improved so much that it makes for a good upgrade, but we are not holding our breath. -HSC
(Visited 5,840 times, 20 visits today)