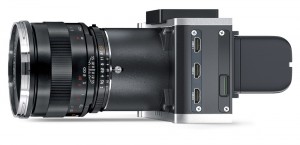 The open source camera AXIOM by apertus promises to be the first real solution with open source code to fully control and push the limits of a professional camera for a low price.
The latest specs hint at a possible 300fps at full 4k resolution for their 2015 AXIOM Gamma release which will be in the realm of fantasy for the majority of people without a Bentley or Veyron parked outside your front door.
They are 5 days away from the 100k Euros needed to crowd fund the development of the project and they are 90% there.  You can help fund the camera and get a substantial reduction in final price or one of the first cameras depending on your donation amount and package. You can donate here at indiegogo.com!
The 300fps camera version will use the Cmosis CMV12000 sensor in APS-C size with a global shutter and up to 15 stops Dynamic Range in HDR mode. It is not known if the sensor will be able to record in windowed HD mode at even higher frames/sec at this time but being an open source camera; for the first time gives us that possibility to tweak and experiment. It will also offer Canon EF, Nikon and  M4/3 passive mounts in Beta Cameras.
The Magic Lantern team known of Canon Hack fame will be involved with the AXIOM project going forward with programming and feature expertise. Exciting development!
This might be the first real full HD 1080p or better professional quality slow motion camera for the common man. 
We applaud the AXIOM project here at HSC and will be following the development very closely over the coming months.
AXIOM Alpha Sample footage:
AXIOM Alpha graded footage:
(Visited 2,434 times, 1 visits today)