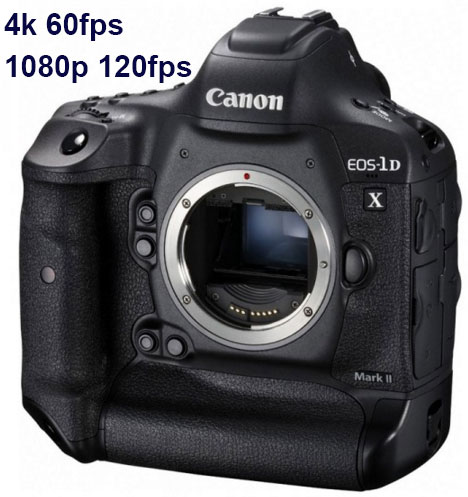 Canon has been quite layed back in the past few years after the splash it did with DSLRs and the 5D Mark II 30p,24p and original 7D offering 720p 60fps in frame rates. This was so las decade and while there have been improvements there has not been an indication of the camera line growing up to develop a true leap in the video mode to EOS users. We have seen a transition to other systems like the Panasonic GH4 Micro 4/3 and Sony NEX series by many video pros looking for better video quality and higher frame rates besides Canon and Nikon bodies.
The video quality while stagnant in Canon and Nikon land has actually increased to 4k in other systems with amazing low light performance like that of the a7s Sony series.  Canon seems to have woken up from their slumber with the new Canon 1DX Mk II a Professional answer with a full frame sensor and what looks to be a worthy video mode that is now up to date and competitive with some of the best out there in the under 120fps camp.
Canon EOS 1DX Mk II Main Specifications:
Dual DIGIC 6+ Image Processing
20.2 Megapixel Full-Frame CMOS Sensor
Up to 14 fps with mirror, Up to 16 fps in Live View Mode
ISO Range of 100–51200; Expansion to H2 409600
4K Video 60 fps Photo JPEG Codec 800Mbit/sec*
1080p HD capture up to 120 fps*
Maximum ISO in 4k Video Mode 12,800!
Touch LCD in Live View and Movie Modes.
Dual Pixel CMOS Auto Focus
Built-in GPS
Weather-Sealed Body
Full EOS system compatibility.
At first glance it all seems quite proficient and exemplary for a DSLR mainly targeted at still shooters; however at closer examination there are a lot of problems with the implementation for video enthusiasts. Take the video recording data-rate for a spin and this is what you get:
(4096 x 2160) 59.94 fps, 50.00 fps Motion JPEG
39 sec.(4GB)
2 min.(16GB)
10 min.(64GB)
800 Mbps 5733 MB/min.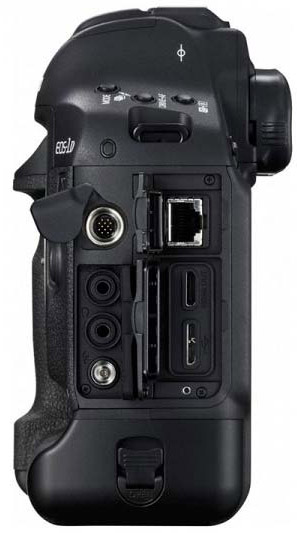 "4K video (4096 x 2160) up to 60 fps (59.94), with an 8.8-Megapixel still frame grab**** in camera. Full 1080p HD capture up to 120 fps for slow motion.

The EOS-1D X Mark II is an incredibly capable camera for moviemaking. Thanks to its Dual DIGIC 6+ Image Processors and its advanced sensor, it can capture huge 4K (Motion JPEG)video at up to 60 fps, recording smoothly to CFast™ cards. It's the first EOS camera able to record Full HD video at 120 fps, easily displaying minute details imperceptible to the human eyeand ideal for slow-motion video capture. With the camera's new touch panel display, AF points can be easily selected while the camera's rolling, and focus can be quickly confirmed with the EOS-1D X Mark II's 4K still frame grab feature*, wherein an 8.8-Megapixel still image can be selected for review and saved. Low-light performance is improved as well, with video recording at ISOs of up to 12800 in 4K and 25600 in Full HD.The EOS-1D X Mark II also features uncompressed HDMI output for Full HD videos, helping to facilitate video editing with minimal image degradation. Not to mention, it can also save videos as MP4s for easy playback on mobile devices.

* Saving a still image from a single movie frame does not result in the same image quality as a normal still image."

Video Shooting Modes

File Format
MOV (4K Movie: Motion JPEG, Full HD Movie: MPEG4 AVC/H.264; Audio: Linear PCM), MP4 (Movie: MPEG4 AVC/H.264; Audio: AAC)
Internal monaural microphone
External stereo microphone jack available
Recording Sizes
4096 x 2160 (4K)
1920 x 1080 (Full HD)
Frame Rates
[4096 x 2160]: 59.94fps / 50.00fps / 29.97 fps/ 25.00fps / 24.00fps / 23.98fps
[1920 x 1080]: 119.9fps / 100.0fps / 59.94fps / 50.00fps / 29.97fps / 25.00fps / 24.00fps / 23.98fps
Focusing

Dual Pixel CMOS AF
Manual focus

* Magnify the image by 5x or 10x and focus manually (not possible during movie shooting).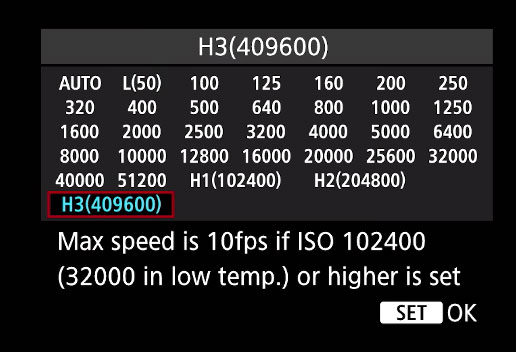 MOV Format Specs

Movie-recording Size
Total Recording Time (Approx.)
Movie Bit Rate /
File Size (Approx.)
4GB
16GB
64GB
4K
(4096 x 2160)
59.94 fps, 50.00 fps
Motion JPEG
39 sec.
2 min.
10 min.
800 Mbps
5733 MB/min.
29.97 fps, 25.00 fps, 24.00 fps, 23.98 fps
Motion JPEG
1 min.
4 min.
17 min.
500 Mbps
3587 MB/min.
Full HD
(1920 x 1080)
119.9 fps, 100.0 fps
ALL-I
1 min.
5 min.
23 min.
360 Mbps
2585 MB/min.
59.94 fps, 50.00 fps
ALL-I
2 min.
11 min.
47 min.
180 Mbps
1298 MB/min.
IPB
8 min.
34 min.
2 hr. 18 min.
60 Mbps
440 MB/min.
29.97 fps, 25.00 fps, 24.00 fps, 23.98 fps
ALL-I
5 min.
23 min.
1 hr. 33 min.
90 Mbps
654 MB/min.
IPB
16 min.
1 hr. 7 min.
4 hr. 30 min.
30 Mbps
225 MB/min.
HSC: As You can see the camera Codec in 4k is insanely space hungry as it is an 800mbit/sec codec at 60fps Photo JPEG mode. Sure the quality will be there at 8 bits but at what cost?  5733MB/minute means a 16GB card fits about 2 minutes on the mode. How is that for crazy?
Start saving for CFast 2.0 Cards for the Canon 1DX MkII in the 256GB range if you want this camera to shoot a lot of footage in 4k and 60p at that.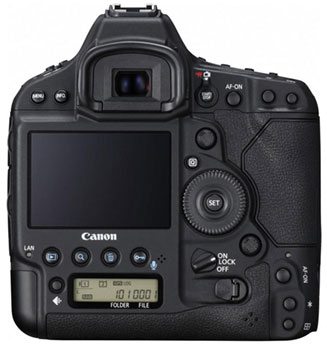 For the 120fps 1080p mode it is an All-I mode which is great to see as it delivers the best slow motion quality by delivering individual frames.  These however will be in a 360Mbps codec in the MP4 flavor or 2585MB / minute or 43MB/second.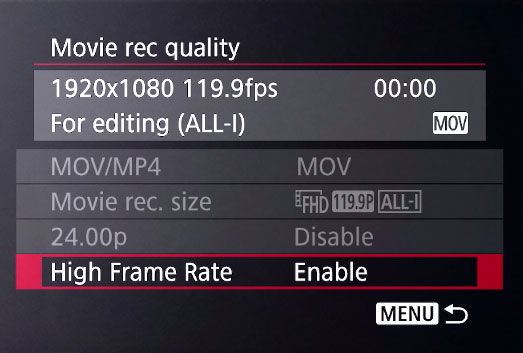 The Maximum ISO in 4k Video mode is 12,800 while in 1080p mode is 25,600.  Those wanting an a7s competitor in video here will have to relinquish the right to do it justice because the video ISOs are Capped.  In all fairness however the ISO above 12,800 and 25,600 is not ideal in color and detail on any camera today.
Did you say crop?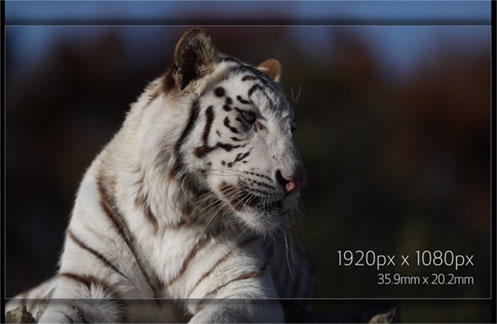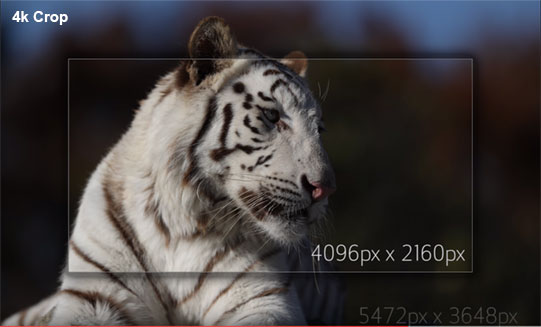 As you can see 1080p is using almost all of the Full frame sensor area while 4k is using only the 8.8 Megapixel frame inside the 20.2MP sensor.  This is a real let down as it essentially becomes a crop camera when shooting 4k, it makes all lens focal lengths 1.35x crop of the frame.  This is probably to keep the quality of 1:1 pixels for 4k and avoid nasty down-sampling aliasing and moire artifacts. This is about the same sort of crop found on the GH4 from Panasonic but without the ability to improve it with a Metabones adapter.  This 4k Mode is good but for wide situations it will be a deal breaker.
We estimate that the 1080p mode is doing a 4:1 binning to achieve the near full frame and reduce artifacts.  It is unclear as of now if there is a quality degradation in the image when it comes to 120fps mode.
Killer feature of the camera is : Dual Pixel CMOS AF!
By using the sensor as a phase and contrast detection hybrid the camera is a powerhouse of focusing for any situation and in video mode we would go as far as calling it the best video AF system ever released into the world thus far.  By being able to track subjects in distance and recognize faces with incredible speed and smoothness it becomes a focus puller that delivers the impossible.  If you are a focus puller then this camera will make you sweat extra hard to make your living.

The AF in video mode is so good that if any feature of the camera stands out it's this.  The ability to focus smoothly with ramping of time and in all sorts of situations with low light makes it the most powerful tool for video shooters since the invention of original Autofocus. You can now create seamless focus changes without hunting and breathing in your images while capturing a completely cinematic experience.  This is revolutionary and nothing short of amazing.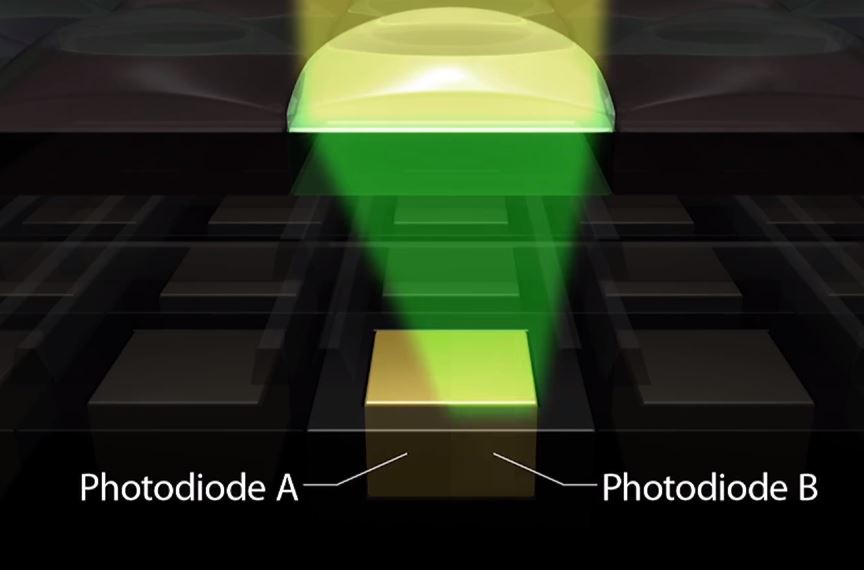 We can't wait for this technology to trickle down to lower camera lines like the 5D, 6D and 7D as it will surely change the way you shoot forever. Manufacturers will have to up their game to give this kind of tracking performance in video mode to their clients.
This is revolutionary and not a gimmick,  the camera has many good things but most have been seen before in one way or another in other cameras, however the Dual Pixel CMOS AF technology is in our view the most important development in 2016 for video shooting so far. This is the camera's killer feature.
Image computation on the fly:
The other revolutionary feature is the Digital Lens Optimizer circuitry that fixes diffraction, chromatic aberration and other lens shortcomings like vignetting before saving the images. It has a library of Canon lens profiles and it does it all on the background.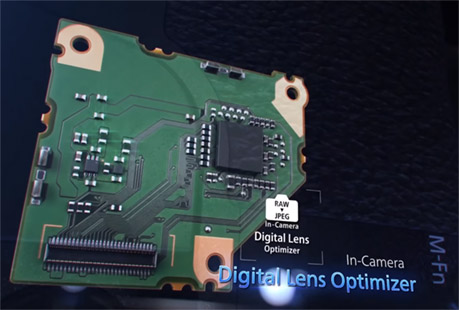 It is unclear at this time if it will also improve all of the imaging fixes to video mode before saving the data. That would be a great feature but doing it at 24,30,60,120fps and at 4k in some cases seems like it will be used for stills only for now.   We will be impressed if this is used for video.   Lumix and Olympus m43 cameras have had these types of features to yield better image quality out of the small sensor and lenses in the micro 4/3 system but we have never seen it in a Canon product until now and being it full frame it will probably find it's way into the most coveted features of the camera.
We have to commend Canon for catching up and exceeding the competition in some areas and improving the technology by pushing forward with features like the improved AF in video.  It seems Canon has finally woken up and it has sent a shock-wave to the imaging world. They are not irrelevant and they will continue to fight for the top spot.  While slow motion is present it is hardly class leading besides the 60p at 4k resolution which is only in a handful of alternatives.  For photographers and cinema enthusiasts this camera ticks off so many boxes that it is hard to fault it much.  The original 1DX will find itself on eBay in droves we have a feeling.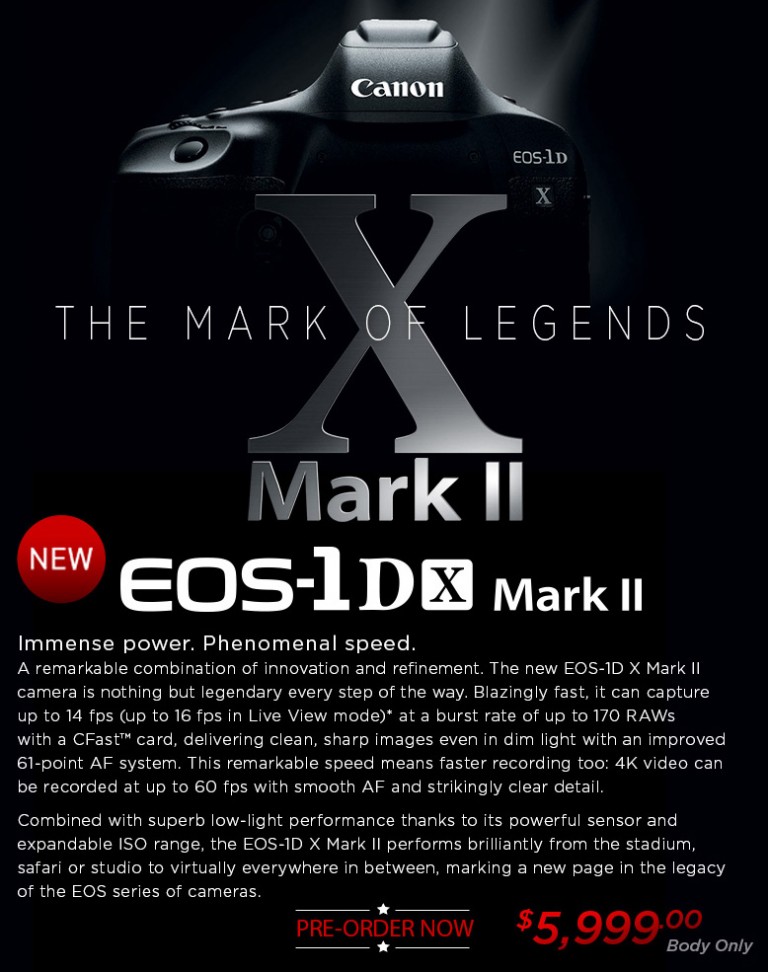 As you can see the price is in line with previous 1D series bodies at $5,999 USD.  There is also a Premium  kit with a CFast 2.0 card reader and a 64GB card  for $6,299 USD
Canon EOS 1DX Mk II Launch Video by Canon USA:
Canon EOS-1D X Mark II: Camera and Still Photo Features:
Canon EOS-1D X Mark II: Camera Video Features:
Adorama Camera has the EOS 1DX Mk II available for pre-order here along with a ton of accessories.
Body Kits:
http://adorama.evyy.net/c/102764/51926/1036?u=www.adorama.com/ICA1DXM2.html  $5999.00
EOS-1DX Mark II (G) BODY
http://adorama.evyy.net/c/102764/51926/1036?u=www.adorama.com/ICA1DXM2KP.html $6,299
EOS-1DX Mark II (G) Premium KIT
Accessories
http://adorama.evyy.net/c/102764/51926/1036?u=www.adorama.com/ICAACE19.html $449
CANON AC-E19 AC ADAPTER KIT
http://adorama.evyy.net/c/102764/51926/1036?u=www.adorama.com/ICADRE19.html $279.95
CANON DR-E19 DC COUPLER F/1DX MARK II
http://adorama.evyy.net/c/102764/51926/1036?u=www.adorama.com/ICAECC6.html $36.95
CANON FOCUSING SCREEN EC-C6
http://adorama.evyy.net/c/102764/51926/1036?u=www.adorama.com/ICALCE19.html $399.95
CANON BATTERY CHARGER LC-E19
http://adorama.evyy.net/c/102764/51926/1036?u=www.adorama.com/ICALPE19.html $179.95
CANON LP-E19 BATTERY
http://adorama.evyy.net/c/102764/51926/1036?u=www.adorama.com/ICAWFTE8A.html $599.00
CANON WIRELESS FILE TRANSMTR WFT-E8A
http://adorama.evyy.net/c/102764/51926/1036?u=www.adorama.com/ICADRE17.html $49.95
CANON DR-E17 DC COUPLER
We will keep you posted on slow motion video samples of the 1DX Mark II as they become available.  Discuss below your impressions of the camera.  Thanks for reading!
(Visited 5,797 times, 1 visits today)