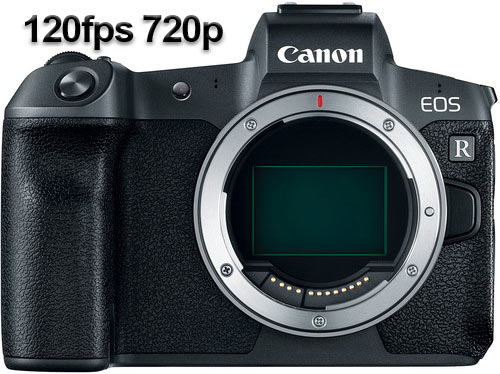 People waited with extreme patience for the Canon Full Frame Mirrorless line for several years. The Verdict? Pretty good start but feels like a mid-range product.  It lacks IBIS stabilization on the body sensor which has become one of the most coveted features for camera enthusiasts. It lacks dual card slots and most important of all for us it is 2014 frame rates for a camera of this class.
The camera does shoot 4k up to 30p but it has the same crop that has made the Canon 5D Mark IV a bad proposition for videographers that want 4k footage. The crop is 1.7x which is essentially a Micro 4/3rds sensor size with a speed booster but without all the benefits of those bodies like IBIS and very low rolling shutter with the added benefit of better frame rates. This feels for all intents and purposes like a base product for a line that needed to be released to compete but is still evolving technologically.
Canon EOS R Main Features:
30.3MP Full-Frame CMOS Sensor
DIGIC 8 Image Processor
UHD 4K30 Video; C-Log & 10-Bit HDMI Out
1080p Full HD up to 60fps
720p HD up to 120fps
Dual Pixel CMOS AF – 5,655 AF Points
3.69m-Dot OLED Electronic Viewfinder
3.15″ 2.1m-Dot Swivel Touchscreen LCD
Expanded ISO 50-102400, 8 fps Shooting
Wi-Fi and Bluetooth, SD UHS-II Card Slot
Multi-Function Bar, Dual Pixel RAW
EOS EF Lens compatibility with adapters including ND
Canon EOS R Slow Motion Features:
Frame Rates:
3840 x 2160p at 23.98/24/29.97 fps
1920 x 1080p at 23.98/24/29.97/59.94 fps
1280 x 720p at 29.97/59.94/120 fps
Frame rates are capped at 720p 120fps which is so 2011 in some instances and quite unacceptable for a camera in this price range. The 60p max at full HD is also something that was all the rage back in 2013 but now feels geriatric by comparison to Sony, Nikon, Fuji and Panasonic products.
Canon EOS R Sample Video – Lake Natron by CanonUSA:
Canon EOS R System: Video Controls and Operation by CanonUSA:
To call the Canon frame rate effort sub-par is actually being nice. In 2018 and so close to 2019 not including better frame rate selections in a flagship camera at $2,299.00 Body Only makes for a no excuses story.  1080p 120fps would have been more acceptable but crippling the camera to 60p in that mode with appreciable moire and aliasing at 1080p compared to 4k also doesn't help.  We expect the EOS FF mirrorless line to debut several cameras in 2019 which should get the system closer to a competitive body for video enthusiasts.
There are rumors that Panasonic is going to release a Full Frame Lumix camera line with extreme video features which should really become the Go-To system for video professionals. The lackluster Canon show and the Nikon just barely good enough frame rates make for an easy video take-over by Sony and Panasonic. The Canon R system lenses are massive in size which kind of negates the mirrorless promise of smaller and lighter gear.  They offer excellent glass quality and fly-by-wire focusing which should deliver excellent images but at a high price and weight.
The best feature of the EOS R in our view is the ability to use the new EF adapters with an option for a drop in ND filter and customizable ring control for older lenses. This allows for videographers the option to keep using their large EOS lens selection along with ND and other filters which should continue to provide a usable life for the foreseeable future. In fact being smaller in size to the EOS R lenses shown with the camera they might actually be more coveted for a smaller more portable gear package.
Canon EOS R Full Frame Mirrorless! Hands-on First Look by Kai W:
What to do?
If you need a new Canon Stills camera that takes acceptable video and want to future proof your choice of body, we see the EOS R as a great option especially with the best of breed dual pixel AF with an impressive 5,655 hybrid points with blinding fast performance and tracking.
If you want a camera that will put video first then we suggest you to wait a little longer for Sony and Panasonic to show their cards and what the 2019 line-up will bring. We are waiting for the Sony a7s III for over a year which should be a videographer darling. Some rumors say Sony will go up to 240fps in video mode at full HD in their cameras soon, others say they will stay at 120fps which will negate that. We will have to wait and see what the release shows.
The EOS R is not a videographer's camera unless you can live with the 4k crop and the 120fps tops on 720p mode.  It records 10 bit with an external recorder only but does have a pretty good video quality and good highlight roll-off all while using an MPEG4 AVC/H.264 codec which is so overdue in Canon video at 4k.
It is a great start for the future of Canon Mirrorless for Full Frame shooter needs but its still far from the ideal camera we expected from Canon Japan.  Expect to see them release better R cameras in 2019 which will give better options going forward in the Canon system.  Good news is you can keep using your EF Glass, the bad news is you will have to wait for a more capable body until you can easily jump to the system.  Panasonic and Sony should debut products soon which will make that choice even harder with more video-centric specs at launch.
The EOS R is available for Pre-order in Several Kits at Adorama Here: Adorama EOS R Order and Info Page!
We will have slow motion samples of the EOS R as they become available. -HSC 
(Visited 4,336 times, 1 visits today)