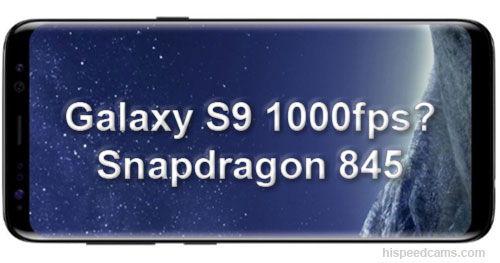 The Galaxy S8 is still fresh in the minds of people and while the flagship phone offers some very compelling design and performance, the now rumored Galaxy S9 which should be announced sometime in Q1 2018 "MWC Barcelona", will offer a much faster processing pipeline for imaging, augmented reality and object recognition. All of these technologies increase the odds of higher framerates as a side-effect of the faster scanning modes needed for these features.
However, according to rumors, the Galaxy S9 is also going to use a new imaging sensor with built-in DRAM in the same package capable of 1000fps recording at some resolution. Will it be HD or Full HD?  That remains to be seen but our money is more on the 720p spec as was demonstrated earlier this year in the Sony Xperia XZ series shooting 1000fps for the minute amount of time 0.27 seconds, proves that these types of specs on phones are still quite limited in recording time & resolution.
Galaxy S9 Rumored Specs:
5.8in S9 Regular 6.2in S9 Plus QHD+ Super AMOLED curved display (570ppi / 529ppi)
90% Screen Body Coverage vs 84% on S8
Android 8.0 Oreo.
Qualcomm Snapdragon 845 (US) / Samsung Exynos (UK)
Up to 30% Improvement in battery life compared to S8
Cat 18 LTE support (1.2Gbps download speeds)
Fingerprint Scanner on the back
Dual rear-facing camera
Up to 1000fps HD Quality Video Capture
60fps UHD 4k Video
Bixby AI assistant with dedicated button
USB-C Fast Charging
4 different colors black, gold, blue and purple
No face recognition
Improved Iris Scanner
Considering Sony is still stuck at 720p in their XZ line of smartphones for their Motion Eye slow motion feature, we expect Samsung to deliver that resolution as well. Even if they claim 1080p super slow motion, it will be evident the quality will be upscaled.  The technology exists in tech labs for 1,000fps at 1080p full HD on a smartphone since late 2016 as this demo from Sony shows:
The Super Slow Motion Movie Taken by 3-layer Stacked CMOS Image Sensor with DRAM by Sony:
The Galaxy S9 will be Samsung's answer to the iPhone 8 & X as well as a direct competitor to Sony's motion eye camera technology. Considering the track record of Samsung delivering slow motion features that are consistently behind the competition in resolution, we have a hard time accepting the rumors of a full 1080p 1000fps video capture spec on the S9. If it shows up, consider it to be very limited in time recording and with a  resolution that will not be ideal.
Still, the war on fast frame rate continues with ever increasing phone specs. This is good for consumers and high-speed market evolution. We will have more updated information on the Galaxy S9 and other phones/cameras as it becomes available. -HSC
(Visited 846 times, 1 visits today)