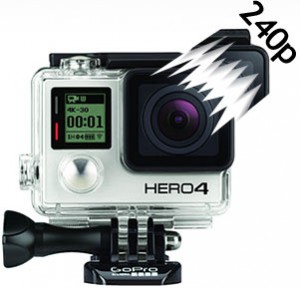 It's confirmed, the Hero 4 has no 720p 240fps mode like the PetaPixel release claimed.
The camera however does offer a 240p mode in the WVGA mode at Ultra Wide Setting With just 848*480  pixels 16 by 9.  Not enough resolution to reach HD but good to have over standard VGA.
Prices and date have been released:
$499 for Hero 4 Black
$399 for Hero 4 Silver
$129 for Hero -Camera to compete with low end Action Cams.
Release date October 5th 2014!
Quality of the codec seems to be improved, still no downloadable slow motion samples but they have released a new Trailer for the Hero 4 which is quite epic in 4k.
Phillip Bloom has a Gopro Hero 4 and talks about how the 120p 1080 mode is aliased and lower resolution than 1080p 60.  Seems the camera will need some extensive testing before a purchase decision can be made regarding slow motion.  Also 4k seems to be having codec problems due to the highest bit rate of 60Mbit/s which is not enough to render fine detail.  In contrast the Panasonic GH4 offers 100Mbit/sec for 4k.  Phillip Bloom thinks the sweetspot is 2.7k at 50fps PAL or 60fps NTSC mode for quality.
---
Oringinal Post Below-
GoPro Hero 4 Black:
4k up to 30fps
2.7K at 50fps
1440p at 80fps

1080p at 120fps – (High Speed Sweet Spot)

960p at 120fps
720p at 120fps – (*Same as Hero 3 & 3+ Black)
Improved Audio Capture 2x Dynamic Range
Manual control improvements
GoPro Hero 4 Silver:
4K at 15fps
2.7K at 30fps
1440p at 48fps
1080p at 60fps
960p at 100fps
720p at 120fps – ( Silver Gains Last Years Frame Rate)
Touchscreen LCD.
One clear omission from the rumors is the 240fps 720p and the 480fps VGA modes.  Even though the Ambarella A9 SoC supports 240fps in 720p "See the Specs Overview PDF Here" it has been scrapped in the Hero 4 Black. It may be a limitation from the sensor or memory bandwidth but with processing doubled it seems it might have been scrapped for any number of reasons like buffer, battery life impact, heat or MicroSD card write speed.
People on the web have speculated that 720p 240 will be included in a Hero 4+ later in the year and that this is just a repeat of 2012-2013 Hero 3 and 3+ launches. We rather not speculate on yet unreleased products.
The new specs do point to a very impressive portable camera with 120p at full HD 1080 resolution.  As for the final video quality we will have to wait for reviews but it may be able to deliver a big punch for low cost slow motion.
Once again the rumor overshoots the specs but this time it seems to be more accurate than other camera gossip.  The Hero 4 might be officially announced in early October!
(Visited 6,004 times, 1 visits today)