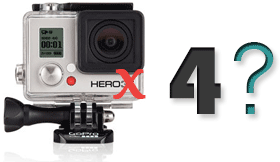 The technology info site DGISE has posted a rumor containing leaked info on the replacement to the GoPro Hero 3+ Black.
Key Rumored Specs are:
Full HD 1080p at 120fps 
HD 720p at 240fps
4k video at up to 30fps
13MP new Sensor with Electronic Stabilization
Ambarella A9 Chip with 2 cores for processing
Since this is a rumor it is advised that you take the info with a pinch of salt; however the specs should be a linear progression in technology for GoPro considering it already does in the Hero 3+ Black 120fps at 720p and 240fps at WVGA resolution.
The image processing power should be at least 240 Megapixels/ second in order to support those specs.
We assume that if the WVGA (848×480) resolution is still an option for recording  in the new camera, it will sport 480fps as a clear doubling of capabilities.  If true this will position the Go Pro Hero 4 on the 3rd spot ranking in our affordable hi-speed camera database right below the Sony FS700. Depending on the output quality it could be the most affordable 300fps+ hi speed camera with usable quality.
Price should stay at the GoPro's classic $399.00 USD based on past launch figures.
Rumored release date will be summer 2014!  
(Visited 426 times, 1 visits today)