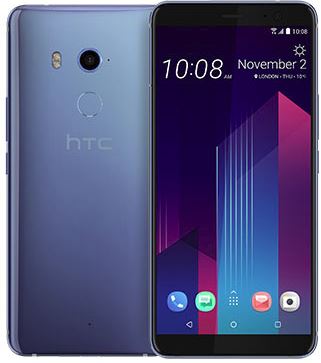 The HTC U11+  is a refined version of the U11 which was one of the better spec android phones of 2017. The new iteration boosts speed and a screen that goes from 5.5 inches to 6 inches. Space was accommodated for a larger screen without making the phone itself much bigger which is a feat of design and engineering.
For many, the big disappointment will be that it seems HTC is not making a US version of the U11 Plus and leaving it only for Asia and Europe at this time.  The US market is very competitive and HTC has had a hard time penetrating the sales ranks of the Samsung, Apple and Google phones. If you indeed are able to get an HTC U11 Plus the Slow motion component has a 120fps full HD 1080p spec that should be competitive.
HTC 11 Plus Main New Features:
6-inch quad-HD+ LCD Status screen
 2880 x 1440 resolution
Snapdragon 835 CPU
3,930mAh battery
6GB RAM
64 or 128GB Flash Internal Storage
12MP Rear camera
8MP Front Camera
[email protected], [email protected]/60/120fps
HDR Video
24-bit/192kHz stereo sound recording mode.
microSD Expansion
Android 8 OS Oreo
USB-C 3.1 Connector
No Headphone Jack! 🙁
MSRP £699 Pounds
Video Previews HTC U11 Plus:
HTC U11 Plus hands on (HTC U11+) by Android Authority:
HTC U11 Plus (U11+) hands-on preview! by Android Central:
What about the Video & Slow Motion?
Since the phone is essentially a U11 with a larger battery, larger screen and a new faster processor the main camera remains unchanged from its predecessor.  The video capture quality and slow motion should remain the same as the U11 phone with the same performance.  The rear camera with a 12MP sensor with large 1.4µm pixels is plenty good and one of the best out there in terms of picture quality.  The selfie front camera, however, was reduced from 12MP in the HTC U11 to 8MP this time around which should help with light gathering ability along with fewer artifacts.  A larger pixel sensor is always welcome.
If you own an HTC U11, the Plus version will shoot the same quality video and pictures with only performance improvements from the new 835 snapdragon processor.  We have gathered a few 1080p 120fps samples from this year's HTC U11 non plus phone so you can see the slow motion quality you can expect.   It is a solid phone but not class leading for video. The slow motion is competitive with the Pixel 2 & 2XL but Apple has the upper hand with the iPhone 8 and X 240fps 1080p video mode.
HTC U11 Slow Motion Samples:
HTC U 11 – 1080p @120fps Slow Motion Video Recording Test by Shaan Haider:
HTC U11 Slow Motion Camera Test by UltraMunch:
HTC U11 : Slow motion test. by sam fr:
HTC U11 – Slow Motion видео (1080p) by Super G :
HTC U11 phone slowmotion effect by Szabina K.:
HTC U11 camera test (slow motion, FHD) by Mirosław Mazanec:
As you can see the 1080p 120fps quality is usable but suffers from some aliasing artifacts due to line information loss at the time of down-sampling the sensor.  You will get jaggies here and there that will be undesirable.   Since both the U11 Plus and U11 share the same main camera module, we recommend the U11 non Plus if you just want it for the video quality. However a Pixel 2, iPhone 8 or Sony XZ Premium would make a better video recorder flagship phone without searching for one in the USA that may never materialize. -HSC
(Visited 968 times, 1 visits today)