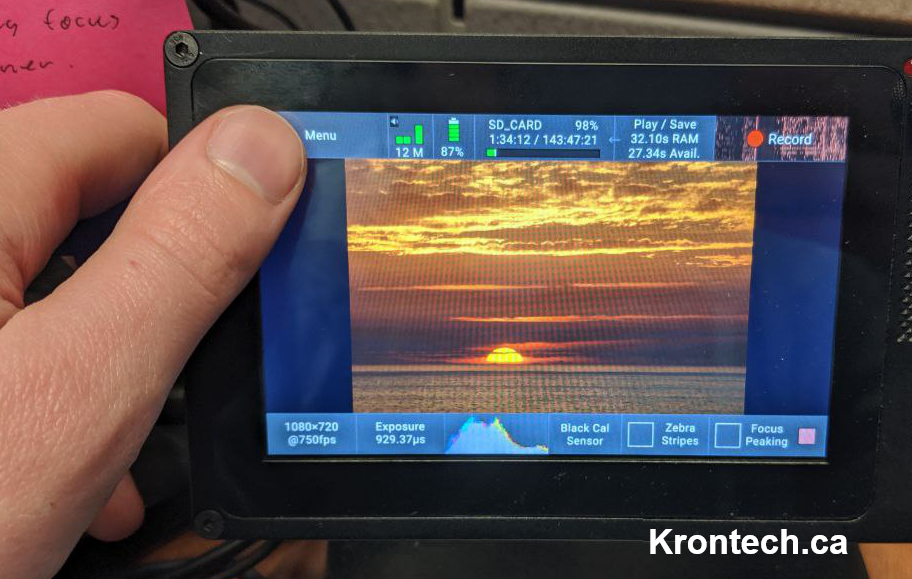 Krontech.ca the makers of the Chronos affordable professional high speed camera have released the Software version 0.4.0 Beta of the camera platform.  The cameras will now be using an embedded build of the Debian operating system which was already the default OS for the Chronos 2.1 HD.  All Chronos 1.4c cameras can now be upgraded to the new Beta version free of charge Follow this link for the official thread.
We tested the software briefly and found it to be responsive and solid.  However as a Beta, you should be ready to find some glitches here and there, if you are doing mission-critical work you should wait for a full release before updating to be on the safe side, we recommend it for most users who are not shooting once in a lifetime events. If you do find bugs please contact them to help squash them out.
Chronos Software 0.4.0 Software Beta:
Official thread, installation instructions and download link here!
Notable Changes:
– Support for the LUX2100 image sensor.
– API for camera control via JSON/HTTP over the Ethernet port.
* Examples: https://github.com/krontech/chronos-examples
– Saving of media over network to an NFS and Samba share.
– Software updates can be downloaded over the internet.
– Real-time video stream from the camera using RTSP.
– New back-of-camera GUI is available via the software update screen.
* For more information: http://forum.krontech.ca/index.php?topic=498
The biggest change is the ability to control the camera via Ethernet which gets it into more professional settings that allow for a really long tethering solution or using a small portable LAN Wifi router like the ZyXel here which will allow wireless control from afar. As of now it allows the use of control scripts that will operate the camera remotely with a great deal of customizability.  For situations that require the camera to be sealed and controlled remotely and unattended, this is an ideal solution. We will revisit the feature once we have tested it.
Spice Slow motion test chronos camera 2.1 HD by LaSt Studio:
We love the new Dark GUI and we especially find it comforting to get more video preview space which was taken by the old interface scroll bar and buttons. Now the video preview takes center stage much like what you see in other professional cameras like the ones from RED and or Blackmagic design.   We will test the new software in our next shoot with the Chronos 1.4 and will get a 2.1 HD to review later this year. Stay tuned!

Chronos does space science:
Krontech also shared this article in IEEE Spectrum magazine that details the work by Masten Space Systems on creating instant landing pads for future space exploration vehicles. The technology uses the rocket exhaust and composite materials to create a kind of lilypad array on planetary surfaces to create a stable base for exploration modules.
The Chronos cameras were used extensively for testing the different materials and exhaust plumes of rockets on their research. The footage below shows part of the Chronos camera imagery analyzing different test cases of the technology. We estimate the Chronos 1.4c was used for this project.
It is exciting to see Krontech catering to many labs now and creating a name for itself in the Aerospace industry by showing affordability does not necessarily mean unprofessional.  The fact that rocket scientists are using the cameras with great success should make it an easy purchase for many other labs.
For more information on these cameras go to www.krontech.ca !
Thanks for reading and remember to mention HSC Code "HISPEEDCAMS5"  to Krontech at Chronos store for a possible discount on your order if you are a new customer! -HSC
(Visited 805 times, 1 visits today)