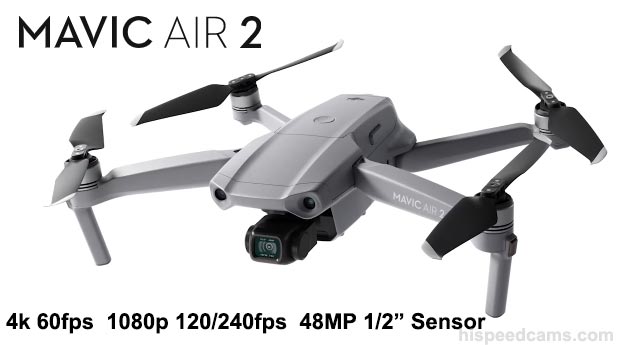 DJI has unveiled the Mavic Air 2 consumer drone with incredible specs and a fit and finish that rivals their more expensive lineup. We have been waiting for a successor to the original Mavic Air to see where the platform was taking high frame rates but while we now have a 240fps 1080p mode, it hardly what we would call usable for production.  There is a softness and compression that while they look ok for amateur and some Youtube videos it fails for professionals that need that quality output.
There is a lot to like here like the 48MP sensor with 8k hyperlapse and stills mode with RAW along with a better than most other drones 4k UHD mode at 60fps with 120Mbps codec.  It is really a steal if you were waiting for a drone that can do it all and not break your budget.  You get many high-end features on a minute package that while a little big compared to mini drones, it is really small compared to the full-sized Mavic line.
DJI Mavic Air 2 Main Specs:
| | |
| --- | --- |
| Sensor | 1/2″ CMOS |
| Effective Pixels | 48 MP |
| Focal Length | 24mm (35mm Equivalent) |
| Lens Field of View | 84° |
| Aperture | f/2.8 |
Minimum Focusing Distance
3.3′ / 1.0 m
Photo ISO Range
100 to 3200 (Auto)
100 to 6400 (Manual)
Video ISO Range
100 to 6400
Photo Resolution
4:3: 8000 x 6000
Photo Format
JPEG, DNG
Video Formats
3840 x 2160p at 24/25/30/48/50/60 fps (MP4/MOV via H.264/AVC, H.265/HEVC, MPEG-4)
2688 x 1512p at 24/25/30/48/50/60 fps (MP4/MOV via H.264/AVC, H.265/HEVC, MPEG-4)
1920 x 1080p at 24/25/30/48/50/60/120/240 fps (MP4/MOV via H.264/AVC, H.265/HEVC, MPEG-
DJI Mavic Air 2 REVIEW & First Look – 4K 60p, 1080p 240fps by cinema5D:
If you look at the excellent video above by Cinema 5D and Nino Leitner, it tells you all you need to know about the features of this new Mavic drone for a first look.  He even goes in and shoots a sample of 1080p at 240fps which in our view is a godsend to see because many manufacturers avoid sharing footage from these high frame rate modes.
We can clearly see the video quality in the 1080p 240fps mode is soft and compression obliterates fine detail like that of the grass and girl's hair.  There is really no point in getting this drone for its slow motion capabilities in Full HD.
That said, this new drone is probably the most exciting release for portability and 4k 60p users that lends itself well for less jittery pan motion and for slowing down overhead views.  It really is hard to justify a larger more capable drone for most video enthusiasts considering how much of their more expensive counterparts is here.
Shot On Mavic Air 2 (Sample Mavic Air 2 Video) | DJI Store by DJI STORE AUSTRALIA:
It has 10 Km 1080p video feed streaming which is a first on a drone of this kind and used radio frequency instead of the much more unreliable wifi.   There is really little to complain about here especially considering the initial price of $799 for the basic package and $988 for the Fly more combo which most drone enthusiasts will gravitate to.
What to do?
Availability: May 19th, 2020
In conclusion, we highly recommend the Mavic Air 2  drone for most users and can't really feel mad about a soft 1080p mode that would get used very little.  We cannot recommend it for slow motion enthusiasts as the quality looks more like soft 720p upscaled which is in line with what the 48MP sensors in this range are delivering when using crop modes to shoot higher fps.   You get better quality with an Osmo Action or a GoPro Hero 8 but you lose the drone part.
DJI has in our view delivered a killer drone package here that may make you want to ditch all your other drones and just travel lighter with the knowledge that the quality you will get very close to professional levels of production. If you are into the super high end, don't bother with the Mavic Air 2 and get a Hasselblad equipped Inspire 2 instead.  Thanks for your continued support -HSC
(Visited 1,281 times, 1 visits today)