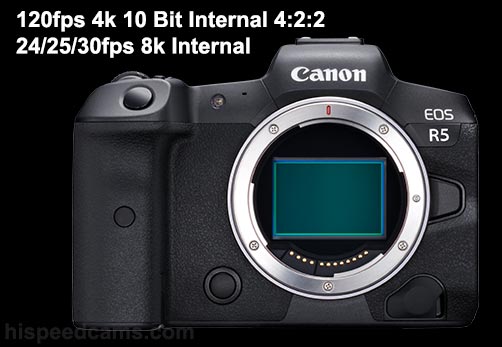 We were very skeptical earlier in the year when the R5 specs were just a rumor. Canon has not really been delivering powerful video features out of their Cinema line and we expected this new camera to be a crippled continuation of the trend.  We were not only wrong but now know that Canon is banking the future of the EOS line on cameras like the R5 with features that really put it in a class all by itself.
The original video darling was the EOS 5D Mark II which made it possible to use the EOS line of lenses with a video mode that delivered good enough quality for the web and some careful productions.  The camera had issues like severe rolling shutter and a tendency to moire and alias so bad that many shots were really ruined.  However, the excellent Canon color quality and lens choices made it so popular that it really forced companies to change the video options forever.  Now Canon intends to do as big a splash with the introduction of 8k video internally on the new camera.
Canon EOS R5 Released Specs:
8K RAW internal video recording up to 29.97 fps
8K internal video recording up to 29.97 fps in 4:2:2 10-bit Canon Log (H.265)/4:2:2 10-bit HDR PQ (H.265).
4K internal video recording up to 119.88 fps in 4:2:2 10-bit Canon Log (H.265)/4:2:2 10-bit HDR PQ (H.265). 4K external recording is also available up to 59.94 fps.
No crop 8K and 4K video capture using the full-width of the sensor.

*

Dual Pixel CMOS AF available in all 8K and 4K recording modes.
Canon Log available in 8K and 4K internal recording modes.
A Canon first, the EOS R5 will feature 5-axis In-Body Image Stabilization, which works in conjunction with Optical IS equipped with many of the RF and EF lenses.
Dual-card slots: 1x CFexpress and 1x SD UHS-II.
Yes, Canon grows up the video mode…
You read that right we have 8k 30p and 24p using the full-frame sensor width with no big crop "excellent for punch-in interviews" and also up to 120fps at 4k 10 bit 4:2:2 color which beats Panasonic's 60fps limit on that mode. The R5 is a beast of a camera that is set to deliver on every front.
We love that it has the dual pixel AF on all modes with the latest intelligent AF modes including eye AF for people and animals. This is probably the most advanced and useful video AF that produces excellent results without much stutter.  The nightmare of focus pullers as their job just got harder.
What about 1080p HD frame rates?
Sadly Canon has not released any information regarding the HD modes on the camera but we have an idea of what that may be.  Since 4k will have 120fps in NTSC and 100fps in PAL, we expect at least to have 240fps in Full HD 1080p with probably no 720p modes due to redundancy.
We may see a sensor crop on full HD to allow such frame rates at 120fps and 240fps but we do not expect a crop on 24p, 25p, 30p and 50/60p which should be full frame.  Crops on higher frame rates are common as many sensors cannot scan that fast for the entire sensor area. We may even see some crop at 4k 120p which is not specified in the released information.   It will be interesting what Canon shows when the full specs are out including the price which we may see reach a range of $3,299 to $3,999 USD as an educated guess.
Interesting Developments:
We cannot be left unimpressed by the EOS R5, Canon has finally awakened from their video slumber in the midrange lines and is delivering a hard punch to the competition.
Sony and Panasonic will not stay put and allow Canon to take the praise without some hard releases.  We expect Panasonic to have a new S1 camera that may shoot 8k as a GH camera in a GH6 or similar that should be able to shoot 8k also. As for frame rates in HD resolution, we may start to see higher than 240fps on competitor cameras. Panasonic, after all, has had 240p on the GH5s and 180p on the S1 series with good results.
Sony may also release a new sensor with a higher memory buffer allowing super slow motion like their RX line of cameras.  Could we see the first Alpha camera with 480p or 1000p in reduced time recording modes? That will be a nice sight to see.
We commend Canon for pushing the industry forward with a Camera that may be just as important as the 5D Mark II was over 10 years ago, now as an 8k capable powerhouse with incredible quality and features like sensor/Lens Hybrid Full-frame IBIS stabilization and full-time Dual Pixel AF with machine learning.
We just need to get that Virus beat so we can go out and test these awesome cameras. More information on the R5 as it becomes available -HSC
(Visited 1,000 times, 1 visits today)