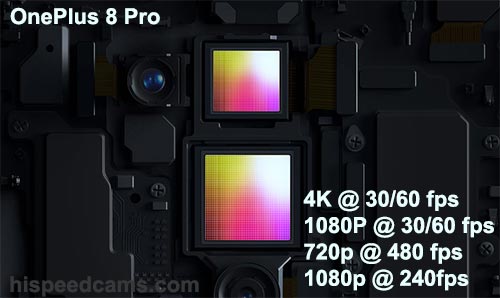 The Chinese company from Shenzhen OnePlus has always been regarded as a pusher and advancer of cutting edge technology at a price that is more affordable than most premium brands. The good news has always been that the lower price has not really made it a premium-less experience, actually, many of their phones are so advanced and feature-rich than many flagships from Samsung and Apple have trouble catching up in features like the 120Hz display refresh of the 7T last year.
Since the OnePlus 6 and 6T slow motion in 2018 made inroads by allowing 480fps 720p recording for an unheard of in the phone space "3.75 sec" recording time it has been one of the best slow motion phones to own.  They repeated that feat with the OnePlus 7 and 7T in 2019. Now in 2020 after many pushed dates for announcement due to the pandemic situation they have now unveiled the OnePlus 8 and 8 Pro flagship phones.  They are premium and advanced that compete head to head with the best out there. They also include 480fps and from the looks of the sample, it seems to be increased in quality with much less pixelation.
OnePlus 8 Pro Main Specifications:
Performance Specs:
Operating System: OxygenOS based on Android™ 10
CPU: Qualcomm® Snapdragon™ 865
5G Chipset: X55
GPU: Adreno 650
RAM: 8GB/12GB LPDDR5
Storage: 128GB/256GB UFS3.0
Battery: 4510 mAh (non-removable)
Warp Charge 30T Fast Charging (5V/6A)
30W Wireless Charging
Rear camera – Main
Sensor: Sony IMX689  (NEW SENSOR)
Megapixels: 48
Pixel Size: 1.12 µm/48M; 2.24 µm (4 in 1)/12M
Lens Quantity: 7P
OIS: Yes
EIS: Yes
Aperture: f/1.78
Telephoto Lens
Megapixels: 8
Pixel Size: 1.0µm
OIS: Yes
Aperture: f/2.44
Ultra Wide Angle Lens
Megapixels: 48
Aperture: f/2.2
Field of View: 120°
Front Camera
Sensor: Sony IMX471
Megapixels: 16
Pixel Size: 1.0 µm
EIS: Yes
Autofocus: Fixed Focus
Aperture: f/2.45
Video Front Cam
1080p video at 30fps
Time-Lapse
Video Modes Main Camera:
4K video at 30/60 fps
1080P video at 30/60 fps
Super Slow Motion: 720p video at 480 fps, 1080p video at 240fps
Time-Lapse: 1080P 30fps, 4k 30fps
Video Editor
Oneplus 8 Pro Slow Motion Video Test by Camera Therapy:
So according to the sample above which was the only one we could find "If it is real", it looks like the OnePlus 8 and 8 Pro have increased the slow motion quality resolution with much less jagged edges and line skipping. Now looks as good or better than some competitors like Huawei or Samsung.
However, you can see that the slow motion lasts only about 6 or 7 seconds in playback at 30p.  That means the camera can only record 720p 480fps for 0.43-0.47 seconds which may really be 0.4 seconds in rounded numbers which is 6.4 seconds playback of 192 frames captured.  That breaks with the 3.75-second capture which was a full minute "60sec 1800frames" playback at 30p and made previous OnePlus phones ideal for capturing a lot of slow motion duration.
So you get an increase in quality but now slow motion is on par with Samsung in recording time which is a huge trade-off.  Not only that, Huawei offers 1920fps at 720p for 1/2 a second and 960fps for 1 second recording which beats the OnePlus offering without breaking a sweat.
OnePlus 8 vs OnePlus 8 Pro – Which Is The Better Deal? by Unbox Therapy:
You do get 1080p at 240fps which is now standard in most phones but we still have to check that quality when samples start surfacing. We are not expecting ground shattering performance here. Apple as of now still has the best 1080p slow motion 240fps we have seen on a phone.
So what is the best value?
OnePlus 8 

MSRP ($699)

OnePlus 8 Pro 

MSRP ($899)
For a $200 dollar difference, we believe that since the Pro version has a more advanced and much larger sensor in the Sony IMX689 which is mainly a feature for low light shooting and stills at that.  The Slow motion component could be improved on the Pro compared to the regular 8 but there is little information and samples to do that determination.  Both phones share the same slow motion capture specs but on different sensors. In our opinion, we have to take a pause and wait for more video samples to see which phone is the better video capture performer before endorsing one or the other. There could be a considerable difference.
One bright spot is the OnePlus 7 and 7T and 6 and 6T are now cheaper which offer long recording slow motion but with higher pixelation which is lower real resolution compared to the 720p mode on the OnePlus 8.
One thing seems to be certain and that is the long recording slow motion feature is no longer and that is a shame. Stay tuned over the coming weeks as we revisit the OnePlus 8 line to see how it performs with new video samples.  Stay safe out there -HSC
(Visited 2,416 times, 1 visits today)