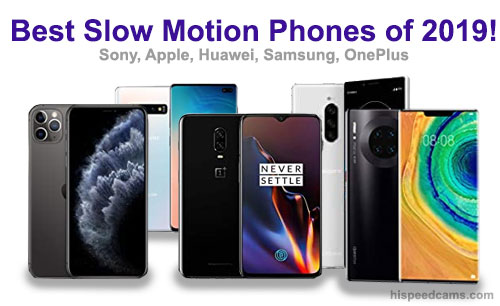 This year we have decided to have a special post to highlight the advancements in smartphone camera systems that allow the recording of super slow motion video. We have seen after all huge advancement this year especially by Asian companies making their best efforts to exploit the camera module's strengths without crippling them to sell a newer model. The Chinese have decided to create a camera war between phone builders that one-up each other every few months.
We value image quality just as high as frame rate and when phones claim to be 1080p in high frame rate modes we usually find that the real case if 720p or similar upscaled to full HD 1080 with artifacts and jagged edges that can make you dizzy. But not all phones are created equal and that is where this list of the best of 2019 comes in. If by any chance an even stronger contender comes in before the end of the year we might revise this list but it would be a fluke.
Best Slow Motion Phones of 2019 guide below, remember buying through our links helps us continue our mission without adding any cost to your order. Thank you for your support!

#5) Sony Xperia 1 and or Xperia 5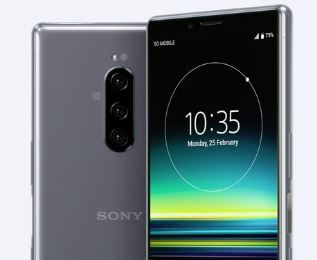 Video Features:
2160p@24/30fps HDR,

1080p@60fps,

1080p@30fps (5-axis gyro-EIS),

1080p@960fps for 0.1 seconds  3.2 second playback on 30p timeline

720p @ 960fps for 0.2 seconds 6.4 second playback on 30p timeline

Cinema Pro by Cinealta – with professional settings
Sony was really on the cusp of delivering the best slow motion mode across a lot of camera segments including phones with their Motion Eye ™ Technology which leverages the power of a fast sensor with a stacked design and memory module to allow for pretty remarkable frame rates and or still sequences.
When it comes to phones, however, the Xperia 1 and Xperia 5 offer the same exact performance and recording time as the previous Xperia XZ2 and XZ3 which is a very low 0.1 seconds 1080p at 960fps and or 0.2 seconds at 720p 960fps.  That equates to just 3.2 seconds at 1080p on a 30fps timeline or 6.4 seconds on 720p. Hardly usable. However, the quality is not that bad and does allow you to get a lot of good shots if you don't mind the limited rec time.
Of the Xperia 1 and Xperia 5, the  5 has about the same slow motion performance for substantially less money.
Sony Xperia 1 :  Unlocked Smartphone 6.5″ 4K HDR OLED CinemaWide Display, 128GB – Black – (US Warranty) $848.00 from the $999 initial price.
Sony Xperia 5:  Unlocked Smartphone $778.18
Both phones offer essentially the same video quality so going toward the cheaper 5 with a slightly worse screen might make sense. Cinema Pro by cinealta – with professional settings, 21: 9 ratio, clip editing is included on both phones.
Sony Xperia 1 – Slow Motion Camera Test – Taiwan Surfing by McLarty Films:
We like the Xperia series and it was enough to qualify for the 5th spot but we feel Sony missed an opportunity to create a better splash in the high frame rate market this year. Well, maybe next year… -HSC
#4) Galaxy S10 and or Note 10 from Samsung: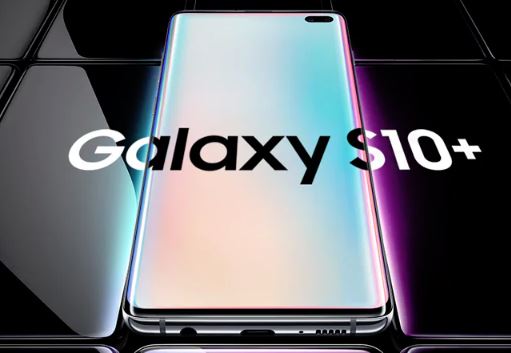 Last year's Galaxy S9 was something of a fluke for the phone slow motion world. Samsung decided the Galaxy S9 will ship with a main feature of 960fps slow motion video in 720p and it was featured as one of the prominent bullet points in promo materials.  Fast forward to 2019 and no mention of slow motion except buried in the specs and not prominent as a launch feature.
It seems slow motion was not a marketing term for Samsung this year and that is a shame. However, the feature made its way to the Galaxy S10 and Note 10 phones pretty much a copy of what was found in last year's phones with slight improvements in speed of processing, color reproduction and fewer artifacts which made it slightly better and quite usable.    The predictive action box is also more reliable and while the jaggies in the aliasing are still there, the noise is very well controlled.
Samsung Galaxy Note 10+ Super Slow Motion Camera by Tech-ET:
We also see better 240fps and 120fps 1080p recording with better resolution, color and dynamic range with better codec bitrate. This makes it a better slow motion phone than the S9 but it is still nothing big enough to make you upgrade if you have that phone.
Galaxy S10, Note10 Slow Motion Specs:
240 & 120fps Full HD 1080p Recording (Improved from S9)
480fps HD 720p recording up to 0.8 seconds or 12.8 seconds playback on a 30p timeline.
960fps HD 720p recording up to 0.4 seconds or 12.8 seconds playback on a 30p timeline.
All in all, it was a good slow motion phone but hardly what we would like to see going forward, we want more than slight improvements. The Galaxy S10 and Note 10 should have had the jump to 1080p at 960fps which would have made it a real upgrade.
We were also not enamored by the fact that only the central back camera can do the super slow motion, the wide and telephoto options are Slow-Mo less which made it less appealing for many.
Price-wise there are deals on the Galaxy S10 and Note 10 with heavy mark-downs all ready for the holiday season.  We recommend you take a look at both phones before deciding to pull the trigger.
Galaxy S10 128GB Unlocked $699:
Samsung Galaxy Note 10 Factory Unlocked Cell Phone with 256GB (U.S. Warranty) $949.99: 
The Note 10 is a newer phone and a more powerful handset and that is why it is priced much higher, it is geared for a different consumer segment. But the video quality on the slow motion side is nearly identical with a slight edge on the Note 10 compared to the S10 but not enough to justify the markup.  If you just want to play with the slow-mo feature then any S10 including the S10e will have the same feature to record with.
One final note will be the addition of 120fps on the selfie camera of both Galaxy S10 and Note 10 phones once Android 10 hits the upgraded handsets, this is to counter the Apple Slofie™ Feature in the iPhone 11. As to the quality or usefulness, we will have to wait and see. -HSC
#3) iPhone 11 & 11 Pro: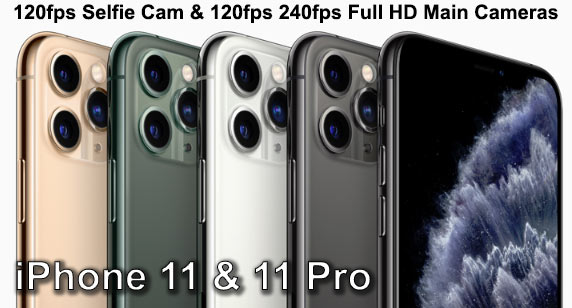 We thought in 2017 that Apple was just out of the running for the slow motion crown when they lacked any sort of update to the phone slow motion essentially since the iPhone delivered 240fps at 1080p.   But you might say we are in the exact same spec and you would be right but the way apple built the feature in the iPhone 11 makes it a whole different phone slow motion experience.
iPhone 11 and 11 Pro Camera Specs:
TrueDepth Camera (Selfie)
12MP camera
ƒ/2.2 aperture
Portrait mode with advanced bokeh and Depth Control
Portrait Lighting with six effects (Natural, Studio, Contour, Stage, Stage Mono, High‑Key Mono)
Animoji and Memoji
4K video recording at 24 fps, 30 fps, or 60 fps
1080p HD video recording at 30 fps or 60 fps
Slo-mo video support for 1080p at 120 fps
Next-generation Smart HDR for photos
Extended dynamic range for video at 30 fps
Cinematic video stabilization (4K, 1080p, and 720p)
Wide color capture for photos and Live Photos
Retina Flash
Auto image stabilization
Burst mode
Video Recording (Main Back Camera):
4K video recording at 24 fps, 30 fps, or 60 fps
1080p HD video recording at 30 fps or 60 fps
720p HD video recording at 30 fps
Extended dynamic range for video up to 60 fps
Optical image stabilization for video (Wide and Telephoto)
2x optical zoom in, 2x optical zoom out; digital zoom up to 6x
Audio zoom
Brighter True Tone flash
QuıckTake video with subject tracking
Slo‑mo video support for 1080p at 120 fps or 240 fps
Time‑lapse video with stabilization
Cinematic video stabilization (4K, 1080p, and 720p)
Continuous autofocus video
Take 8MP still photos while recording 4K video
Playback zoom
Video formats recorded: HEVC and H.264
Stereo recording
As you see the iPhone 11 is a real powerhouse camera phone with up to 3 cameras in Wide, medium and telephoto ranges that allow for fluid video recording on all of them and can interchange during video capture just as you would expect them too. The best part is that the slow motion features are available on all cameras, the Wide and the Telephoto have the same exact specs which beat Samsung and others that only offer the high frame rates on the standard wide camera which is quite limiting leaving the rest of the cameras out in the cold for higher frame rates.
iPhone 11 Slow Motion Sample by Michael M:
Not only that, the iPhone 11 and 11 Max have the best 120fps and 240fps video quality we have ever seen from a smartphone, with improved detail, color and fewer artifacts than any other previous phone. The quality is so good that we can easily recommend upgrading from any previous iPhone if you can afford it.  See the iPhone 11 slow motion samples at HSC here! 
The iPhone 11 also introduced the front camera slow motion selfie mode named by Apple as " Slo-fie™ "  Which shoots 120fps at 1080p which is now being copied by other phones in China and by Samsung in software updates.  Apple's implementation seems to be as of now the best quality on that too.
Apple may not have added higher frame rates above 240p but it sure made an effort by improving the quality of the video so much so that its usability just jumped from a novelty to a real usable feature for Youtube and some low-cost video productions.
We would like Apple to get to 480fps or 960fps in a newer iPhone in the future but if they can make it at good quality by taking their time then it can be worth it to wait.  So Apple, please don't take too long to do it ok? -HSC
#2) OnePlus 7 Pro and 7T, 7T Pro: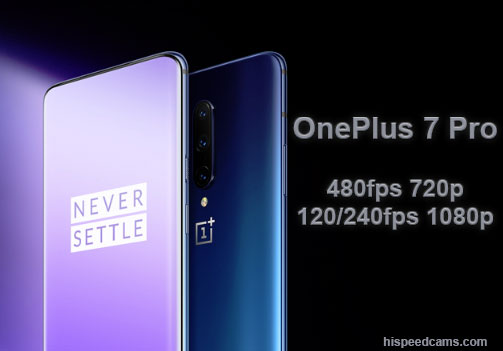 Last year the OnePlus 6 and 6T delivered the biggest leap in recording time of slow motion for smartphones yet by giving a 3.75 second record time.  This gave it the best rating for 2018 phone wise on HSC due to the usefulness of the complete recording time that became dangerously good for sports and small scientific experiments.
Forward to this year 2019 and now the 7, 7T phone retains the same feature with now a promised 960fps mode which seems to be a software implementation only as the sensor only supports 480fps 720p mode. Any 960fps mode means the OnePlus 7 series is using software interpolation and not real frames. Still using the 3.75sec rec time it becomes a really good option if the subject matter is easy to extrapolate frames from, i.e. people or animals but not subjects like explosions or water which have very high detail changes between frames.
Video Specs:
4K video at 30/60 fps
1080P video at 30/60 fps
Super Slow Motion:
1080P video at 240 fps
720P video at 480 fps
720P video at 960 fps (This feature will be available through OTA later.)
OnePlus 7 Pro Slow motion 480 fps by TechBeLike:
While quality leaves a lot to be desired compared to Apple's 240fps mode, for example, the phone also offers a pretty good 240fps mode that is quite detailed with some artifacts but definitely better than others.  The low price of the OnePlus 7 phones make them prime targets for people looking for a great phone at a bargain and this is no exception, for many users of Android, the OnePlus 7T, for example, is a better experience than any other available brand with its 90hz refresh display.
OnePlus 7 earned the #2 spot this year because the recording time remains the same at 3.75 seconds but now with the possibility of firmware adding a software 960fps mode.  Maybe next year's OnePlus 8 will be able to really offer a 960fps real recording mode with the same recording quality or at least 2 seconds to compete with our next phone on the list.  OnePlus is known to push the envelope and we may see this happening in the next phone without much resistance according to recent rumors. -HSC
#1) Huawei Mate 30 Pro: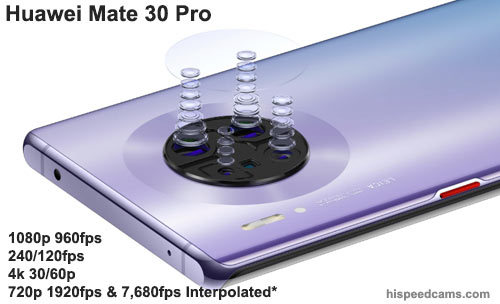 Coming out of left field from a company that has been in the news as being in trouble with the US government, the Huawei Mate 30 Pro which is not shipping in the US officially but can be found from online import sellers, is the slow motion phone champ of 2019.
Huawei Mate 30 Pro Slow Motion Specs Dissected:
120fps 1080p Continuous
240fps 1080p Continuous
960fps 1080p for 1 full second (960 frames in total)
1920fps 720p for 1/2 second  (960 frames in total)
7680fps 720p interpolated 4x (lasts for 32 seconds on a 30p timeline.)
All super slow motion modes at 960p and above last 32 seconds of playback at 30fps regular speed.
The entire buffer for the slow motion feature is 2GB and gets filled by data then dumped and encoded on the fly by the Kirin 990 chip.
This is the first phone that truly records 1920fps slow motion in 720p mode for 1/2 a second or 960 frames and then does excellent interpolation to a whopping 7,680fps 720p to create mind-bending images.   It is especially good for people, animals, and hard non-deformable objects. It will of curse fail as any algorithm with fluids, powders, and heavily detailed objects and will create a soft mushy in-between frame in those cases.  If you do not choose interpolation mode then you can get real slow motion for up to 32 seconds of playback on a 30p timeline which is excellent for a phone.

If you decide to buy it, the phone has a few issues to keep in mind. Due to US government restrictions, it will not ship with a  full version of Android with the Google Apps and not have access to the Playstore.  However several workarounds have been worked out in forums to make this phone usable. The other is that it is a Chinese phone which may need you to get help from someone who understands/reads Chinese to make the setup and get to work in English after.    We do not recommend this phone as your main handset as the support of updates will probably be negated in the US but if you are in China, this is a great flagship phone.  If you are outside of China, make sure you can live with the limitations in the software.
960fps,1920fps and 7680fps test – Huawei Mate 30 Pro incredible Slow Motion by Slow Experiment:
As you can see from the sample above and these other samples at HSC, the quality is quite good and the time is usable easily as a sports and experimentation high speed mode.  It will of course not replace a dedicated slow motion camera for quality work but it is still an amazing development to get real 1920fps 720p and 960fps 1080p even with some artifacts in a portable device.
Huawei may be in hot water with the US government for some time but they have consistently delivered amazing hardware that is probably the cutting edge worldwide.  We are excited about the future of phone slow motion and considering the giant leap that happened here, it is not unrealistic to think that really good 1080p 2,000fps or similar could be very close.  At least for a small-time recording but it will really be magical.
Huawei has made an incredible slow motion phone on the Mate 30 Pro and if they read this, send a handset our way to test and offer samples of reference.  As of now, their new handset is the one to beat. -HSC
Thanks for reading: remember buying any product after clicking through our links helps us continue our mission without adding any cost to your order. Thank you for your support!
(Visited 6,838 times, 1 visits today)