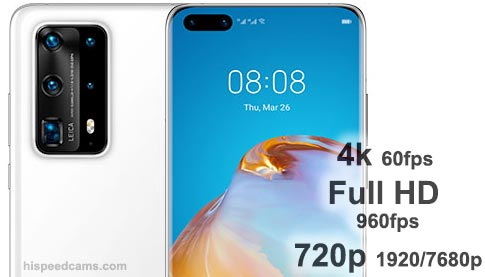 Last year the Huawei Mate 30 Pro was our slow motion phone of the year with its real 1920fps 720p with interpolated 4x mode to 7680fps and real 960fps at full 1080p. Now Huawei has again brought back the same performance with an even better optical system and what looks like better interpolation algorithms to the new P40 Pro and Pro Plus phones.
The phones have gathered little attention outside of China as Android cannot be updated and the Play Store is not accessible due to US restrictions on Huawei as a technology company that poses a risk to national security. Most of these phones are acquired by the use of importers or the pre-owned market and no US carriers offer them. Still, it is the amazing hardware design and the best slow motion performance on any phone to date that makes it impossible to ignore.
P40 Pro Plus Camera Specs:
Back Module
Five on Plus

4x on Pro

50 MP, f/1.9, 23mm (wide), 1/1.28″, 2.44µm, omnidirectional PDAF, OIS
Periscope 8 MP, f/4.4, 240mm (telephoto), PDAF, OIS, 10x optical zoom
8 MP, f/2.4, 80mm (telephoto), PDAF, OIS, 3x optical zoom
40 MP, f/1.8, 18mm (ultrawide), 1/1.54″, PDAF
TOF 3D, (depth)
Features
Leica optics, LED flash, panorama, HDR
Video
2160p@30/60fps, 1080p@30/60fps, 720@7680fps, 1080p@960fps, HDR; gyro-EIS
SELFIE CAMERA
Dual
32 MP, f/2.2, 26mm (wide), 1/2.8″, 0.8µm, AF
IR TOF 3D, (depth/biometrics sensor)
Features
HDR
Video
2160p@30/60fps, 1080p@30/60fps
It is important to note that only The Pro and Pro Plus will have the full slow motion capability. The regular P40 has 3 camera modules and a top slow-mo spec of 960fps at 720p, missing the best features. The best value in our opinion will be the P40 Pro non-Plus version but if you can afford the Plus, by all means, it may be the phone to beat.
The Phone largest sensor is 50MP at 1/1.28 inches but that is reserved for stills and regular video. The sensor used for Ultra slow motion is the 40MP 1/1.54″ sensor which looks similar to that of previous phones.
We see improvements in processing and the AI interpolation is doing an incredible job of extrapolating 1920fps of real 720p data and slowing that by 4x to 7680fps. The end result has much fewer artifacts than the Mate 30 Pro especially in occultation background objects.  It is of course not flawless as interpolation as of now is no match to real captured frames.  Anything with a busy enough detailed background will create distortion and mush artifacts that are not valid for any scientific experimentation. You will have to cap the phone at 1920fps 720p or 960fps 1080p for real frame capture.
We were able to find very cool samples of the phone shooting slow motion below:
Huawei P40 Pro Slow Motion Video Initial  Samples:
Huawei P40 Pro Ultra Slow Motion – 7680 FPS Slow Motion by TheFonoGuy:
Huawei P40 Pro Plus Ultra Slow Motion – OMG 7680 FPS ULTRA SLOW MOTION IS SUPER by MKP Captain:
Huawei P40 Pro Slow-motion video by TechLineHD Extras:
You can see that performance is very good and interpolation is a cut above of any previous implementation we have seen including the Mate 30 Pro of last year.   It seems the focus of last year's release for the camera was slow motion but now it is barely mentioned in the launch video above, it is merely placed on a slide as an afterthought. Good that they retained it but bad that we did not get 1080p 1920fps instead of 720p. We are told that is a sensor windowing limitation as the phone is more than capable of shooting at that resolution and rate.
Rumor has it that manufacturers are already working on 4k 120fps and 240fps modes with excellent quality which could, in theory, mean long recording times at 1080p at 1000fps and above.  Phones are advancing so fast that we really could see a quality jump in the technology before 2025 that will eclipse many entry-level professional slow motion cameras at least in resolution/frame rate. However, the image quality will probably take a long time to compete with larger sensor camera designs in the 4/3 and up formats which for phones are out of the question.
Huawei continues to advance technology at a blistering pace, we see the P40 Pro as the phone to beat in super slow motion for 2020, it is going to be hard for other manufacturers to match or exceed these specs, if Huawei had no software locks from the US, it would absolutely destroy Samsung, Sony and Apple in the camera department as a first-tier phone.
It is unclear at this time what the slow motion mode allows to record time wise but we imagine it will be the same as last year's Mate 30 Pro see the specs of that phone below:
Huawei Mate 30 Pro Slow Motion Specs Dissected:
120fps 1080p Continuous
240fps 1080p Continuous
960fps 1080p for 1 full second (960 frames in total)
1920fps 720p for 1/2 second  (960 frames in total)
7680fps 720p interpolated 4x (lasts for 32 seconds on a 30p timeline.)
All super slow motion modes at 960p and above last 32 seconds of playback at 30fps regular speed.
The entire buffer for the slow motion feature is 2GB and gets filled by data then dumped and encoded on the fly by the Kirin 990 chip.
Pricing and availability:
Order by: April 7th, 2020 in the UK, Europe and Asia, No US launch planned!
P40 £699 
P40 pro £899
P40 Pro Plus +: £1,300  (June – Wait Time)
Huawei, if you are reading this post, send us a P40 Pro Plus so we can use it as a benchmark for phone slow motion and we can compare it to other slow motion cameras.  Sounds to us that you might have quite a few spare demo units to share.   -HSC
(Visited 3,607 times, 1 visits today)