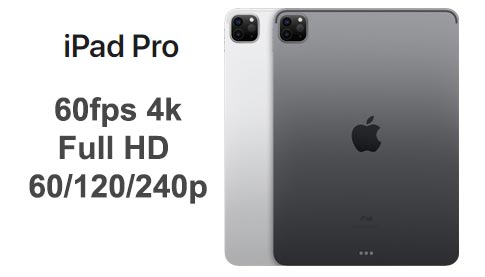 The iPad Pro has been making accessible the best iPhone Camera features for a few years now and the latest 2020 model seems to be in lockstep with the iPhone 11 Pro but with only 2 cameras instead of 3.  However, the quality is close but not as good lens wise, but they make up with a new LiDAR scanner in place of the third camera lens that makes it possible to accurately scan physical objects and surroundings to improve AR capture and interaction.  The demos are early but the technology holds promise.
What interests us at HSC is the slow motion features and we see a continuation of the iPhone 11 Pro and 11 camera modes with Wide and ultra-wide cameras supporting all slow-mo modes of 60, 120 and 240p which is identical to the mobile line up.  We looked at the iPhone 11 Pro's camera quality which impressed us with the best 240p and 120p quality on a phone to date see here
Camera Specs:
Wide: 12MP, ƒ/1.8 aperture
Ultra Wide: 10MP, ƒ/2.4 aperture, and 125° field of view
2x optical zoom out; digital zoom up to 5x
Five‑element lens (Wide and Ultra Wide)
Brighter True Tone flash
Panorama (up to 63MP)
Sapphire crystal lens cover
Backside illumination sensor
Hybrid IR filter
Autofocus with Focus Pixels (Wide)
Tap to focus with Focus Pixels (Wide)
Wide color capture for photos and Live Photos
Exposure control
Noise reduction
Smart HDR for photos
Auto image stabilization
Burst mode
Timer mode
Photo geotagging
Image formats captured: HEIF and JPEG
While you would not want to buy an iPad Pro 2020 for its slow motion performance, it is encouraging to see that it will perform as good as the mobile iPhone version.  The larger size makes it harder to maneuver if handheld but it also helps with stability by shaking much less.  In slow motion, however, it makes little difference to have stabilization if you are just holding normally and don't have a large peak in motion.  The higher the shutter speed the more clarity you will get at high frame rates but that also calls for more light in the scene.
Video Recording  Specs:
4K video recording at 24 fps, 30 fps, or 60 fps (Wide); 60 fps (Ultra Wide)
1080p HD video recording at 30 fps or 60 fps
720p HD video recording at 30 fps
Brighter True Tone flash
Slo‑mo video support for 1080p at 120 fps or 240 fps (Wide); 240 fps (Ultra Wide)
Time‑lapse video with stabilization
Cinematic video stabilization (1080p and 720p)
Continuous autofocus video
Noise reduction
Take 8MP still photos while recording 4K video
Playback zoom
Video geotagging
Video formats captured: HEVC and H.264
iPad Pro Slow Motion Sample?
As you might expect with a product so new we have no samples at this time but according to the excellent first look review below you can probably tell the iPhone 11 and 11 Pro will have slightly better camera quality than the iPad Pro 2020. Why did Apple not just include all the same camera modules as the other phone variants? Well, it comes down to cost, in order for it to be sub $1k they had to cut corners and created a cheaper optical and DSP system for imaging. It is still remarkably good but not a champ like the ones in their flagship phones.
iPad Pro (2020) Review by Rene Ritchie:
We will have slow motion samples in a future post, we don't feel the iPad Pro 2020 is worth it if you need slow motion video or 4k 60. You can get better quality in a more portable device on the iPhone 11 line. However, if you are an iPad user and need to upgrade from the iPad Pro 2018, we feel there is no question this new iPad along with the floating keyboard will be an ideal setup.
We don't expect video quality to be masterful here but we don't think it will be bad at all.  All in all a great overall product that is, of course, expensive but if you want the best Apple can offer you will have to pay up.  We will re-visit this device when slow motion 120p and 240p samples start to be available in quantity.  -HSC
(Visited 3,201 times, 1 visits today)