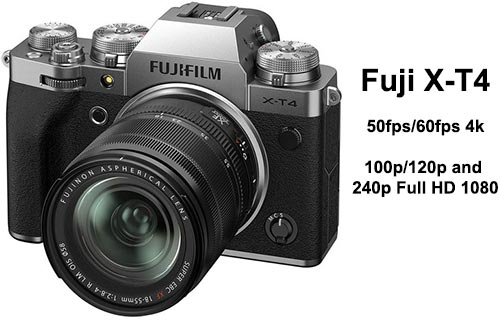 At the end of February right before the Pandemic really got going worldwide and when the world seemed a lot simpler, Fuji surprised us with the launch of the Fuji X-T4 APS-C 1.5x crop sensor body.  It comes completely unexpected to the community of slow motion enthusiasts as the majority of cameras only support a maximum of 120fps with a few Panasonics doing 180p and only the GH5s doing 240fps 1080p.
What makes this camera different is the quality of the output at 240p which is far and above the king in the APS-C format and destroys the GH5s aliased image with a very good and detailed rendition of the scene with a codec strong enough to allow for enough detail and color to really push the format further than any EVIL mirrorless camera before it.
Fuji X-T4 Slow Motion Video Modes:
Recording
MOV/H.264/H.265 10-Bit
DCI 4K (4096 x 2160) at 23.976p/24.00p/25p/29.97p/50p/59.94p [100 to 400 Mb/s]
UHD 4K (3840 x 2160) at 23.976p/24.00p/25p/29.97p/50p/59.94p [100 to 400 Mb/s]
DCI 2K (2048 x 1080) at 23.976p/24.00p/25p/29.97p/50p/59.94p [50 to 200 Mb/s]
Full HD (1920 x 1080) at 23.976p/24.00p/25p/29.97p/50p/59.94p/100p/119.88p/240p [50 to 200 Mb/s]
External Recording Modes
10-Bit
DCI 4K (4096 x 2160)
Recording Limit
Up to 30 Minutes
Video Encoding
NTSC/PAL
Audio Recording
Built-In Microphone (Stereo)
External Microphone Input (Stereo)
Audio File Format
AAC, Linear PCM (Stereo)
Still Imaging Specs:
| | |
| --- | --- |
| Lens Mount | FUJIFILM X |
| Camera Format | APS-C (1.5x Crop Factor) |
| Pixels | Effective: 26.1 Megapixel |
| Maximum Resolution | 6240 x 4160 |
| Aspect Ratio | 1:1, 3:2, 16:9 |
| Sensor Type | CMOS |
| Sensor Size | 23.5 x 15.6 mm |
| Image File Format | JPEG, Raw, TIFF |
| Bit Depth | 16-Bit |
| Image Stabilization | Sensor-Shift, 5-Axis |
So we get the usual 120fps NTSC and 100fps PAL formats you have come to expect on most other cameras and then jumps straight to 240fps at what seems like 200Mbits/sec according to the specs (Further testing needed) listed on the official site.
The camera also has a 6.5 Stop 5-Axis IBIS sensor stabilized system that from what has been tested is right up there with the best Panasonic and Olympus systems.  Fuji has really created the best APS-C camera it has ever made here for the enthusiast and maybe the best in the format ever released for videographers and at 15fps and Phase Detection enabled 425 AF points for photographers; it is no slouch.
Fuji X-T4 240fps Sample videos:
Here are some initial samples that show the 240fps slow motion mode at 1080p.  We believe this will be a camera to consider for high frame rate enthusiasts that want to shoot sports and people/animals in pretty remarkable quality while at the same time having a do it all video and photo camera with the Fuji quality behind it.
240fps & IBIS?! Fuji X-T4 FIRST LOOK! by Matt Day:
Fujifilm XT4 Review // HANDS ON tests of IBIS, Flippy screen, 240fps 1080p, and the "4k vlog test" by Tommy Callaway:
X-T4 Review | We Test the IBIS, Autofocus and Slow Motion 240 FPS Video by OrmsTV:
Fujifilm XT4 New Video Features by Peewee Gonzales:
Getting down and dirty with the new Fujifilm X-T4 | Real-world field test by Wex Photo Video:
240p but but…?
Well, what do you think?  Is it earth-shattering quality, absolutely not but it is better than what you get with a Panasonic GH5 180fps or GH5s 240fps. Not as good as the Panasonic 180fps on the S1 and S1H which is in our view pretty solid quality.  It will also not beat the 240fps offered several years ago by the Sony FS700 used under $1499 MSRP with its time-limited feature but very good processing with minimal aliasing.
It also looks better in some ways than the Sony RX series of cameras like the color quality because it is shooting H.265 in 10 Bits at 240p instead of the Sony RX in 8 bit H.264.  However, the RX series has an edge still in detail especially in good light but both suffer from some aliasing in detail like hair, patterns, sand, powders and edges for example.
The low light in 240p mode might look bad in the samples above but that happens to every camera at high frame rates as the light received gets cut from higher shutter speeds. Add lights and get a better quality as with any slow motion camera.
So we get an excellent all-rounder of a camera on the Fuji X-T4, it really has it all for most people and the video quality and it's included film modes and new and improved IBIS makes it an excellent deal under $1,699 MSRP Body Only. But if you own another system like Canon, Panasonic, Nikon or Olympus, jumping to Fuji would require you to get new lenses for the camera.  It will not be an easy jump.  We also expect Panasonic, Canon, and Nikon to join the 240fps bandwagon at some point in the future with even better quality; until then you will have to wait it out in 120fps and up to 180fps land with ok quality and badly aliased quality 240p in the GH5s from Panasonic.
We will have more samples of the Fuji X-T4 as they become available and hopefully, we can analyze and compare its quality to others on our Camera Guide in the near future.   If you do want to buy this camera please support our website by following this Amazon link before purchase at no extra cost to you, it helps us keep going and offering slow motion geared information on the web.
Thanks for reading and please stay safe from Corona Virus! -HSC
(Visited 2,792 times, 1 visits today)