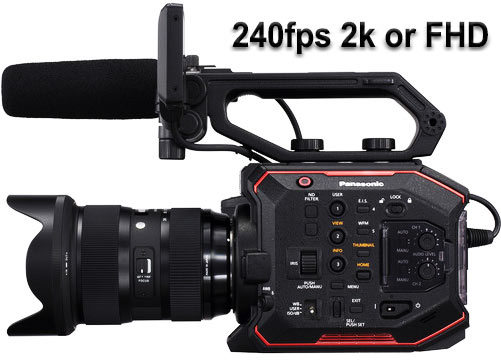 The new v2.02 firmware update for the Panasonic EVA1 includes improved bit rates at a variety of frame rates like:    2k- 422-Intra Frame Recording 200M/100M Max 120fps (equivalent to 400Mbps) Which may improve slow-motion quality considerably by allowing more data to be saved instead of scrapped.
For digital recorder owners, there is a lot to be excited about as the camera will now output RAW data at: 5.7K/30p Full sensor, 4K/60p Crop ,  2K/240p Sensor Crop.   Since the 240fps mode saved internally exhibited very severe aliasing, moire and line skipping; the fact that RAW is now a possibility should bring the camera's capabilities up a notch and deliver excellent slow-motion quality. We hope to have some samples of the RAW recording on the EVA1 in a  future update.
Panasonic EVA1 Firmware 2.02 Update:
You can download the update from Panasonic at this link here: https://eww.pass.panasonic.co.jp/pro-av/support/content/download/EN/ep2main/soft/upgeva1_e.htm
The installation procedure guide can be found here In this PDF file!
Release notes below:
 Download

Name
AU-EVA1 series Software (Firmware) Update Data
Last Update
Apr. 2, 2018
Model
AU-EVA1 series
AU-EVA1P AU-EVA1PJ AU-EVA1EJ AU-EVA1EN AU-EVA1ED AU-EVA1AN AU-EVA1PX AU-EVA1MC
Registered
Name/Size
DV91000107K / 29.7 MByte
Expected Time for Update Approx. 3min
Copyright
Copyright © Panasonic Corporation
Transfer
All Rights Reserved
Software
This software is update data for the applicable model above.
Content
Ver. 2.02-

New Features
Additional recording formats

4096×2160(4K)

422Intra 400M 29.97p,24p,25p,23.98p

3840×2160(UHD)

422Intra 400M 29.97p,25p,23.98p

2048×1080(2K)

422Intra 200M 59.94p,50p
422Intra 100M 29.97p,24p,25p,23.98p

1920×1080(FHD)

422Intra 200M 59.94p,50p
422Intra 100M 29.97p,25p,23.98p,59.94i,50i
422LongGOP 50M 59.94i,50i

(Support for VFR)

4K / UHD

422Intra 400M Max 30fps

2K / FHD

422Intra 200M/100M Max 120fps (equivalent to 400M)

Support for Interval REC
Support for RAW Output
5.7K/30p, Crop 4K/60p, Crop 2K/240p
Output of CAMERA metadata (info about sensor, lens, etc.) superimposed on SDI
Output of information displayed on LCD so as to be able to use HDMI output for VF purpose(Focus Assist and HOME Screen)
Improvement in HOME Screen operability
Switching of VFR ON/OFF, SHUTTER ON/OFF and ISO/GAIN
Improvement of WFM
Transmittance of WFM display is lowered for improvement in readability.
WFM can be switched directly from Focus Square.
Compatibility with 3rd-party wired remote controls

Improvement
When SDI OUT menu is at OFF, mounting/dismounting of LCD causes REC S/S button on the Grip to no longer work. This problem is fixed.

 History or Release note
Preparation
for Upgrade
Copy the update file of the Software (Firmware) to an SD memory card.
Software can be updated using this SD memory card.
Please refer to the procedure in the site.(Printing out of the procedure is recommended.)
If you test this firmware and would like to share some new frame rate footage from the EVA1 especially in RAW at high frame rates please send us a message here! -HSC
Panasonic AU-EVA1 SLOW MO 240FPS by inFLICKted Media:
(Visited 1,079 times, 1 visits today)