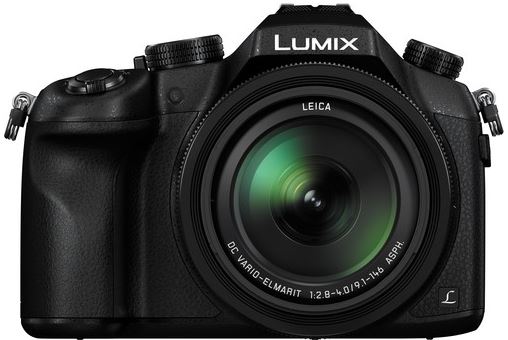 Right on the rumor heels of the LX8 we get a new camera from Panasonic. The FZ1000 looks like a GH4 only larger and with a huge lens (Non Interchangeable).  The specs on the camera surprised us and it follows our slow motion estimation for improvement.
FZ1000 Specs:
1″ inch 20MP: 5472 x 3648 MOS  Sensor
Optical 16x Powered Zoom 9.12-146 mm (35 mm eq: 25-400 mm)
Aperture: f/2.8 (W) – 4 (T) to f/11 Leica Branded
ISO 

125-12800 (Extended Mode: 80-25600)

4k 

3840 x 2160:  30 fps  (NO 24p at 4k)

1920 x 1080: 60 fps, 30 fps, 24 fps   up to 28Mbps
 1920 x 1080 100fps PAL and 120fps NTSC

1280*720  200fps PAL  240fps NTSC

640*480 360fps NTSC  
The Camera offers some very impressive slow motion specs at first glance. 120fps 1080p besting the GH4s 96fps and 240fps 720p mode, it even throws in a VGA 480p 360fps mode for rounding up the capabilities.   Only one sample of HD at 1080p has been released and while its noise is very well controlled; you can clearly see line skipping and moire invading the images and costing in the process image quality.
Slow Motion Sample PAL 100fps 1080p:
It will be interesting to see what the 720p and VGA modes look like.  A first analysis of the 1080p 120fps mode shows 20Mbps as the data rate for the slow motion mode.  Not unlike the GH4's 96fps which seems to use the same processing and pipeline as the GH4. It shares the same Quad core Venus engine processor as the more expensive GH4 but with a 1080p data rate cap in 60p and below.
It is quite early to tell about the image quality the slow motion might provide in controlled situations.  And we are excited that slow motion is becoming a commonplace feature that is evolving rapidly.  Panasonic seems to be at the forefront in providing cameras with this capability and offering quality at the same time. We will refrain from adding the FZ1000 to the HSC Camera Guide until we have more real world quality samples.
You can pre order the FZ1000 from Amazon Here For $897.99 for a July 27th ship date.
More Videos, Samples and Info from the FZ1000:
(Visited 9,792 times, 1 visits today)