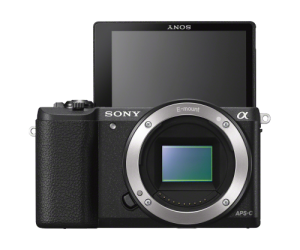 Today Sony announced the Sony Alpha a5100 which fits between the a5000 and a6000.   The flagship feature is that it has a mixture of phase and contrast AF points totaling a whopping  179 points for phase mode and an extra 25 zones for contrast, all combined 204 points.  According to some early tests this camera might bridge the gap between full DSLRs and mirror-less when it comes to focusing.   Current high performance DSLRs still are better than mirror-less due to the phase nature of their AF sensors.   If this camera can put up a fight there will be less and less craving for large mirror box DSLRs in the coming years.
Sony a5100 key Specs:
Fast AF with Touch mode with 179 Phase and 25 Contrast Zones.
1080p at up to 60p NTSC and 50p PAL video modes.
120fps mode at 720p much like the one in the a7s.***
Wifi & NFC
24 Megapixel sensor with gapless lenses.
ISO Range 100 -25600
XAVC S codec up to 50 Mb/sec

3-inch display tilts a full 180 degrees allows Selfies
While there are no slow motion samples yet we expect them to be of reasonable quality with the a7s having a better overall control of artifacts and noise. The 24 MP sensor will be probably producing down-sampling artifacts when on 720p.  Since the Sony a7s crops the sensor for 720p slow motion it is possible that the a5100 will use the same technique. We expect the a6100 if announced to have a similar video mode.
It's good to see Sony including slow motion modes on most of their recent cameras. It bodes well for a future with higher frame rates above 120fps and in HD.
Sony Europe Feature Run-down Video, They omit mention of  720p 120fps  but it's in the full spec sheet.
More info on the Sony a5100 camera:
Pre order the a5100 Price: $549  body only at Adorama (or $699 with the Sony's 16-50mm kit lens at Adorama) and help support HSC at no extra cost to you!
(Visited 6,845 times, 1 visits today)