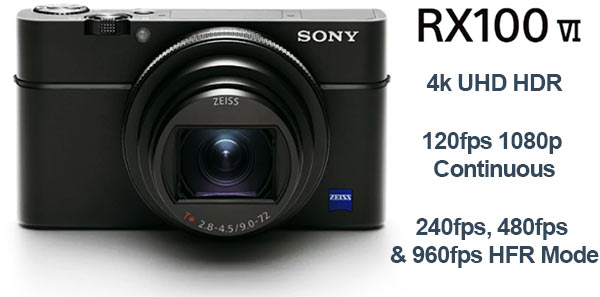 The Sony RX100 VI camera has not reached the reviewers yet for a full in-depth look but the early press shoots did gather some slow-motion footage which shows the camera in action. We also got a final word from a good source that the camera has the exact same  HFR resolution and timing features as the RX100 V which means there is no improvement in the quality of the image when shooting higher frame rates.
In fact, you may even get lesser quality footage due to the lens being now an 8x f2.8 to f4.5 lens 24-200mm (35mm Equivalent) which is much slower and by optical standards, it should trail the 2.91x  f/1.8-2.8 Lens 24-70mm (35mm Equivalent) of the RX100 V.  So you get a $250 price increase for a better AF system, better color in video, a better tilt screen which is now full touch and the ability to zoom 8x. If those things are important to you then the extra money may be worth it.
Sony RX100 VI Initial Slow Motion Samples:
Since the press events were controlled and set up, the initial samples of the RX100 VI all feature similar models and settings. You can expect about the same quality as the RX100 V since it is using the exact same sensor technology and resolution.
Quality Priority (Same as Older RX100 V):
240fps/250fps (1824×1026) – Near full 1080p
480fps/500fps (1824×616)
960fps/1000fps (1244×420) 
Shoot Time Priority (Same as Older RX100 V):
240fps/250fps (1824×616)
480fps/500fps (1292×436) 
960fps/1000fps (912×308)
The camera took nearly a full 2 years to get to market and there is no real increase in image quality aside from a better color science that by some standards is more Canon-Like which should provide more poppy skin tones. The camera will ship July 10, 2018, for $1,198.00 Amazon has a Grip Bundle here as well!
The samples are shown below:
Sony RX100 VI: 4K and HFR Video Samples by Ryan Mense:
Sony RX100 VI slow-motion voorbeeldvideo (250 fps) by Photofacts Academy:
Sony RX100 VI High-Speed Tests 120fps, 240fps by Digital Photo Pro:
Sony RX100 VI Hands-on by Kai W — HFR starts at 4:33:
(Visited 5,960 times, 1 visits today)