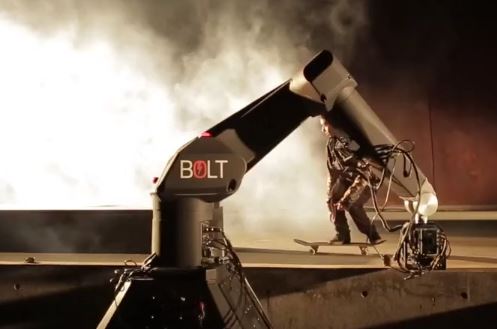 Stiller Studios a motion control specialist based in Sweden has used the robot Bolt Cinebot computer controlled arm created by Mark Roberts Motion Control alongside the Vision Research Phantom Flex 4k camera to create some amazing slow motion footage.
While the equipment is daunting to the common man and probably the rental price is equivalent to the price of a mid size sedan; it should not deter you from taking a look.  High speed is especially suited to this kind of robot as the quick and rock solid movements are ideal to control every angle during a slow motion shot that lasts a few hundreds of a second to few secs.
This is the new realm of production with slow motion and if you are in it to be the best for advertising, movies or scientific purposes this is probably the place to go. Video below:
Bolt_OnTracks_Showreel by StillerPlay:
More information on Stiller Studios and their services can be found at their site here: http://stillerstudios.com/
More information about the amazing Bolt Cinebot Arm can be found here: http://www.mrmoco.com/thebolt/
Full list of People credited for the video slo-mo shoot is here:
Produced at Stiller Studios
stillerstudios.com
Mark Roberts Motion Control Ltd.
Ryan Fear
Billy Ziller
Ladislav Moulis
mrmoco.com
Love High Speed
Jason Berman
Stephen Price
lovehighspeed.com
FXPHD
Mike Seymour
fxphd.com
Performance SK8 – the Skateboard Technology Company
Lisa Thoren
prosk8.se
International Special Effects
Duncan Capp
i-fx.tv
All imagery and copyrights used in this post are the property of Stiller Studios and Bolt Cinebot by Mark Roberts and used for informational purposed only under fair use.
(Visited 2,249 times, 1 visits today)