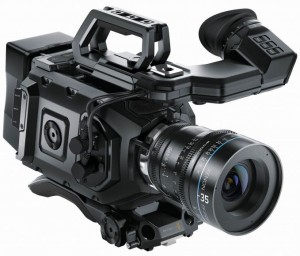 Blackmagic Design has now made it a tradition to blow away the competition when it comes to NAB announcements. This year it seems it is no different with  refinements to almost every product in their arsenal including DaVinci Resolve which has also a major update which will make it an even better video editing solution. Which is also bundled with their cameras.
Slowmo:
The big news for slow motion fans is two fold and it is quite significant from a standard manufacturer like Blackmagic.  It is no longer sitting still when it comes to frame rate adoption and it is clear that higher fps is a trend that will continue to increase for years to come. It is a must have spec to attract video professionals.
Black Magic URSA Firmware Update 2.3: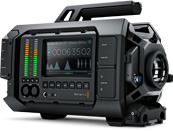 The first big surprise is that current owners of the URSA camera which was previously hard locked at 80fps at 4k and 1080p is now being upgraded to support 120fps at 4k RAW if you upgrade to the new v2 4k sensor and 1080p at up to 150fps in windowed mode in the current and new sensors. With this update the URSA jumps to 4th Place in our Slow Motion Camera Guide, way to go!
URSA 2.3 Improvements:
Adds support for windowed 1920 x 1080 recording up to 150 fps
Adds support for Apple ProRes 444 XQ recording in HD and 4K
Adds support for new V2 4K sensor for recording up to 120 fps RAW at 4K
New installer layout which displays current software installed in camera
Improved menu option for selecting recording format
If you own an URSA, you can get the firmware update here: BlackMagic Design URSA Firmware Update for Windows and Mac!
While the new slow motion mode in 1080p is windowed it does offer a pretty good 150fps speed that most of the competition lacks. Add to it that it is a free update to current owners and this becomes an even better proposition.  Updates like these are what the URSA promised since the start, a truly upgradeable camera platform from software to sensor so your investment stays relevant over the years.
Testing out 150FPS abilities of Blackmagic Ursa 2.3 by UrsaCam.com
The New URSA MINI: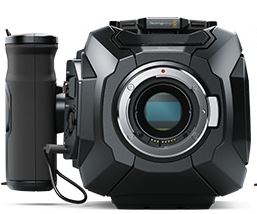 Think of the URSA mini as a stopgap between the massive and heavy URSA which is a do all be all camera platform with three monitors. The Mini is basically the same hardware with an upgraded sensor option for much less price starting at $2,995 for the EF 4k version to the PL $5,495 4.6k upgraded sensor version.
SPECS:
Sensor Size 25.34mm x 14.25mm (Super35)
Shooting Resolutions

4608 x 2592
4096 x 2304 (4K 16:9)
4608 x 1920 (4K 2.4:1)
3840 x 2160 (Ultra HD)
3072 x 2560 (3K Anamorphic)
2048 x 1152 (2K 16:9)
1920 x 1080

15 stops Dynamic Range
60fps 4.6k RAW Option
120fps 1080p Windowed Slow Motion
Focus Manual
Iris Control Manual
Lens Mount EF & PL Mount
Screen Dimensions 1 x 5" – 1920 x 1080
Screen Type: LCD capacitive touchscreen
Storage Rates 4608 x 2592 CinemaDNG RAW 3:1 – 180 MB/s
CinemaDNG RAW 4:1 – 135 MB/s
3840 x 2160

Apple ProRes 444 XQ – 312.5 MB/s
Apple ProRes 444 – 165 MB/s
Apple ProRes 422 HQ – 110 MB/s
Apple ProRes 422 – 73.6 MB/s
Apple ProRes 422 LT – 51 MB/s
Apple ProRes Proxy – 22.4 MB/s

1920 x 1080

Apple ProRes 444 XQ – 62.5 MB/s
Apple ProRes 444 – 41.25 MB/s
Apple ProRes 422 HQ – 27.5 MB/s
Apple ProRes 422 – 18.4 MB/s
Apple ProRes 422 LT – 12.75 MB/s
Apple ProRes Proxy – 5.6 MB/s

Storage Type2 x CFast 2.0
The URSA Mini can capture full resolution 4.6K recordings at up to 60 frames per second and up to 120 frames per second in regular 1080 HD.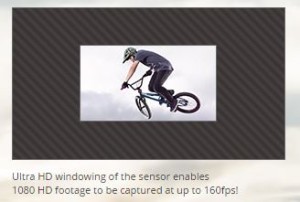 The crop from the full sensor to capture faster slow motion is nothing new, this is usually how slow motion cameras gather higher frame rates. They can increase speed by dicing resolution to get insane frame rates. It seems that the URSA Mini will be able to handle 1080p 120fps continuous recording.
The camera will use CFast 2.0 cards which are the same the Canon new C300 mk II camera will use. They don't come cheap and probably will dop down in price but these costs will have to be factored if this camera is to be purchased.
URSA Mini Press Conference by FimLive:
No Film School look at the URSA mini:
While these cameras are not exactly cheap, the slow motion quality is superb and hard to beat.  Until the fps1000 cameras show up there is no real competition at this price range for 1080p slow motion quality and 4k higher frame rates under 5,000 USD.
We applaud Blackmagic Design for catering to their user base and offering a really good upgrade for URSA customers.  For new ones the URSA Mini with it's impressive 15 stop dynamic range and up to 120fps 1080p frame rates for under $5k for the most part is a really good entry level for serious production.  We are partial to the EF mount for price and lens availability.
Note:  The article originally mentioned 160fps for the URSA Mini as displayed in the Black Magic Spec Sheet, however the final camera only supports 120fps.
(Visited 32,830 times, 1 visits today)