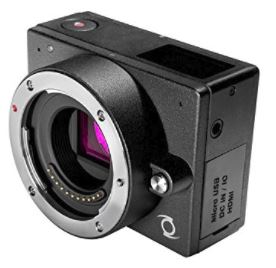 The Z Cam E1 which delivered excellent quality 4k footage from a tiny package and was able to do 720p 240fps frame rates "at less than ideal quality", however,  a new Rumor from 4/3 Rumors here shows a Twitter message that hints at a new Z E2 m4/3 camera that is able to do 120fps at full 4k resolution.  If this turns out to be true it could yield further performance improvements in 1080p and 720p along with higher quality that could be usable.
As far as linear specs go a 120p 4k pipeline could in theory yield 480fps 1080p and 960/1000fps 720p without going out of spec. As we have come to know over the years, however, it is usually wrong to extrapolate these specs to the maximum possible metric as the sensor or memory could be bottlenecks that limit the performance. So this rumor could have some legs to it and NAB 2018 could be the show that makes 4k 120p a regular feature for cameras.
Z E2 Camera What We Want In Specs:
12-16MP 4/3 sensor
24p,30p & 60p 4k UHD
120fps 4k Slow Mo
240fps 1080p
480fps 720p
2hr Battery Life
12-14 stops of Dynamic Range
Full electronic m4/3 lens compatibility
Clean High Sensitivity up to ISO 25,600
So the list above sounds pretty much like a wishlist and it is. So take that with a scoop of salt.  If we finally get the 120p 4k spec in a  camera under 1k that delivers quality then we expect it to do very well in the market.   That said NAB 2018 in early April may turn out to be an excellent announcement show with cameras from specialized markets to wide release expected to be shown and or announced. Slow Motion should also be prominently displayed which will probably show the usual big players show their wares.
Below you can see the 240fps 720p quality of the current Z E1 Cam which is not ideal. Will we see a big increase in quality? only time will tell.
Z Camera E1 by Finepoint 240fps 720p 2:35 time:
Seagull crash landing in slow motion Z-CAM E1 240 fps by BlueNoite:
Z Camera E1 Water Balloon Exploding 720P @ 240FPS by aussiemikeysaru:
Bonus Shot Low Light on the E1:
Z-Camera E1 – LOW LIGHT ISO – 4K – Z-Log by NEXTHARDWARE:
(Visited 1,579 times, 1 visits today)