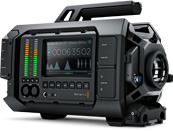 The Blackmagic URSA 4k Professional camera is one awesome powerhouse for standard frame rate productions with it's three high quality LCD screens and RAW / Prores recording at just $5,995 USD.   Prior to the most recent 1.9.9 Firmware it was capped at 60p for 1080p and 4k but after the update the camera gained 80fps for both 4k and 1080p.
Although the frame rate at 80fps is still low compared to most high speed offerings, the fact that it is 4k makes it a special milestone for the resolution.   The URSA uses the CMOSIS CMV12000  Global shutter sensor which is the same to be used by the prototype 4k fps1000 camera upgrade option.   The sensor is capable of producing from 150-300fps at full sensor resolution and it will be exploited by the fps1000 4k  in full resolution.   The URSA will record in a 12 Bit 3:1 RAW format for the high frame rate of 80fps costing no quality but saving space in memory and cards.   As of this writing the URSA is the highest quality RAW 80fps image under $8k.   It is an expensive camera which cost it some points in our camera guide as quality is not a definitive factor in final ranking . Price and workflow also are important.   If you need RAW 4k up to 80fps the URSA at $5,995 is your cheapest option until the fps1000 ships.  You can also get 4k at higher frame rates like 240fps on the Sony FS700 or FS7 but you will need an expensive external recorder or Sony module which is orders of magnitude more expensive. If you don't need RAW or 4k Slow motion other cameras like the FS700 plain or the edgertronic are less costly options with higher frame rates.
Here are a few samples of the URSA at 80fps:
Quick test by Norbert Bielan:
Cat and Laser by Will Price:
Firmware Update Discussion:
Merewether Baths by Todd Davies 
The take-away from the footage is that cameras like the fps1000 4k that will use the same sensor stand to be a paramount of image quality for slow motion in daylight or in very good studio illumination.   The  CMOSIS CMV12000 sensor is rated at ISO 400 and should perform well up to ISO 800 but not above that as fixed pattern noise becomes apparent.   Be expected to spend on bright no flicker lights in order to shoot studio scenes on cameras with this sensor. Slow motion is all about available light and this sensor is not a good low light performer compared to a low light monster like the a7s from Sony.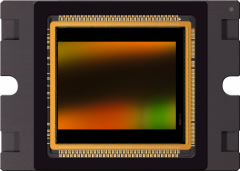 The Blackmagic URSA delivers an upgrade-able sensor module so it might be possible to improve on the camera if you acquire it today expecting to better the capture quality in the future. It will be a matter of time to see how it pans out.
(Visited 4,991 times, 1 visits today)