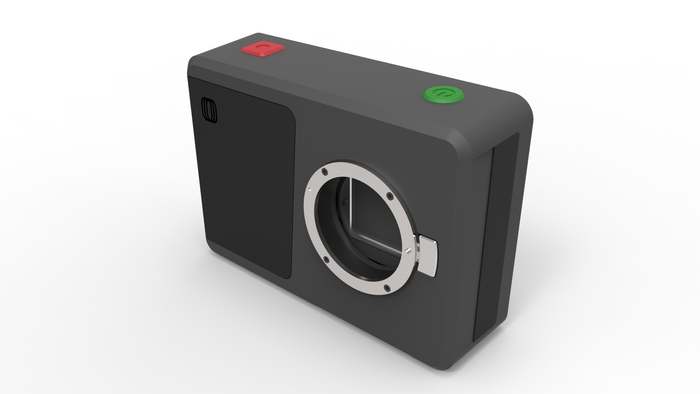 Warning: The parent company of FPS cameras "The Slow Motion Camera Company Ltd." went out of business and entered liquidation proceedings. No further development of cameras is expected. More information here on Google Search! 
To backers of the fps1000 "HSC included" the latest developments of the camera came in as a huge upgrade for the once humble little Kickstarter camera. Changes were unveiled at the end of November.
For starters the case has been re-designed by Mike Egan and Marcus Bosch who are involved in the Kickstarter campaign in at least one camera and happened to be industrial designers. The new case features a removable battery flap door, a power and record start stop buttons, a micro 4/3ds mount replacing the original C screw mount design and a much larger ; furthermore the LCD screen has been replaced with a 5" screen with 800 x 480 resolution and capacitive touch screen (previously 2.4" 320 x 240 with resistive touch).  The screen in itself is a very impressive upgrade in itself.
The Micro 4/3ds mount will not be electronic so all your powered Olympus or Panasonic micro 4/3rds lenses will not be compatible "aperture control" with the camera. Some manual m4/3ds third party lenses should be able to work from slr  magic and others. We advise you buy a mount adapter and work with lenses you own from other systems or buy ones in your budget.  As with any high speed camera a fast low fstop  lens will trump focal length any day.  f2.8 or f1.4 is ideal unless shooting in very highly illuminated settings. High speed requires 40 times more light at 1000fps than at 24fps.   If you are accustomed to shooting regular video, high speed will make you re-think how you light a scene and how much you spend on lights several times over your current budget.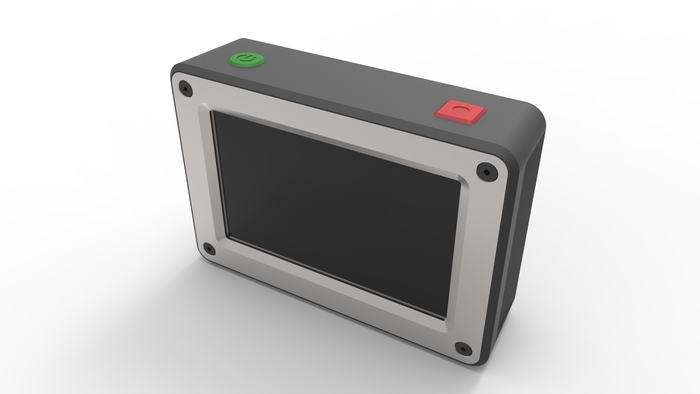 The battery option that was added in the stretch goals is now fully ready to be built upon the camera design and that battery is a dual 18650 Li-ion  3.7V battery solution which is as a unit about 2x the area of a common AA battery.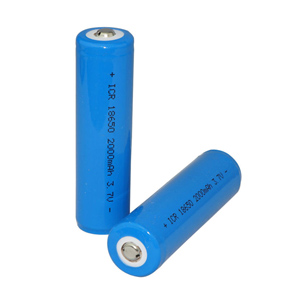 The batteries are widely available from several manufacturers and the prices are extremely low at under $5 in some cases. The power that the cells will deliver is up to 4000mAh at 3.2V and in combination 8000mAh to deliver the needed 7.4V to the camera which requires a more powerful solution than other small cameras due to the nature of the processing involved. The batteries can charge in under 5hrs usually and will last a long time, how long? it will have to be tested in all versions of the camera and reported back when they are operational.  The good news is that the user will be able to buy a bunch of these high performing batteries and swap them in the field without worrying about recharging from the camera which in itself is also an option for avoiding a charger all-together. It is as yet undecided which version or mAh rating  of the camera batteries will ship with the finalized camera so refrain from pre-purchasing any batteries if you are a backer.  Higher mAh rating batteries as with all Li-ion batteries can become unstable and even explode in certain conditions due to heat. We may see a middle of the road battery being chosen at say 2500 mAh or 3200 mAh instead of 4000 mAh to be on the safe side. Also not all brands are constructed the same and with expensive gear a good quality performing brand battery is essential.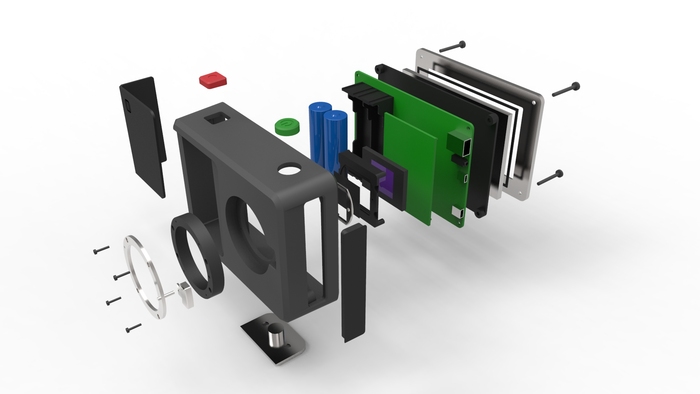 Another stretch goal that has been added is the inclusion of a USB 3 port for fast image access.  It is not clear at this time if it will be able to power portable hard drives and USB sticks at this time in order to empty the buffer to larger capacity devices besides the micro SD card.
The STM32F4 ARM processor has been retained from the original design allowing user-programmability which opens the way for a whole community to add features in software and custom code to control the camera.  Some of the mentioned possible programmable features are trap focus "allows the camera to be triggered by a subject like a bird entering the frame" intervalometer "timelapse" and camera record limits, frame sizes and auto backup. These improvements will be offloaded to the community behind the camera and will be a matter of testing and adoption. The open nature of the camera means the possibilities are as broad as the users are willing to offer their tweaks and code to the rest of the owners.
An HDMI port has also been added to the camera in order for it to allow live preview and playback at 1080p 60. This is a welcome addition for focus pulling and shot composition when you really can't rely on a 5 inch screen.   It is also possible to add focus aids like zoom on the live image to achieve critical focus later in software.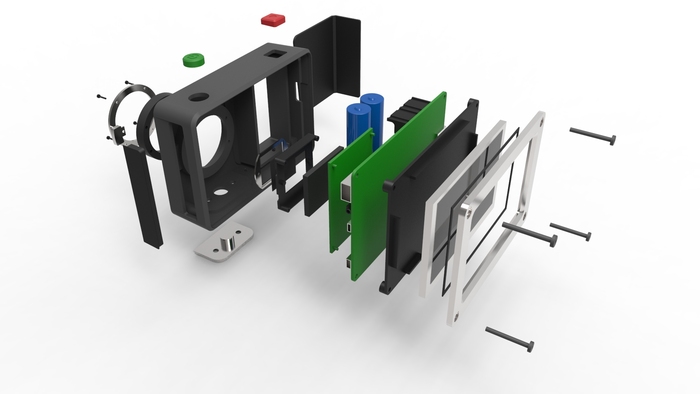 A  2.5mm jack socket  compatible with both Triggertrap and Miops trigger units will be included to record events with these units.
Another change from the original camera is the inclusion of an IR cut filter option which will be provided fixed as standard and optionally not installed if the owner prefers.  The IR cut filter will address the issue of color contamination due to the IR spectrum which can wreck the camera image in a variety of ways including sharpness and overall tint. We feel the filter will be ideal for most users wanting to capture a pleasing image. Some however would want no IR cut filter for scientific applications or astrophotography.
The Good News:
All of the changes listed are going to be standard on every version of the camera from the cheap silver and gold to the Platinum and the extra 4k option "continue reading" at no extra cost!
You get a much more featured camera with more options than before, a  robust mount in the m4/3 spec, HDMI, high capacity battery internal support, a good capacitive touch screen, IR filter, USB3 port and ability to swap batteries in the field.
Graham Rowan is giving the backers a lot of camera for their money which never was intended in the beginning as a business but as a camera sold as Cost in order to develop a brand and company with future prospects.   Backers are getting an incredible deal in high speed with the camera.
The Bad News:
Camera delivery will be delayed to Q2 2015 in order to manufacture and fully test the cameras.  Q1 2014 was the initial time frame. This is not as bad as it sounds since the time frame is really a few months with a lot to gain.
No lens will be included with the new camera specs.  The fps1000 initially with a  C Mount would have included a 50mm C mount lens which now has been scrapped.  Our take is that the lens was not a really good piece of glass initially and was limiting the camera lens port for easy swappability of custom mounts. m43 now offers the possibility in itself to add C mount and that same lens for under $100 USD if you wanted and now be able to use m4/3 manual lenses with no electronics as-well as any other mount like Leica, Canon EF and FD, Nikkor, Minolta or Pentax among others if the user needs to. If you have a collection of good system glass the new mount will be ideal.
The 4k Option: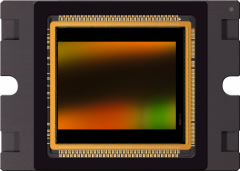 The cherry on top of the announcement was the option for all Platinum fps1000 backers to upgrade before delivery to a 4k resolution capable slow motion camera.
Quote from the announcement:
"This would be based around the CMOSIS CMV12000 image sensor. The design can already handle this sensor and it would be an ideal match for the new hardware. This won't delay the existing boards as it only involves producing an additional sensor board – if it doesn't work as expected then it won't affect production of the existing orders. "
The camera will have a new board with the new sensor attached and extra memory will be included in order to achieve the high resolution frame rates.
4k fps1000 Specs "subject to change at any time until delivery":
CMOSIS CMV12000 image sensor
12 MPixel CMOS Type
APS C size 22.8mm x 16.9mm
Full Global Shutter
RAW Image Capture Format 10bit or 12bit
Pixel size 5.5 x 5.5 μm2
Resolution of 4096 x 3072 pixels "12MP"

Frame Rate

300 fps (10 bit) 180 fps (12 bit) at full res!

Dynamic range 

60 dB

4K (3840 x 2160) @~300 fps
FHD (1920 x 1080) @~820 fps
HD (1280 x 720) @~1200 fps
VGA (640 x 480) @~1800+ fps
64GB Momory vs 32GB for fps1000 Platinum.
Backer Price "£2500" Pounds or $4k US
Street Price Non Backer "£3000+" or $4.7k+ US
The camera will be capable enough to take on the best camera specs available. The  CMOSIS CMV12000 is a mature sensor used by a few well known cameras like the Black Magic 4k camera, the Black Magic URSA and the AXIOM Apertus open source camera project.  The sensor cost itself is high which is the reason for the main increase in price aswell as the extra 32GB of memory for a total of 64GB.
The senor was upgraded by CMOSIS to handle up to 300fps at full resolution but the sensor has a locked read time which means frame rates at lower resolutions will not exceed those of the Platinum, Gold or Silver versions of the camera with other smaller sensors. For users requiring frame rates at several thousand fps for scientific purposes a less costly fps1000 option makes more sense.
Sample video of the CMOSIS CMV12000 in the Black Magic URSA camera:
For film makers and absolute image quality purposes the new option will bring unheard of levels of slow motion resolution quality for the very first time to an affordable price.
To put this in perspective the 4k Phantom camera from Vision research which delivers 1000fps at 4k  resolution is priced around $150,000 USD  or £100k british pounds.  This camera will offer 4k at 300fps close to one third of the performance for £2500 pounds to backers. The camera will also be able to window the resolution downward in order to deliver even more performance and get it in a class close to that of other Phantom cameras like the Miro series which run up to $75k USD.
We estimate the fps1000 4k camera to deliver close to 600fps at 2.7k resolution which is staggering in it's own right.  If the camera fulfills it's promise it will probably be the most cost effective and quality weighted slow motion camera ever and for a very low price tag.
Drawbacks From the 4k CMOSIS Sensor Camera Option?
Cost compared to the platinum version is close to 3x more expensive but you are paying for quality and performance at high resolutions here. However it will be out of the range for many backers.
The CMOSIS CMV12000 sensor is rated at ISO 400 which means it is not a very high ISO sensor.  Many users of the black magic 4k production camera hated the performance in low light with vertical banding and shadow artifacts of fixed pattern noise visible.  This has since changed for the better with new firmware in those cameras deliver a much cleaner image but it is far from a7s low light quality. While the pixel size is larger than a Canon APS C current camera the CMOSIS sensor is a Global Shutter part which in itself means more noise at high ISO. You are trading low light performance for getting rid of rolling shutter which in our view for a high speed camera is ideal to have.  A global shutter needs extra circuitry in the sensor that generates this excess noise. You don't want your subject to distort in size or shape in any way when you are capturing a slow motion shot for scientific purposes.
Be expected to use the camera in good light at all times be it sunny daytime and or with a lot of non flickering HMI lights or LED light panels.  It is as of now the greatest Achilles heel of this upgrade option. Compared to other CMOS cameras out there the Native ISO of 400 on the sensor pales in comparison to the a7s ISO 3200.   If you need a low light slow motion camera you will be dissappointed not by the camera architecture but by the CMOSIS sensor.  It is unclear at this time if the sensor will be swappable for a new board in the future. So  be advised that the ISO performance will not be ground breaking.
In a sun light filled day or controlled high lumen light setup we expect the camera to deliver jaw dropping performance and many high quality footage.  You can't get it all for a low price and low light is one thing where a Phantom camera for example will excel to the fps1000. We have no figures of low light performance for any of the other fps1000 cameras, it will be left to early adopters to show these results.
Not everything is as bad as it sounds and work arounds will be found to deal with the noise including de noising the camera images in post and as the video below suggests using a fixed pattern noise sample for the camera to subtract the noise banding from the image.  It seems the longer the camera has been shooting the more the sensor heats up and produces the effect:
fps1000 Update Wrap Up:
While the final specs of all cameras can change it is a pretty safe bet that the specs in final form will not change much from what was presented. You are getting a very capable camera line as a backer and for a discount. If you did not back the project and are waiting for an entry point into the fps1000 then you might have to wait more than 6 months in order to have that clarified and of course at a retail price which will be considerably above backer price.
Much improved case, included battery that charges in the body if needed, better higher res capacitive lcd screen instead of low res resistive, a passive micro 4/3ds mount and HDMI and USB3, trigger ports to boot. Then there is the 4k option which may or may not materialize in the ned but it is going to be an option for Platinum backers.  Graham Rowan has expressed that if the 4k option doesn't work or perform with the platform then you can still receive a Platinum camera at the price you paid in the end.
Since the cameras are still in final development we will have to keep updating this information as time gets closer to ship date.  We at HSC will be backing the 4k option so that may delay the initial review of the camera until we receive that hardware which is expected to after all the other lower priced fps1000 models are ready. We excpect the 4k option to ship late Q2 or during Q3 2015. However it is not set in stone; could be closer or further away in time frame.
If all the fps1000 cameras ship in some form or another then the world of affordable high speed has hit a branching point in 2015 that other manufacturers of high speed products will have to pay attention to.  Exciting times ahead!
We want to thank the few of you who click and purchase products through our site affiliates as it keeps with hosting and research costs of the site.  If you need to purchase something "any product" from Adorama or Amazon.com we welcome you click on our banners first at no extra cost to you; it helps this site continue to exist. We receive a very small comission from the overall product sale.   We are thankful for your support and wish you happy holidays!
Disclaimer: We do not advocate any particular camera at HSC including the fps1000 and we are just giving you information so you can make an educated decision.  We are not responsible for any delays, delivery, performance or warranty of any camera we recommend or inform about in the context of this site.
(Visited 5,326 times, 1 visits today)