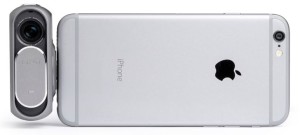 DxO the company associated with DXO Optics Pro RAW conversion and for it's popular camera sensor rating scores has released their first hardware product based on a coupling with the Apple iPhone and iPad devices with lightning connector.
The camera attaches in the thunderbolt charging port and lets you swivel the phone or tablet screen for easier viewing angles. The power of the camera comes from what could be the highest quality portable device camera to date.  The RAW and Super RAW modes claim unprecedented image quality with scores in RAW mode of 70 DxO points and in Super RAW of 85 points.  In contrast the original full frame Canon 5D Mark 1 only gathered a sensor score of 71 in RAW mode.    While the results show a clear progression  in sensor technology they simply cannot match the aesthetics of a full frame sensor with a 1″ inch sensor.
The sample images look gorgeous from its 20.2MP  (5406X3604) sensor. With great dynamic range and low noise and artifacts.   It will be a matter of further study as to how good the camera performs compared to similar mirror-less cameras of today with larger sensors.  However just looking at the DxO samples here it is easy to be impressed.
The camera offers the sharing capabilities that you would expect for social media with any modern portable device. It will be easy to share newly created images with the DXO One.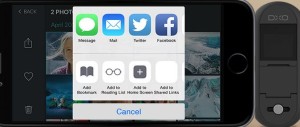 The camera is capable of also shooting 1080p 30fps and 720p at 120fps giving it a 4x slow motion effect when slowed down to 30p. As to the quality of the footage  with no real samples available we can't tell how it will perform. If you have an iPhone 6 or 6 plus for example you are better off with the up to 240fps modes in the phone interface but at the cost of aliasing and moire from the resolution drop. If the DxO 120fps 720p mode offers clean output; it will probably be the best slow motion on an Apple device.
The Specs for the DxO One:
SENSOR TYPE: CMOS – BSI (13.2X8.8MM) 1 Inch 20.2MP FOCAL
LENGTH: 11.9mm (equivalent 32mm in full frame)
LENS COVER:Integrated, sliding (on/off)
APERTURE: f/1.8 adjustable down to f/11 (6 blade iris)
OLED: Settings display, touch control
ISO RANGE: From ISO 100 to ISO 51200 (Hi 2)
SHUTTER SPEED: From 1/8000 to 15s
IMAGE STABILIZATION: Electronic (for video)
CAMERA MODES: Auto, Sports, Portrait, Landscape, Night, Program, Av, Tv, Manual, Selfie
VIDEO MODES: 1080p (30 fps), 720p (120fps)***
FILE FORMATS: .JPG, .DNG, .DxO (SuperRAW™), .MOV (H.264)
FOCUS RANGE: 20cm – infinity
AUTOFOCUS: Contrast detect, using face-detection
FOCUS MODES: Single-shot, continuous, tap-to-focus
METERING MODES: Spot, center weighted, multi-zone ZOOM: Digital 3x
MICRO USB PORT: USB 2 (power charging, mass storage connection)
LIGHTNING CONNECTOR: Retractable/collapsible, +/- 60º rotation
SCREEN SIZE: Varies, function of connected iDevice between 4" and 9.7"
STORAGE TYPE: microSD UHS-I U3 (not included)
ORIENTATION: Gyroscope + accelerometer
BATTERY TYPE: Integrated lithium ion
BATTERY LIFE: 200 photos
WEIGHT: 3.8oz (108g)
DIMENSIONS: 67.5 x 48.85 x 26.25 mm
COMPATIBLE WITH: iPhone 6 Plus, iPhone 6, iPhone 5s, iPhone 5c, iPhone 5, iPad Air 2, iPad mini 3, iPad Air, iPad mini 2, iPad (4th gen), iOS 8 or later
The camera interface is full of real manual controls and what you would expect from a real pro camera. The flexibility of using the touch screen on iPhone or iPad lets you have a large or small interface screen at your disposal at any time.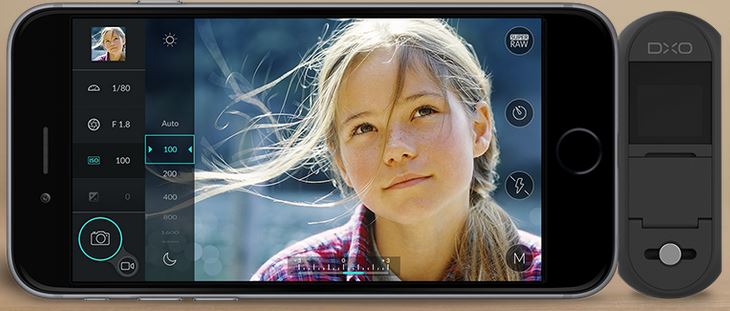 The lens is a fixed focal 11.9mm f 1.8 equivalent to 32mm in full frame terms. No zoom but a very bright aperture.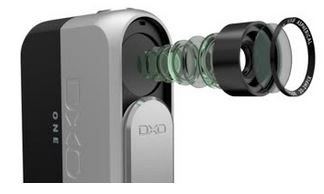 As an iOS device all of the Android world is left in the cold, as to an Android based One we surely can't tell if it will ever surface.  What is not entirely clear is what will compel users of mirror-less systems and other small cameras that can deliver comparable or better image quality to get a DxO One module.
The iPhone is very popular as a camera because it can deliver great quality in an ultra portable package, by attaching a DXO One module you are increasing complexity and lowering portability for an increase in quality.  Even when it is a substantial gain with RAW imaging at a price of MSRP $599.00 it can be a difficult proposition.  With cameras that offer similar image quality and interchangeable lenses in that price range it is a difficult sell as it also requires an iOS device to work with.
The battery life at 200 pictures is ok but not stellar, 400 would have been ideal. However the reasoning is that you usually don't take more than a handful of pictures with a phone in a typical day and even 100 pictures is a stretch. In that view it is competitive and not too different from other ultra compacts.
As to whether the DxO One will be a hit it is too early to tell but it surely can deliver the image quality necessary to appeal to a niche of photographers looking for more performance from their iPhone. As a slow motion solution it just can't compete with Apple's iPhone 6 or Sony's latest offerings.  An interesting camera with an uncertain future, maybe with a few tweaks in future models like zoom, better video like 4k and higher frame rates, Android support;  it could become a camera that can really bring something to the the average phone user that performs circles around their built in camera with the added benefit of being portable across future phone upgrades.
(Visited 1,594 times, 1 visits today)