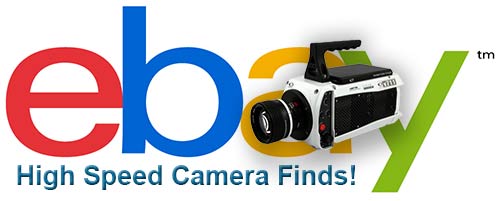 We are constantly looking for high-speed camera bargains and one of the best places to find them is on eBay where used cameras go to find a new home.  It is hard to judge the actual state of a product until you use it but that is why you can ask questions to the seller and reach a deal if needed.  You also have to take into account that many cameras get used in dangerous situations to record events where no human can be close to like on a rocket launch pad or testing artillery.
Make sure if you purchase a camera to be given a determined time to test it and make sure it is working as described. The whole point of finding these bargains is to save a boatload of money compared to purchasing them outright from the manufacturer.   HSC is not paid a commission or promotion fee for these listings so make sure you do your due diligence before buying, we are not affiliated with the sellers. This month a few diamonds in the rough were found that could really bring an edge to your slow motion shooting. Let's dig in!
1) USED Fastec TS5 monochrome high speed camera: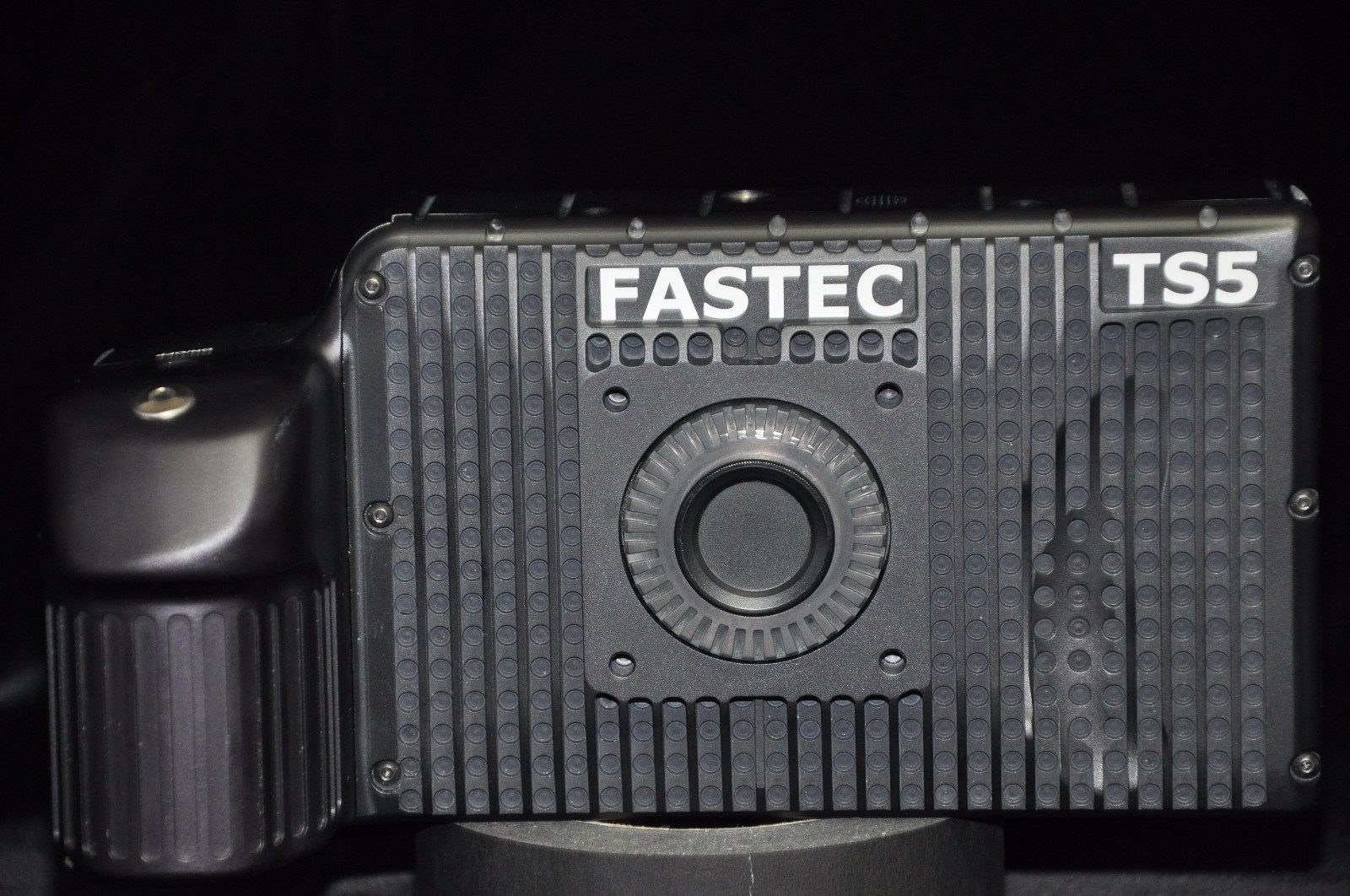 Items Included:
Fastec TS5 – Q monochrome
8GB Recording Memory
Power Supply
I/O cable
C-mount camera mount
512G solid state drive

Condition:

Used 

"

Light wear on body.

"

Item location:

Saugus, Massachusetts, United States

US Export Regulations. We (Tech Imaging Services) will NOT ship this item outside the USA.
HSC- While only a monochrome camera, at 720p 1,403fps:
1,920 x 1,080 pixels @ 634 fps for 6.5 sec
1,280 x 720 pixels @ 1,403fps for 7.2 sec
800 x 600 pixels @ 1,125 fps for 11.8 sec
640 x 480 pixels @ 1,398 fps for 14.8 sec
3us Global Electronic Shutter
This could become great on the go production line troubleshooting camera. The performance is quite good as a 720p cam and better than average at 1080p with 634fps.  Will not be ideal for full HD productions when 1000fps is needed. eBay listing here!
2) PHANTOM MIRO 320s COLOR HIGH SPEED CAMERA SYSTEM: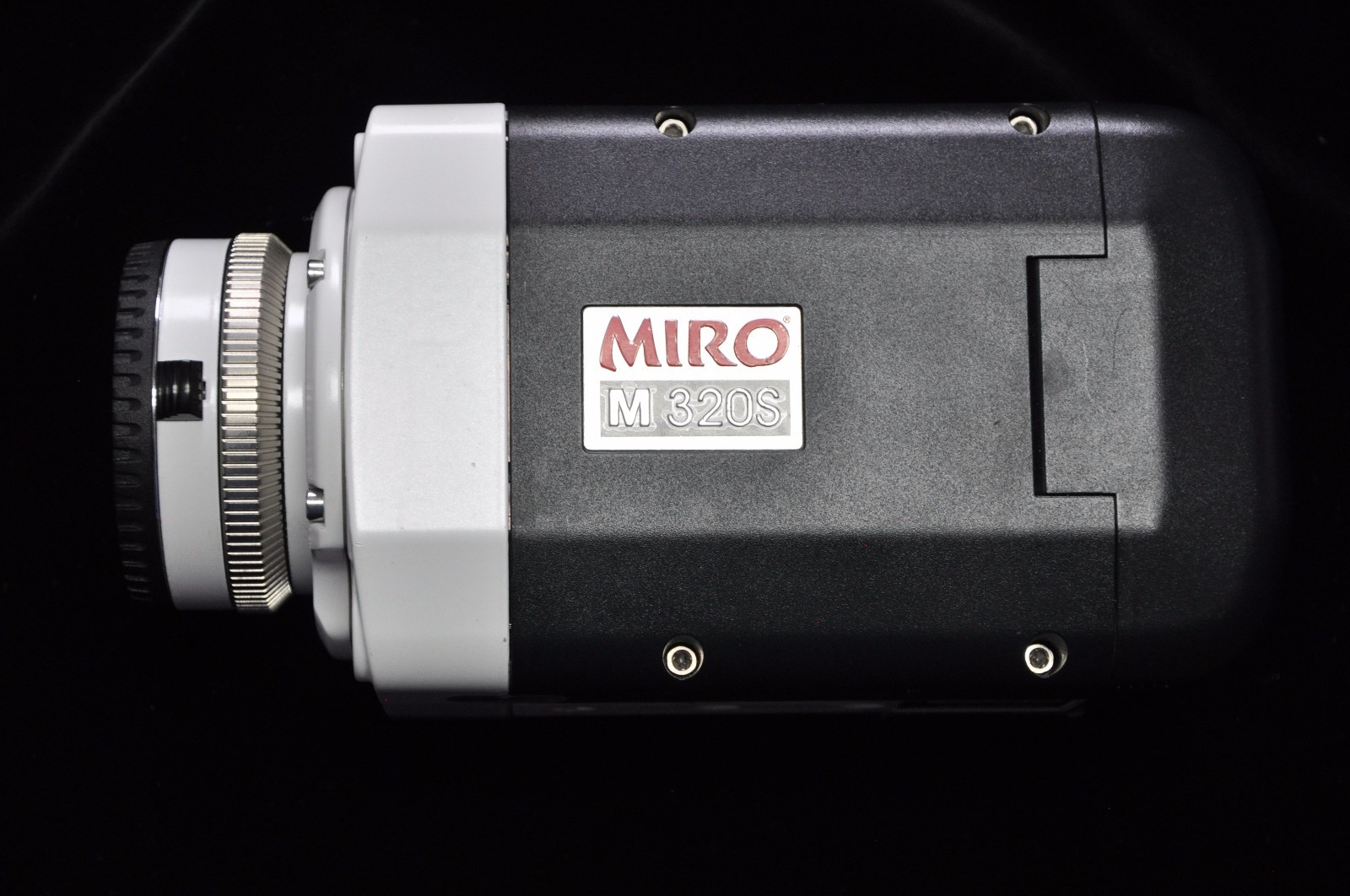 Kit Includes:
1-Phantom MIRO 320S 12G Camera body w/Canon EF mount
1-MIRO Nikon lens mount
1-Vision Research PCC software
1-Cine flash 60gb solid state drives
1-Cine flash reader and power cable w/ USB 3 & ESata cables
1-25 ft. Ethernet cable
3- Batteries with battery charger
1-Phantom AC power supply with cables
1-2950 Pelican case with wheels
Contact seller for warranty!
Camera Info:
Miro 320S cameras offer 2 megapixel resolution at 3.2 Gigapixels/second (Gpx/s) throughput. This translates to 1380 fps at 1920 x 1200, or over 1500 fps at 1920 x 1080. Frame rates up to 240,000 fps are available at reduced resolutions.The Phantom 320s model for media applications, as the camera's small size, great image quality, ability to shoot up to 1,500 fps at 1080p HD, and built-in controls makes it an extremely fun – and quick – high-speed camera to work with.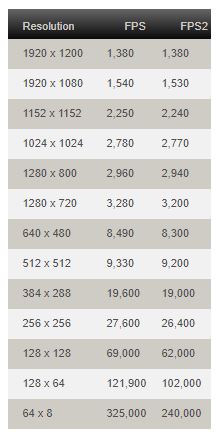 Condition:
Used 

"

In great shape, looks almost new

"
Item location:
Saugus, Massachusetts, United States 
Ships to:
United States
HSC- This is not a cheap camera by any means but is a very capable one as the shooting is self-contained.  The Pricing is about half of what it was worth new by our estimation.  Seems to be a great option to own a phantom camera that is middle of the range for a production house looking for color 1080p above 1500fps.  Not a crazy good deal but this camera looks to be well taken care of. Make sure to contact seller for the warranty information and other details on such a large purchase.
3) Vision Research Phantom v642-Professional High Speed Camera (Flex 2K Equivalent):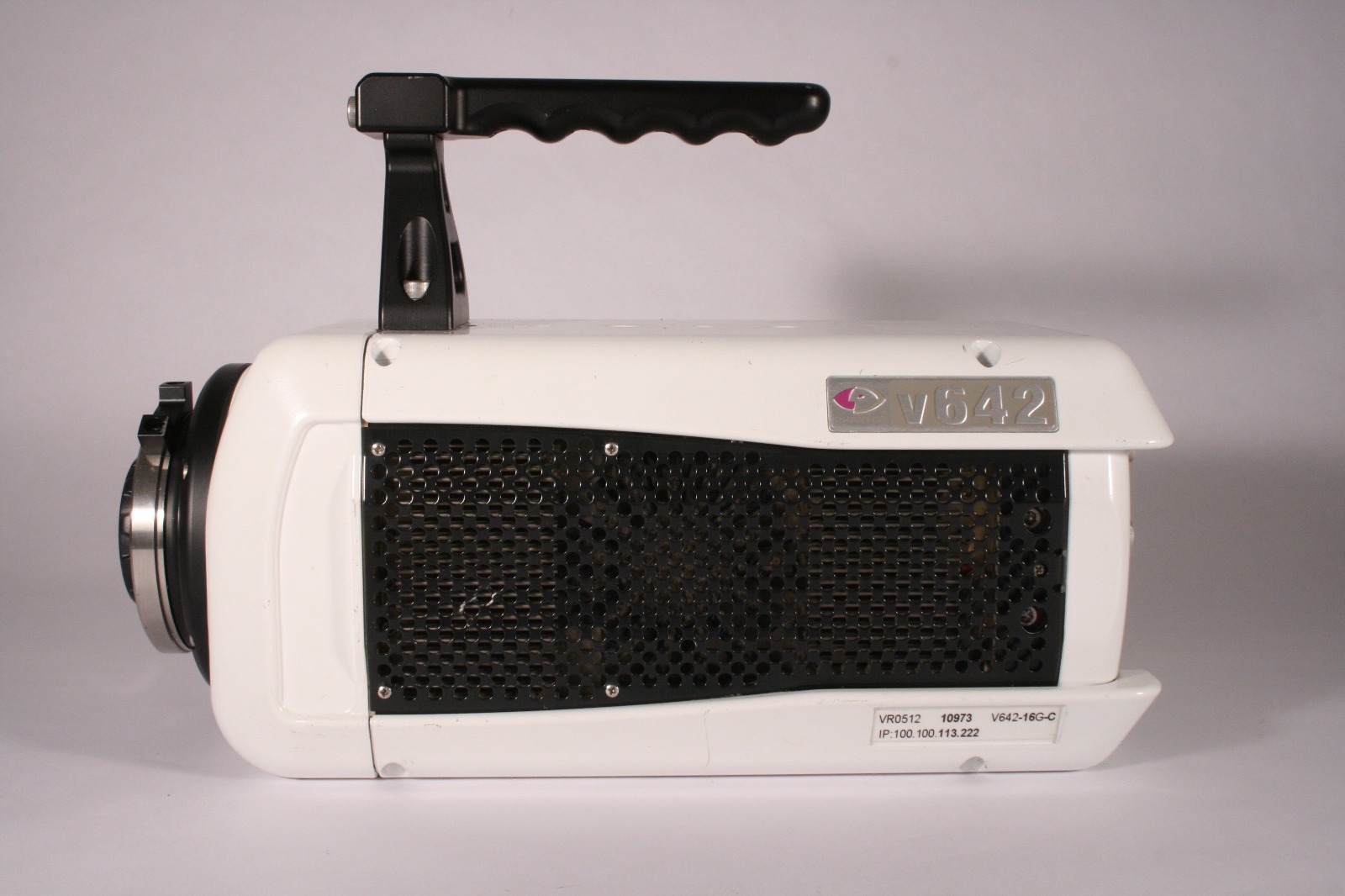 • 6 Gpx/sec, 4Mpx camera
– The v642 Broadcast provides a 4 megapixel sensor and greater than 6 gigapixel/second throughput. That means full-resolution frame rates of 1450 frames-per-second (fps), and 1920 x 1080 HD-resolution frame rates of over 2500 fps.
• Multi-Matrix color correction which allows for the independent adjustments of saturation and hue of each of the 16 axes of the Cr/Cb color circle.
• Max speed at full resolution of 2560 x 1600 is 1450 fps to RAM and 195 fps to CineMag
• Max speed at reduced resolution of 256 x 8 is 219,000 fps to RAM
1 year added warranty: $6,700.00
Item location:
Jacksonville, Vermont, United States
Camera Listing Information:
The V642 is a great tool for manufacturing or research applications, commercials, as well as sporting events. Slow the swing of a golf club, the spinning operation of a bottling plant, the accuracy of laser cutting machinery, even a lightning strike. It is ultra-slow motion for those applications that function too fast for the human eye. The V642 has the unique ability to both record and playback ultra-slow motion footage simultaneously.  The internal high-speed dynamic RAM can be segmented into different partitions. You can record your ultra high-speed event into one memory segment while simultaneously playing back a previously recorded event directly from the camera. The V642 is supported by a 4 megapixel 2K sensor. Extremely high frame rates at HD resolution., For example, at 720p, the maximum recording speed is 5850 fps (frames per second).
This camera is marketed as the "v642 Broadcast" model, but is equivalent in all specs and capabilities to the more well-known "Flex 2K" model. The v642 is actually superior to the Flex 2K, due to this additional feature:
"Versatile Dual HD-SDI can provide 4:4:4 video (except at 60 fps), or can be two single 4:2:2 HD-SDI ports, one for playback and one always live"
In addition to this one, we have other cameras available with varying options (CineMag, 32GB, etc.) and pricing.
All of our cameras have been used exclusively in professional contexts by professional operators. The cameras are cleaned and maintained on a regular basis, and will come with the latest firmware. 
We also offer an optional factory inspection along with a 1-year warranty for an additional fee of $6,700.00
Frame rates for up to 90X ultra-slow motion
2k, 1080p and 720p resolution.
Multi-matrix color correction for fast and accurate color
matching to normal frame rate Live Sport camera.
Breakthrough light sensitivity, ISO Monochrone 6,000T;
6,400D; Color 1600T; 1,600D
Versatile Dual HD-SDI, two HD-SDI ports for dual-link 4:4:4
or 2x 4:2:2 independent video outputs
Multi-cine recording capability
16GB high-speed internal ram
HSC- This is a camera that commanded the price of a starter home when released. It is a 4MP @ 1450fps beast with Full HD capability at 2500fps windowed mode.  This is a camera best used for a laboratory that requires resolution and extreme speed at a variety of resolutions. The 1 year warranty optional at $6700 can give you some piece of mind on the purchase.   PL mount means you will need PL lenses to use it and that adds to the cost.  A powerful camera that is reduced in price by a big factor but can really pay for itself with the right jobs. Make sure you square all details with the seller prior to making an offer.
4) Comart System Mach-F340 High-Speed Motion Capture Camera Full HD 340fps: NEW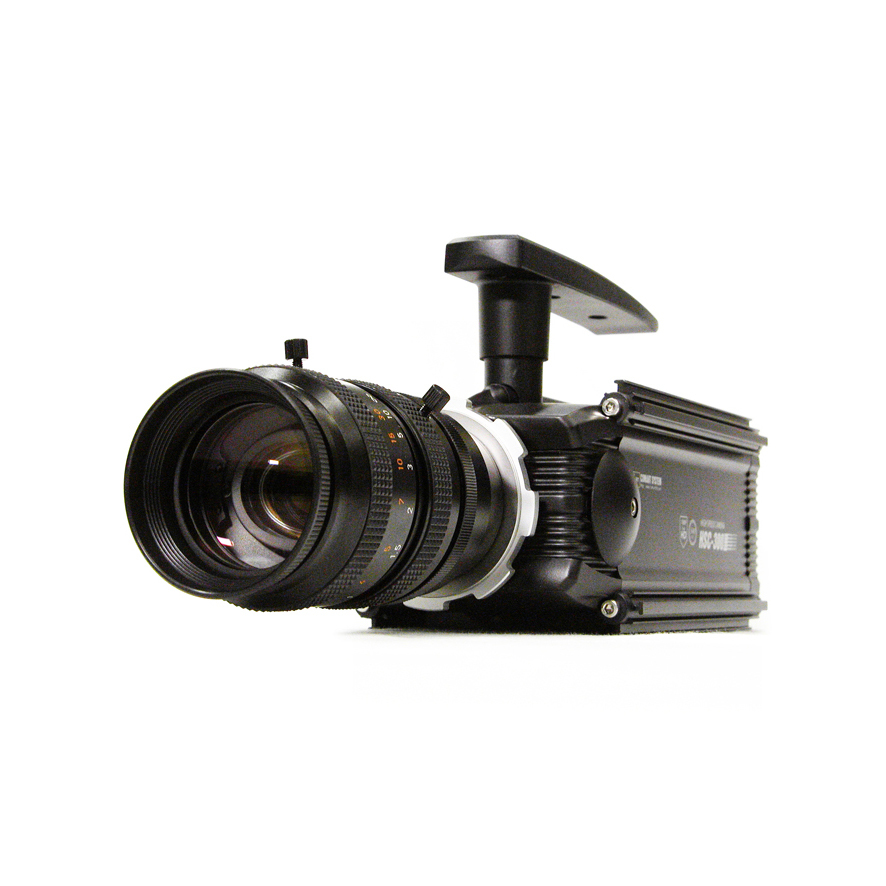 – Exceptional high number of fps (1920x1080p / 340fps)          – Fast moving object capture with high image quality
– Live display : 1920x1080p / 25~60fps                                         – Internal DDR3 8GB Memory
– Multiple output : HDMI/ HD-SDI/ CVBS                                       – SD Card recording with H.264 codec
– Transmit RAW data thru Host Link
Reforming Golf Swing / Determination of the Sports / Analyzing Sport Game / Quality Control of Factory
Safety Test of Car Crash / Microbial Laboratory / etc
Spped Frame Rates: 1920x1080p : 340fps, 1920x720p : 520fps, 1920x480p : 745fps, 1920x240p :1430fps, 1920x120p : 2650fps
Sensor Pixel Array: 1,920(H) x 1,088(V) / 2,073,600 (pixel)
This product only includes bundle lens [11.5~69mm]
Asking Price for New Camera: US $9,999.99
FREE Shipping 
International items may be subject to customs processing and additional charges. 
Item location:
Seoul, KR, Korea, South
HSC-
Comart is a camera we were not aware of that comes from Seoul South Korea.  Its top speed at 1080p is 340fps which is nice to have but not ideal for the price of 10k USD. 
Other cameras on our Camera Guide offer much better performance for the price. 
 It does have the capability to window down and increase speed up to 2650fps at 1920*120pixels which is a tiny resolution.  However being a new unit may be a good buy for people that need a broadcast camera for live TV sports and similar environments that can work well with a 340fps full HD signal over SDI.   This would be a great camera for an upcoming TV broadcast outfit that wants to branch out at high speed.    We have no experience with this brand but we found some clips on their youtube channel to see what it can do. There seems to be vertical noise banding on most clips which means either the camera was not black calibrated properly or they have some inherent sensor noise.
High Speed Camera(Mach-F340) in the Baseball Stadium / 1920x1080p : 339fps by comarthdcctv:
High Speed Camera(Mach-F340) 1920x1080p : 338fps by comarthdcctv:

There you have it, some interesting cameras for you to take a look at. Remember to always check the reputation of the seller and contact them for further details prior to purchasing.  We are not affiliated in any way shape or form with the sellers and are just sharing some listings.  Tell us if you got one of these cameras or other similar deal and share your experience below.
Disclaimer: HSC is not affiliated with eBay or any of the listings shown above. We do not receive compensation of any kind or are liable for any resulting transaction with these cameras. Make your due diligence and make sure that you understand what you are seeing listed. We are not recommending to buy any of these products.  We are not liable for warranties or questions on these listings.
(Visited 1,520 times, 1 visits today)