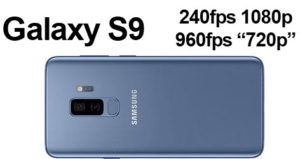 Samsung has unveiled the heavily leaked and rumored Galaxy S9 at MWC Barcelona 2018. It is now a reality and the rumors got most of it right but the frame rate mostly expected which was 480fps at full HD has now morphed into 960fps at HD 720p.  You would be heavily excited about the new frame rate options except for the fact that the resolution is not really 720p but a heavily soft and aliased version.
Camera companies are too loose to call video formats HD and Full HD when they are really just upscaling lower resolution video up to save in an overly compressed format.  The inclusion of now 1080p 240fps has to be the better spec here as the 960fps mode tops out at 0.2 seconds for a 6-second playback at 30fps.  Hardly ideal and much like what we saw in the Sony Xperia XZ phones of 2017.
Galaxy S9 Video Recording:
4K video recording at 30 fps or 60fps
QHD video recording at 30 fps
1080p HD video recording at 30 fps or 60 fps
720p HD video recording at 30 fps
Super Slow-mo video support 720p at 960 fps
Slow motion video support 1080p at 240 fps
Hyperlapse video support 1080p
VDIS (Video Digital Image Stabilization)
Digital zoom up to 8x (Galaxy S9) or up to 10x (Galaxy S9+)
High CRI LED Flash
Continuous autofocus video
Face detection
Tracking AF
Take 9.1-megapixel still photos while recording 4K video
Playback zoom
Video location tags
Price $719-$999 depending on Model/Storage
Wide Release March 16th, 2018
*Super Slow-mo only supports HD resolution. Limited to 20 shots per video with approximately 0.2 seconds of recording and 6 seconds of playback for each shot.
The Galaxy S9 has a plethora of improvements from increased processing of the Octa-core Exynos or Snapdragon 845 depending on your geolocation to a real aperture diaphragm on the lens for f1.5 wide aperture to a smaller f2.4 for more depth of field, a first for a camera phone lens.
We are focusing on the video side of the equation as always and will leave the phone specs for others to wade thru. so how good is the new slow-motion mode?
Galaxy S9 Slow Motion Mode:
Samsung has made huge strides to cater to high frame rate enthusiasts with the Galaxy S9 and it figures the usability aspect of the slow-motion capture mode should be easy to use and allow for a large percentage of keepers. What they have come up with is a dedicated super slow-mo mode that uses wither a button screen press or a motion tracking area to detect extreme motion changes in the frame to record the 0.2-second frame burst and conform it to 6.4 seconds played back at 30fps @ 720p.
Samsung Galaxy S9 Super Slow-Mo video: first look and samples by PhoneArena:
Galaxy S9 sample slow motion 960fps by AndroidWorld.it:
Below you can see the area selector to track motion changes and engage the super slow motion capture mode. Trial and error will be your friend when perfecting your shot aspirations.
Galaxy S9 Slow-mo Demo by SamMobile:
Samsung Galaxy S9 and S9+ Hands-On: AR emoji and Super Slow-mo Demo by GadgetMatch:
What about the Slow Motion Quality?
Wouldn't it be nice if 720p would really be based on a 1280*720pixel frame and not a lower resolution image upscaled to fit a predetermined frame size? Let's keep dreaming as Samsung has really done no justice to true 720p video with the S9. The video is soft, full of jaggies, artifacts and in dimly lit conditions the noise is terrible.  It really looks like 480p video upscaled to HD and to top it a 1-pixel blur filter to hide excessive jaggies. Detail is smudged a lot and color rendition suffers.
Samsung Galaxy S9 Super Slow-Mo Video by Rich DeMuro:
A perfect example of compressed and low-resolution quality on the S9 960fps mode, when shot in less than ideal light conditions, can be seen below:
SAMSUNG GALAXY S9 SLOW MOTION A 960 FPS by Tecnoandroid:
Super-Slow-Motion-Test mit dem Galaxy S9 by derStandard.at/Web:
Color us unimpressed by Samsung's attempt at super slow motion with the Galaxy S9 at 960fps when it comes to resolution and quality. The rolling shutter is extremely well controlled and we could not see warping occurring with the footage which shows the technology is mature enough on the read-out side as to be transparent even when using a rolling shutter sensor.
The new camera module is as of this writing the most advanced on any smartphone and should eclipse the iPhone X and go head to head with the Google Pixel 2 XL in quality which is the best-reviewed smartphone camera. The Galaxy S9 will not disappoint as an all-around camera for users. So it could be the phone you want but read below for Sony's offering which was also announced.
What about 240fps at Full HD?
This is where it gets interesting for quality conscious videographers. The iPhone X and 8 are currently the best-equipped phones for shooting full HD at 240p and the Galaxy S9 matching this spec with a better camera module is interesting. However, we were hard-pressed to find any samples of the 240fps spec in the short time the phone has been out. We did get a rumor that the video looks good and on par with the iPhone X and 8 but cannot confirm or deny such info until we have real sample footage to wade through.  Stay tuned for more Galaxy S9 video samples that will show this feature soon.
But What about the Sony Xperia XZ2?
The Sony Xperia XZ2 with Super Slow Motion 1000fps at Full 1080p HD has also been announced at MWC Barcelona which should make for some interesting competition. We will make a full assessment on this new phone soon. It seems our prediction of the evolution of the Motion Eye Technology by Sony was spot on to 1080p. -HSC   See a small sample and Sony promo video below:
(Visited 23,552 times, 1 visits today)