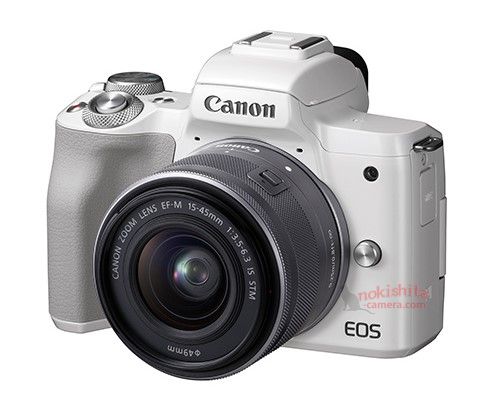 Has Canon finally woken up from the deep slumber that has crippled the progress in their camera line when it comes to video performance?  On paper, the Canon EOS M50 a mirrorless camera that seems to improve in almost every way to previous efforts by the company. We have 4k recording at 24/25 but where is 30P? 120fps slow Motion 720 HD Video in a lower cost body and their excellent Dual Pixel AF System which is one camera feature where the others are playing catch-up.
If the rumors are solid; which seem to be considering the images leaked and detailed information then Canon may finally be releasing cameras that will be worth your while and a clear path out of the EF mount into a mirrorless future.  We remain detached until we have image samples and slow-motion footage but its clear Canon and possibly Nikon will not remain still for much longer and let Sony, Olympus, Panasonic, and smartphones eat their installed user base little by little.
Canon M50 Rumored Feature Set:
24.1 Megapixels APS-C CMOS
DIGIC 8
Dual pixel CMOS AF with greatly improved performance
AF area is enlarged by about 38% with corresponding lens (100% vertical × 88% wide in live view image display range)
The selectable AF point is a corresponding lens with a maximum of 143 points (99 points for non-compatible lenses)
Pupil detection AF
Dual Sensing IS
Silent mode
DLO in camera
RAW development in camera
Video: 4K 25p / 24p, FHD 60p
HD 720p 120p Slow Motion
Frame cutout from 4K movie is possible
5 Axis Electronic Image Stabilizer · Combination IS
Standard ISO: 100-25600 (extended ISO: 51200)
Continuous: Up to 10 frames / sec (at servo AF: up to 7.4 frames / sec)
EVF: 0.39 type 2.36 million dot Organic EL
3 type 104 million dots Vari-angle touch panel liquid crystal
Wi-Fi · Bluetooth · NFC installed
Wireless remote controller BR-E1 compatible
HDMI HDR output compatible
Supports the next-generation CR3 RAW format and the new C-RAW compression format
The C – RAW format is 40% smaller in file size than conventional RAW, and it corresponds to in – camera RAW development and digital lens optimizer
Battery: LP-E 12
Weight: 387 g black, 390 g white (including battery and memory card)
Color: Black / White
Expected Announcement February 26th, 2018
Canon EOS M50 Body Only (Black/White) $779
Canon EOS M50 (Black or White) & EF-M 15-45mm f/3.5-6.3 IS STM $899
Canon EOS M50 (Black) & Zoom Lens Kit $1,249
Canon EOS M50 Video Creators Kit $999
As you can see the camera aims to cater to mirrorless users expecting a competitive feature set that can go head to head with Sony and Panasonic.  However, the released specs seem to be playing catch up and not the lead for the most part.
The IBIS in body stabilization claims 5 axis electronic but it is unclear if it is software based or a real sensor shift mechanism, no mention of 30p or 60p 4k which is becoming commonplace.
C-RAW format is interesting from a storage point of view. If the data can be 40% smaller without sacrificing image quality it will be a welcome format for many cameras to come.  It will be hard to pull of that kind of compression without some sacrifice in either speed or bit depth. It will be a matter of waiting for samples to compare.
The Dual Pixel AF is Canon's secret video weapon, it is by far the best system out there for consistent video AF tracking and it does it with a natural transition look. Sony has been getting better in recent cameras but the performance is still not as good as Canon's system.  This M50 if the Rumor is to be believed will be not only better but significantly improved compared to their past systems, that is encouraging to say the least.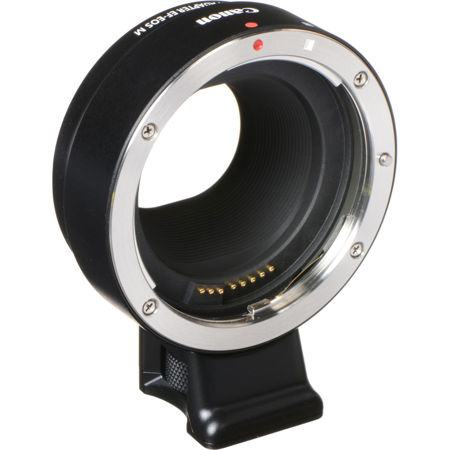 It is of note that the Canon EF to EOS M adapter $199 will convert all the EF Canon lenses to be used including AF and Aperture with the M System. So it is an easy transition for Canon Glass owners.
However, as you can see in the M5 review below which is the previous Canon release close to the M50 there are quite a few things they need to improve to make it worth your while compared to competitive options.
Why You Shouldn't Buy The EOS M5! Review after 2 Months by Max Yuryev:
Final Notes:
The M50 will have a Vari-Angle Screen that is side-hinged, giving an end to the terrible up or down design that has persisted in previous M cameras.  The M50 has the potential to be the first EOS M camera to migrate DSLR EOS owners to the Canon Mirrorless system and be successful in quality and performance.
Will it replace your Sony or Panasonic GH series? Not yet we think as video performance seems to still be limited and probably will not be ideal but if they can get 30p and 60p 4k in this type of form factor and the ability to shoot in higher bit-rates like 200MBit H.264 or H.265 at 10bit then, by all means, it will be a mirrorless option that will make the competition fearful.  Rumors also say Nikon is working on a similarly impressive system with specs that will rival the best out there, it seems that camera companies in Japan have finally woken up in concert to deliver the features that the Micro 4/3 and Sony E Mount crowd have enjoyed for over several years.
Canon has the technical know-how, the lens pedigree and the color quality that most of us can rely on, if they get their mirrorless act together along with professional features in video mode then the EOS M system may become the next big hit for Canon.  Don't you love when competition forces the hand of the slumbering camera giants?
Stay tuned for the official release, but don't hold your breath, we expect progress but not class-leading video performance and most probably an artifact prone 120fps slow-motion mode.  Canon is trying to catch up which in the end means others will have to leapfrog even further to compete with the brand recognition. We all benefit in the end from that pressure. -HSC
(Visited 5,809 times, 1 visits today)