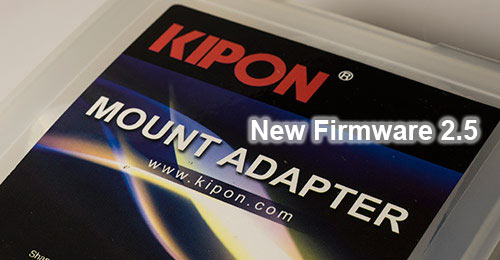 NEW Update: Kipon has released Firmware 2.5 fixing a lot of adapter issues. Scroll below for new info!

This mount adapter converts Canon EF and EF-S lenses to a micro four thirds mount and permits electronic aperture, auto focus and image stabilization on lenses that support it. Cameras that use a MFT mount like the GH4 and Olympus OMD can now use Canon glass with all the features bundled with the lenses.
We are doing a full review of the Kipon MFT to EOS EF Autofocus Lens adapter that will be evolving over the coming weeks and months due to compatibility that may change and improve in the future. The following is a first impressions and v2.5 firmware performance that can you get out of it in it's current state.
First Impressions:
The adapter arrived over the weekend and while it came from China it was pretty quick with only about a 9 day wait.  Packaging was good and adequate. The price paid was $298 on eBay from one of the vendors that sell these other places like Adorama sell it here for $309 which is very good also with the piece of mind of an easy return if necessary. Adorama link here!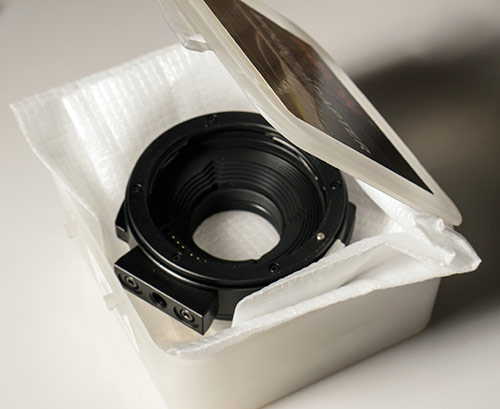 The build quality is solid with what appears to be all metal construction. Color is pure black with no hints of chrome except for the lens release latch. The space tolerance on the mount is solid with no noticeable play in between the camera and the adapter and very minor play depending on the lens attached from the adapter to the lens, this is normal as lenses may vary widely when it comes to build tolerance. It has a tripod mount in the adapter very similar to those used on the metabones speedbooster and adapters.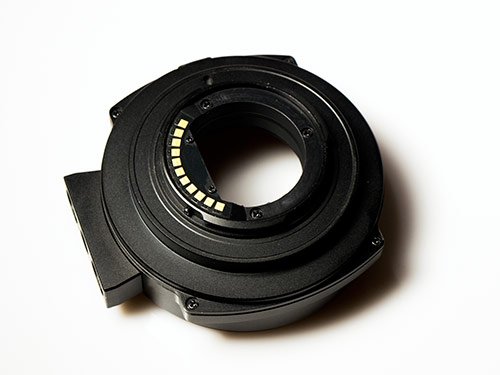 There is a micro USB port close to the lens release latch that looks to be included for the possibility of firmware updates.  We contacted Kipon about this and other issues with the adapter and will update this review when we hear back from them.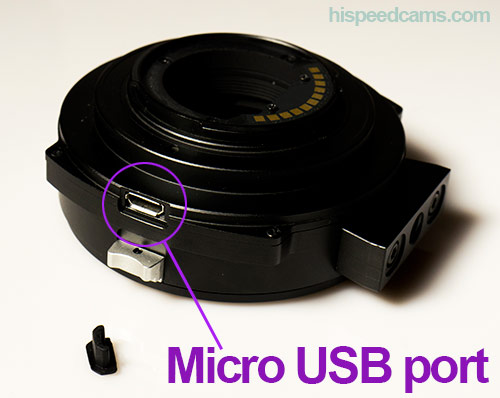 We used the Panasonic GH4 with both firmware 2.0 and 2.2 to test the adapter. It blends in well with the camera and it is sturdy enough to handle a large lens like the Canon 400mm f5.6 USM L  which has one of the fastest autofocus mechanisms in the EF mount.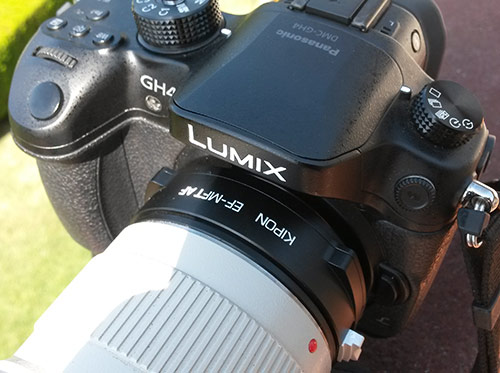 One Problem we noticed is that when you attach a lens to the adapter there is no re affirming locking sound as present in other adapters.  Careful examination showed that it is clicking in place but the sound is barely there.  It is better to have a click sound that is easy to recognize while changing lenses in the field. It is no detriment to the adapter performance wise but it is annoying not to be able to have assurance that a lens is locked in place properly unless you twist back to check.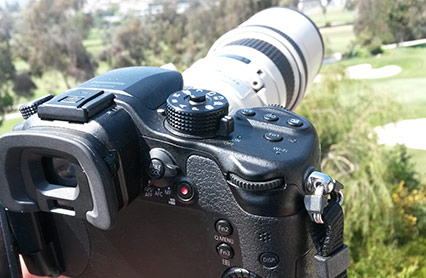 The lens focused on targets far and close easily by using the GH4's built in contrast Autofocus.  Changing the target to shady places did increase the focus time or even cause the focus to give a few false positives. An AF false positive is confirmation of focus when the image is out of focus.  This probably has to do with the way the adapter tricks the GH4 and other m43 cameras to autofocus with a Canon EF lens.
Within a few minutes a warning message came to the screen that attachment to the lens failed. This usually occurs by having play in between the lenses and mount and or dirty contacts.  Contacts were cleaned and it made no difference, also lens play was a non issue with the 400mm L lens, it had no play at all.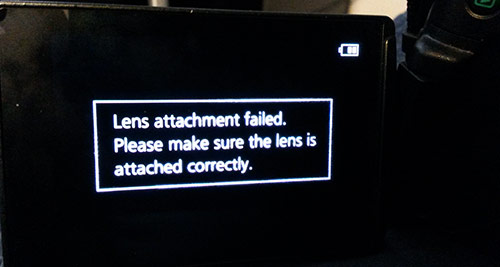 Our best guess is that the adapter is somehow not supplying power to the lens as consistently as a real EF camera and the message will pop up randomly.  It occurred a few times with the lens but nothing to extreme.  Get used to this if you have this adapter, it will come up when you least expect it.
The AF speed was ok around 1 to 2 seconds depending on the target sometimes 1/2 second or 1/4 second when the lens travel was small. Accuracy was pretty good but hardly something you can use for action or sports photography.  The speed is not fast enough to compete with the m43 native lenses on the GH4 with it's extremely fast AF or Canon or Nikon cameras with Phase AF for that matter. If you wanted to replace your camera body with a GH4 or similar and use your Canon lenses for action this is not the adapter you are looking for.
More EF lenses:
So we liked the performance on the 400mm 5.6 L and had some more Canon EF glass lying around to test.
EF 100mm f2.8 Macro USM lens:  This is a fairly common lens in the EF world and one that should pose no problem for the adapter.  Right off the bat we encountered trouble.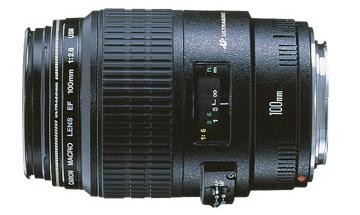 The camera twitched and the screen started lowering the light levels and upping them again with a random pattern. Pressing buttons or dials seemed to do little difference. We had it in Manual Photo mode and a fully open aperture with a shutter of 1/80th.  The iris opened and closed crazily and focus started to hunt without half pressing the shutter.  Taking the battery out and turning off the camera/re-attaching the lens made no real difference.
What seemed to fix it was a change to Video mode.  For some reason the lens works well in video mode with AF, aperture and normal operation, but in photo mode it goes haywire. AF in video mode works pretty close to what you would expect from video on the GH4, a little slower than native lenses but perfectly acceptable.
on to more lenses we went with the 70-300mm EF IS USM
This lens has been out there a while but it is still relevant as a good lens today. However the adapter hated this lens. The only thing that worked was the image stabilizer in photo or video mode and the aperture in video mode only. It never auto-focused and while the motor tried it could never move the ring.  We think this lens requires a voltage higher than what the adapter may provide. It could be other reasons but no way of knowing with no documentation or feedback from Kipon yet.
As it turns out it was all downhill from there, we provide the following table with the compatibility of the adapter with the lenses we had in hand as of June 8th 2015.  This may change in the future with a firmware update.

As you can see it is a hit and miss and hardly what you could call a dependable piece of gear.  The fact that it works fine on the 400mm L lens tells us that the adapter is not defective but the actual firmware has a ways to go to offer full compatibility with the large range of EF lenses. "This list has been heavily changed with firmware v2.5 see below"
We threw in a Tamron 17-50mm f2.8 VC lens in the mix and it was a horror show. The only thing that work was the iris aperture in video mode. AF failed and all sorts of flickering in the image preview occurred along with no image stabilization engaged.  This IS mode VR for Tamron works by half pressing the shutter before capture or by being engaged at all times in video mode.  None of this worked in this lens.  It seems the further you stray away from Canon lenses the harsher the results with this adapter.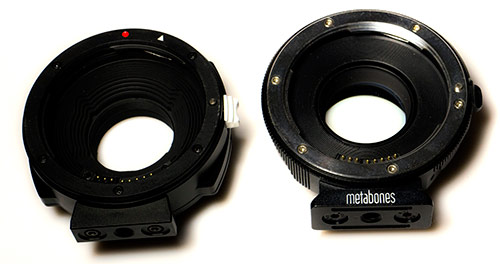 In contrast the Metabones speedbooster adapter which lacks any Auto Focus capability works fine with Aperture and image stabilization on all the lenses tested.  If metabones offered autofocus it would be a dream adapter but as of yet that is not the case for micro four thirds and Canon speedboosters.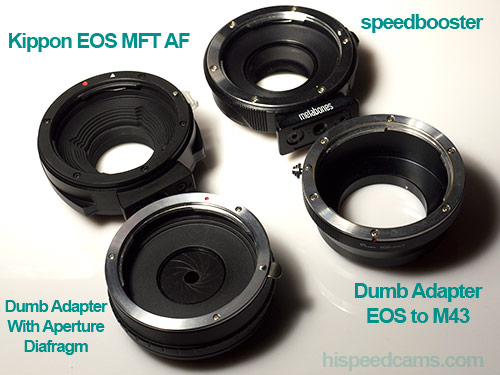 In the end we are unable to recommend or claim failure of this adapter at this time.  It feels that it was rushed to market without adequate testing and compatibility.   It needs a lot of work to get to a level where you might feel comfortable to use it on any mission critical work.
If you are not fond for experimentation you should pass on this adapter.  It could very well work on other lenses but it may not.   The good news is that a USB port is in there for future patches most probably which may fix and improve the hardware over time.  This is a good decision and something metabones has been doing for years.
Update 6/9/2015:  Word from Kipon regarding our questions: "Thank you very much for your information, we will improve this adapter in future, the adapter has a USB port probably to be able to improve compatibility via firmware, we will upload the update process link in our website.
Best Regards "
Update 6/24/2015:  Kipon has added a lens compatibility List based on their own testing.    It leaves a lot to be desired. Hopefully it will have a download update soon to improve compatibility across more lenses.
You can find the list here:
http://kipon.com/en/articledetail.asp?id=81
Update 9/15/2015:
 Kipon has added firmware 2.5 for the Kipon MFT to EOS EF adapter and has improved response for AF, camera/lens compatibility issues and more. 
You can find the update here and you will need a Micro USB cable to perform the update.  It does it very quickly and we had no issues updating.
New Firmware 2.5 new results from our testing:

FW 2.5 Notes: As you can see a lot of improvement has been made and the adapter now works flawlessly with many of the lenses.  A few exceptions like the Tamron 17-50 DI II 2.8 VC  has good aperture support but focusing works sometimes and others it does not.  Also VC or IS in this lens will not turn on in any mode. This lens has to be said works perfect on Metabones adapters with latest firmware and VC works aswell.
The 38-76mm Canon for some reason focuses in continuous mode in photo mode and can become a nuisance, its an old lens but the video mode is more stable. This lens will not focus fast or very accurate on any mode but works.
Big surprise was the 50mm 1.4 as it now works mostly but still focus is hit and miss and you need to close the aperture to f4 or more to get real focus confirmation. However iris and focus works.
The 70-300mm EF IS USM had the most improvement with  Excellent performance at all zoom ranges across the board very close to what it feels on a Canon body and IS works great also.
Lost of good and many improvements across the board we now feel more comfortable taking this adapter for real shooting situations and or paid gigs.  Test your lens collection in advance!

Old Veredict:

To early to call this adapter anything, we'll keep you informed as communication and compatibility improves as Kipon has hinted at.  It shows promise and it is first of it's kind and these kinds of issues go with the territory. The hardware is solid but the software needs work. 
New Veredict Firmware 2.5:  The adapter works much much better, you no longer have that erratic aperture and focus behavior that will force you to turn off the camera in order to get rid of it.   Most lenses are now usable but we did find a few issues that still remain to be resolved.    However the adapter is now much more usable and we can recommend it if you can live with the remaining issues.  We encourage Kipon to continue firmware development and improve the lens list compatibility.  However Metabones with their latest update has almost no issues and while it is more expensive it allows AF and aperture control with IS enabled even on many Sigma and Tamron lenses.   If you have the Kipon adapter however this is good news as their engineers are fixing issues and are making it more dependable every day!
Leave your comments below if you have success or compatibility issues with this adapter on your camera/lens combination.

HSC-
(Visited 14,276 times, 1 visits today)