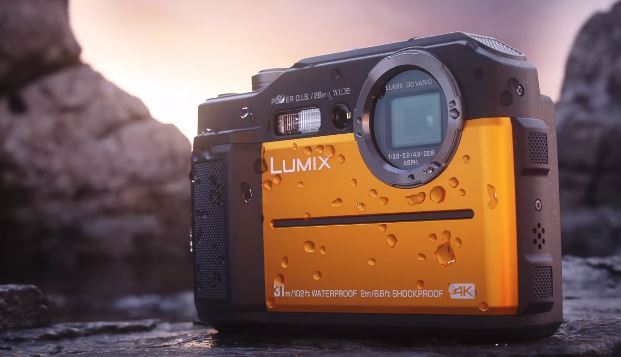 The Lumix TS7 by Panasonic "TS7 in the US, Canada,  FT7 outside of North America" is a well-rounded package when it comes to pricing and features.  It is a 4k 30/25/24 ready camera and it can go underwater 31 Meters or 102ft plus all the cool ruggedized features you might expect on a camera of this kind like being crush-proof up to 220lbs/100kg and freezeproof down to  -10 °C / +14 °F.  It is a real alternative to smaller action cameras like the GoPro, Xiaomi Yi 4k+ and Sony Action Cam series.
The lens is a 28–128 mm 35mm equivalent 4.6x zoom range which is quite sharp across the range as we have seen from samples. The main issue with this camera is the small 1/2.3″ BSI sensor and the fact that it packs 20MP or a resolution of 5184 x 3888px which is a little too cramped to be ideal for low light or in our view underwater performance without added bright artificial lighting.  ISO goes from a low of 80 to a high of 6400 which probably is already pushing it too much.  This camera would have been a better bet with a 10 or 12MP BSI sensor to maintain some edge in low light for the competition. 
Lumix TS7 Main Specs:
 Sensor Pixels
5184 x 3888

Size: 1/2.3″ (6.17 x 4.55 mm)

BSI-CMOS
| | |
| --- | --- |
| ISO | Auto, 80-3200 (expands to 6400) |
Video Recording American Model

3840 x 2160 @ 30p / 100 Mbps, MP4, H.264, AAC
3840 x 2160 @ 24p / 100 Mbps, MP4, H.264, AAC
1920 x 1080 @ 60p / 28 Mbps, MP4, H.264, AAC
1920 x 1080 @ 30p / 20 Mbps, MP4, H.264, AAC
1280 x 720 @ 100/120fps
| | |
| --- | --- |
| stabilization | Optical OIS |
Minimum shutter speed
4 

sec

Maximum shutter speed
1/1300 

sec

Maximum shutter speed (electronic)
1/16000 

sec
Continuous drive
10.0 

fps
| | |
| --- | --- |
| Durability | Waterproof 31m 102ft, Shockproof, Freezeproof |
| | |
| --- | --- |
| USB charging | Able to charge |
Scene modes

Clear Portrait
Silky Skin
Backlit Softness
Clear in Backlight
Relaxing Tone
Distinct Scenery
Bright Blue Sky
Romantic Sunset Glow
Vivid Sunset Glow
Glistening Water
Clear Nightscape
Cool Night Sky
Warm Glowing Nightscape
Glittering Illuminations
Handheld Night Shot
Clear Night Portrait
Soft Image of a Flower
Appetizing Food
Cute Dessert
Freeze Animal Motion
Monochrome
Built-in flash
Yes
Flash range
5.60 

m

 (with Auto ISO)
| | |
| --- | --- |
| Stills format | JPEG (Exif v2.31) NO RAW Option |
 Introducing Panasonic LUMIX FT7/TS7 by PanasonicLumixVideo:
What About the Slow Motion?
Since this TS7 camera aims to compete and gain market share from action cameras that usually are able to do pretty respectable high frame rate recording like the Hero 6 Black from GoPro ($397) , we had high hopes for this camera to be competitive in this area and allow for HFR mode along with OIS stabilization and the 4.6x zoom.
The only slow motion modes available are as follows:
1080p 50/60fps
720p 100/120fps
Quite underwhelming considering how the Hero 6 Black now allows for 240fps at 1080p resolution. This is a big let down for a camera that could really be a do it all vacation workhorse. The 4k quality is quite good and has the great 100Mbps codec that Panasonic has been able to perfect and retain detail that other brands leave to lesser implementations.
The video samples below by the great e PHOTOzine show the slow-motion capabilities and some live 4k zooming footage.
Panasonic Lumix FT7 (TS7) High Speed (720p, 100fps) by e PHOTOzine:
Panasonic Lumix FT7 TS7 4K Video – Durdle Door by e PHOTOzine:
Panasonic Lumix FT7 (TS7) 4K Video (Kayaking) by e PHOTOzine:
Other thoughts on the FT7 / TS7 :
As a vacation camera, this TS7 Camera package is hard to beat. It is ready for scuba, snorkeling, hiking, sandy / dusty environments and can take pretty decent 4k video.  The lack of RAW stills format is something that is not really forgivable for a seasoned photographer but the intended market for this sub $500 compact camera is not the hard to please image editor. Panasonic should have given a RAW format in any case as it would have given this camera a more competitive edge against the smaller competition.
At 20MP it will be a low light struggle as the small 1/2.3″ sensor even while using BSI tech will be unable to compete with larger BSI sensors like those from the Sony RX 1″ Sensor Line.  Panasonic could have added oomph to this camera by cutting the pixels in half or leaving it at 12MP with the latest tech. Their decision makes little sense in our view and brings back echoes of the megapixel war which we thought was over.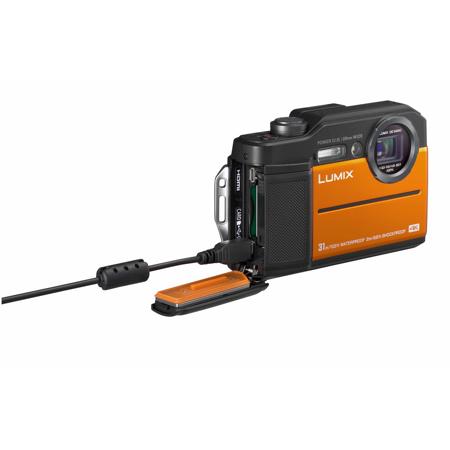 As a slow-motion camera, it is just an afterthought camera, capable of 120fps at 720p which is on the low-end side.  The quality is ok but not stellar and the big feature of this camera which is the built-in viewfinder for bright sunlight shielding is excellent as an addition but the overall package could have been better thought out.
All in all a really useful camera with some excessive megapixels that are really not needed in the age of Instagram and Social media shares. A 10MP image is still big enough for most web uses.
We are impressed by its ambition including the excellent for the price 4k recording but we are underwhelmed by the overall execution. Maybe Next time Panasonic could drop the pixel count, add some higher frame rates in the 240fps and up-spec and bundle a RAW image format.  Even at a higher price like $599 vs $447.99 (ADORAMA) for example, this camera would be an easier buy for many of us. -HSC
(Visited 341 times, 1 visits today)