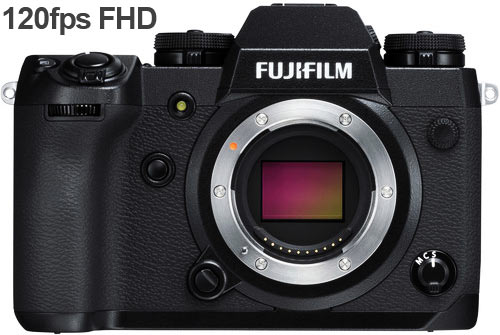 The FUJIFILM X-H1 which offers 120fps 1080p slow motion was a worthwhile effort to offer high frame rates that are usable to their video-centric base. It still was not as good as the Sony or Panasonic slow motion options due to aliasing, moire, and noise but with a little post work, it could be used with success in an edited piece.  FUJI then with a firmware update for their stills flagship the X-T2 allowed the camera to now shoot the same 120fps 1080p slow motion which makes sense considering they use the same sensor on both cameras.
The camera site CVP has done a full comparison review here which pits the X-H1 against the X-T2 to see which camera strengths are ahead on each body and if it makes sense for X-T2 owners who are invested in a FUJI lens system to upgrade.  Their findings are interesting and as far as slow motion it is clear that while they use most of the same imaging pipeline; the X-H1 has the edge with less crop, less aliasing, and better artifact suppression when using the 120fps slow motion mode.
FUJIFILM X-T2 vs X-H1 Slow Motion 120fps Video Test by CVP:
So out of the test, you can clearly see the X-H1 has an edge on quality for higher frame rate recording. Still however if you already own an X-T2 it would not make sense to upgrade to the X-H1 for this feature alone but you could make a case for all the extra video features like 4k, longer recording and better color profiles included in the package.
We do not consider the FUJI cameras to be class leading even at 120fps 1080p recording as Sony especially has a quality lead that is hard to approach and Panasonic is now offering up to 240fps in the GH5s which is still artifact prone.  The Panasonics do excellent slow motion up to 120fps and very good up to 180fps with quality with everything above that 180fps threshold having a heavy quality loss.
The FUJI X-H1 is a pretty remarkable video-centric mirrorless camera in its own right and offers the system owners a real alternative for video capture that can compete with the GH5 and a7 series in creating motion content. It may not be the best at anything video but that does not mean it can't create wonderful imagery like the samples below -HSC :
120 frames of Snow Motion – Fujifilm X-H1 by Fenchel & Janisch:
XH1 1080P 100FPS Slo-Mo Test Footage by Cam Attree Photography:
Fuji Xh1 slow motion test by Toby Maggs:
(Visited 1,055 times, 1 visits today)