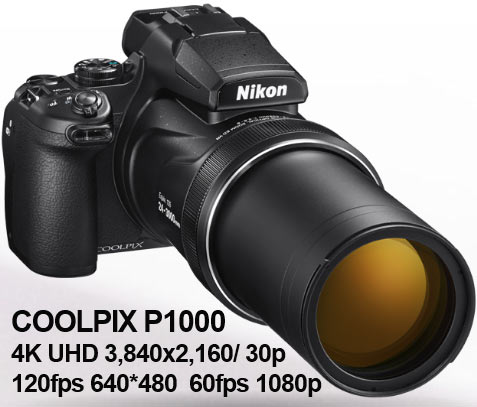 Nikon has either gone crazy or has analyzed a market that is actually alive and well when it comes to all in one prosumer compact cameras. The P900 was a best seller for several years in the segment with an 83x optical zoom formula of 24-2000mm equivalent. Now the new P1000 increases that range by 1000mm to do a previously ludicrous spec of 24 wide-angle to 3,000mm telephoto range or 125x optical zoom.
The sensor is tiny at 1/2.3″ the same as small compact cameras and just slightly larger than the typical phone sensor of 1/3″. This is what makes it possible for the camera to create such a zoom range without the lens being larger than a Napoleonic war artillery cannon.  The video modes are decent with 4k 30p but the high-speed modes are lackluster which is a shame considering this camera could be used effectively for extreme wildlife shots in super slow motion.
Nikon P1000 Main Features:
Lens Focal Length 4.3-539mm (angle of view equivalent to that of 24-3,000mm lens in 35mm format) 
125x optical Zoom-NIKKOR ED glass lens.
f/2.8-8 Range

Image Sensor

Effective Pixels (Megapixels) 16.0

 

 million

Image Sensor CMOS Sensor Size: 1

 

/ 

2.3

 

 in.

Image Size (pixels) 4608 x 3456 (16M)

Vari-Angle

 

 

TFT-LCD 

 3.2″ 

RAW Stills Mode

ISO 

 

100

 

–

 

1600

 & 

ISO 3200, 6400 (available when using P, S, A or M or Movie manual mode)

Weight : 49.9

 

 oz. 

(

1,415

 

 g

)

with battery and memory card
Nikon P1000 Movie Mode:
4K UHD 3,840×2,160/ 30p

4K UHD 3,840×2,160/ 25p

Full HD: 1920×1080/ 60p

Full HD: 1920×1080/ 50p

Full HD: 1920×1080/ 30p

Full HD: 1920×1080/ 25p

HD: 1280×720/ 60p

HD: 1280×720/ 50p

HD: 1280×720/ 30p

HD: 1280×720/ 25p

HS 640×480/ 4x

   120fps

HS 1920×1080/ 0.5x

  Speed Up!

HS 1280×720/ 2x 60fps

Coolpix P1000 Moon Shot at 2,000mm:
There is no denying the power of the zoom range but do not expect image quality to be outstanding even with all of that ED and Super ED Glass trying to fix the chromatic aberration and softness.  There is, of course, the fact that a small sensor in the 1/2.3″ size will mostly use the center of the glass to gather its light so, in theory, it should be able to use the sharpest part of the elements to get the image quality up to a good standard.
The camera will not be stellar in low light and the full moon if you have ever shot it is so bright that you can safely shoot it at 1/200 to avoid overexposure. Good luck shooting bats or other night creatures with any sort of acceptable quality. Appart from the moon or well lit night scenes or flash shots, this camera should be mostly used in the daytime to get acceptable quality.
High frame rates? (YAWN)
HS 640×480/ 4x   120fps
HS 1920×1080/ 0.5x  Speed Up!
HS 1280×720/ 2x 60fps
The P1000 Camera will only shoot 120fps in VGA 640*480 mode and up to 60fps in Full HD. There is no ultra-high-speed mode like in the Sony RX series cameras.  we are disappointed as this was a true competitor option to the Sony RX10 series in a similar form factor. Quality on the tiny sensor will also be lacking so any higher frame rates should be grainy and prone to artifacts.
This is an interesting camera for Nikon that cements their product line for extreme telephoto enthusiasts. However, if the quality is what you seek, you are better off with an RX camera with a 1″ sensor or a Micro 4/3 camera with a 400mm lens which will in EX Teleconverter mode be a good match to this one without having such a small sensor.  a GH4 or GH5 camera would be a better fit with a 400mm lens and a teleconverter, plus it will be less heavy when attached to a 14-140mm lens for example.  Cool camera but could have been so much more in the video department. -HSC 
(Visited 3,073 times, 1 visits today)