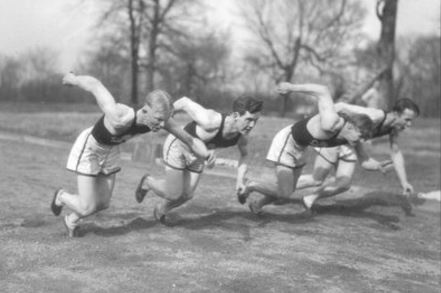 The Rio Olympics has been called many things so far but if you have been watching it closely it is probably the world event with the most slow motion cameras ever used. By some estimates there are about 1500 high frame rate capable cameras at the games anywhere from 120fps to 2,500fps. The quality is also astounding as full HD and even some 4k 120fps and Phantom 4k footage at 1,000fps has been shot.
In the history of high frame rate recording, sports has been probably the single most recorded subject by a long shot. Anywhere from running, tennis, soccer, diving, gymnastics, jumping, pole vaulting and even equestrian sports. There is a magic when high frame rates are used that not only conveys the difficulty of the acrobatic displays but in some cases allows judges to decide on an outcome that is too quick for the eye to see.
Slow motion cameras in the Olympics have been used since the 70s continuously by recording up to 240fps into tape with an initial delay for judging and highlight videos. Today it is used live and with little delay in most televised sporting events.  Some outcomes in the current Olympics like a controversial fencing decision and a beach volleyball hitting outside the area were easily judged by the use of these cameras.
Here are a few Olympic sports that we could find on Youtube that convey the importance of super slow motion in athletics.  We cannot use Rio 2016 footage because of restrictions by the Olympic comity and world broadcasters who have paid for these rights. Enjoy! 
Michael Phelps – Butterfly by SamuraiK7:
Slow Motion Diving At Los Angeles by British Movietone:
Fencing – In 'slow-motion' by Jesse Morris:
Gymnastics Slow Motion HD – Beijing Olympics 2008 by GoSports:
Swimming Slow Motion HD(Barcelona 2013) by fortovui1
Gymnastics in slow motion – 1000 frames per second by Commonwealth Games:
Top Slow Motions in Women's Diving 2016 – Kazan Diving World Championship by GoSports:
Usain Bolt beat Justin Gatlin HD 100m 9.79 Slow Motion by SportKratos:
Women's Pole Vault – video – Slow Motion – by EspectaVideos:
Equestrian slow motion by TMR:
The Uneven Bars Developments (50s-2010s) by comaneci1:
 All footage is linked to their respective posters, under the fair use information provision. All rights reserved to the original copyright owners. Title image from the public domain archive!
(Visited 1,943 times, 1 visits today)