We have been following the rumors on the next version of the Canon 5D with some subdued but hopeful enthusiasm. However, as many rumor sites now claim the final specs for the camera to be released next month probably at Photokina; it is clear that there is a big disconnect in performance from the common DSLRs in the Canon line and the mirror-less competitors from Sony and Panasonic.
There is a lot to like in the camera specs but also a lot of disappointing things for the video enthusiast or professional.   The camera has always been primarily a stills powerhouse and it is clear that this pedigree is maintained in the Mark 4. Auto Focus with dual pixel tracking support, pixel count and sensor should be heavily improved along with dynamic range as seen in the 80D and the impressive 1DX Mark II.
Specifications from Google Translator (RUMORED SPECS):
30.4MP CMOS
7fps
DIGIC 6+
LCD: 3.2 inches 1.62 million dot touch panel
Dual Pixel RAW: record one normal RAW file as well as a Dual Pixel RAW file. You can then use Canon's Digital Photo Professional and have access to three new post processing techniques listed below:

Image Micro-adjustment: by using the depth information, fine adjustment enables the position of the maximum sharpness and resolution
Bokeh Shift: to change the position of the previous blur (original: re-positions the viewpoint of foreground bokeh for a more pleasing result)
Ghosting Reduction: reduces the ghost and flare

New noise reduction algorithm
61 point AF, 41 crosstype
-3ev (-4ev in live view)
Anti-flicker
ISO 100-102400 (extended sensitivity)
24/30fps @ 4K
60fps @ 1080
120fps @ 720
4:2:2
8bit 500mbps MJPEG
Full HD: ALL-I (For editing / I-only), IPB (Standard), IPB (Light)
HD: ALL-I (I-only)
RAW file size

RAW: 6270 x 4480 about 36.8MB (A few have noted aspect ratio is wrong, 6720×4480 perhaps?)
DPRAW: 6270 x 4480 about 66.9MB  (A few have noted aspect ratio is wrong, 6720×4480 perhaps?)
M-RAW: 5040 x 3360 about 27.7MB
S-RAW: 3360 x 2240 about 18.9MB

Dust and weather-sealed
8.8mp still from 4K video
Time-lapse movie
Electronic Level, 2 axis
Built-in interval timer and valve timer
GPS built-in
Wi-Fi
FTP · FTPS can be transferred wirelessly also only in the body
NFC
SD / SDHC / SDXC and CompactFlash TypeII
USB 3.0, HDMI, microphone

Battery: LP-E6N / LP-E6

900 shot battery life (approx)
Size X 116.4Mm X 150.7Mm 75.9Mm
Weight 890g (1.96lbs)
These leaked specs are based on the information Rumors from Digicame-Info from the link below visit them for full info:
http://digicame-info.com/2016/08/eos-5d-mark-iv-12.html
Codec:
For starters the new 5D Mark IV is using a very outdated codec; the Motion JPEG codec now two decades old as it was introduced with Quicktime in the mid 1990s as a way to keep 8 bit footage compressed in the JPEG standard and steer away from uncompressed footage which back then when hard drives maxed in the hundreds of megabytes range was a very big deal.  Back then the standard for video worked as VGA 640*480  or 720*486 D1 Capture. Those sizes today are very small and hardly a bandwidth hog.
The MJPEG codec when it comes to quality is not bad at all with 4:2:2 colorspace support compared to 4:2:0 on h.264 in cameras like the Sony Alpha series and Panasonic Lumix GH series. However the gains compared to file size are not to be taken lightly.  at 500mbits/sec at 4k it is 5x the size of the competitors codec with image quality that is comparable for the most part. Writing to an SDXC or CF Type II at 62.5Megabytes/sec is a huge bandwidth hog. A 64 GB card fills up in just over 16 minutes of footage saved.
Slow Motion Frame Rates:
The 1DX Mark II showed that Canon was getting serious about frame rates with its full HD 1080p 120fps mode with All-I encoding. However now the 5D Mark IV will only have 120fps on 720p. This is contrary to what cameras of this caliber should be sporting when it comes to frame sizes.  The cannibalization of more expensive models is a concern for both Canon and Nikon and it shows here more than ever. Artificially limit capabilities in the low end so you get more sales in the high end. This is stifling progress and continues the erosion of the user base looking for more full featured cameras in the mirrorless market.
120fps at 720p is a spec more for 2013 than 2016.  Here the 5D Mark IV is a big disappointment. 1080p is supported in 60fps mode which is a step up and a welcomed addition. However the trend now is for 4k to support at least 60fps and 1080p at least 120fps. The 5D Mark IV even with 4k 30fps seems like a product at least in video terms more in tune with years past.
When it comes to frame rates Photokina in September (20-25th) will show just how far things in the mirror-less space have evolved and where high frame rates are going.  We hope to see some great announcements.
In the end it is good to see Canon reaching 120fps in a camera like the 5D Mark IV we just wish it was a little more forward looking in it's spec.
Dual Pixel AF:
Dual Pixel AF first introduced in the 70D, 80D and 1DX Mark II cameras now makes it's way to the 5D Mark IV which has been eagerly awaited.  Predictive AF has grown leaps and bounds in accuracy concerning the Canon line and it allows for some clever focus pull like motions that create beautiful de-focus effects.  Tracking moving subjects in video with DSLRs used to be about ninja skills but now it's so good that you can create production caliber follow focus when it works well.
For video Dual Pixel Continuous AF is the current area of innovation and the 5D Mark IV seems to be on par with at least the performance of the 80D in this regard.
1.7x Crop Sensor on 4k Video:
Yes you are getting 4k video at 30fps but you will also have a 1.7x field of view crop in 4k recording which windows the sensor to avoid downsampling artifacts.  at 1.7x we are getting less area than a Canon APS-C sensor at 1.6x and your Full Frame sensor goes unused in 4k. This is going to turn a lot of people off except for those naturalists that have a need for reach like bird watchers which will get instant telephoto.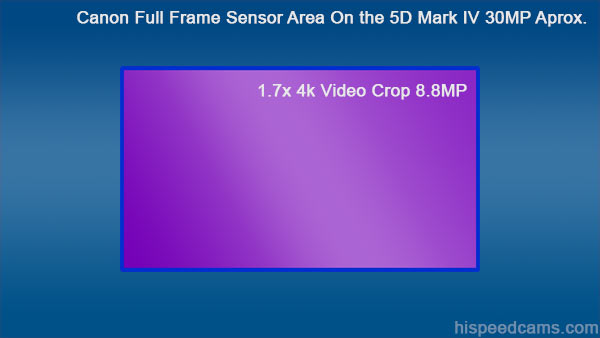 See this article on the crop sensor from EOS HD here for more info and how this crop affects your shooting!
We would rather get a mirror-less camera that has both 4k at a smaller crop factor and a windowed zoom for 1080p in those cases. It is a big compromise that will make this very undesirable for video enthusiasts of the 5D line of cameras.
Pricing and Availability:
While no firm release and pricing are available it is expected to cost from 3k to 3.5k USD and be released in early September 2016.
We will have full coverage of this and other cameras in the coming weeks! Thanks for reading – HSC!
Sample from Canon 5D Mark IV slow motion mode by Clifton Cameras:
Sample video of the Canon 1DX Mark II 120fps Full HD video, this can give you an indication of the quality expected from the 5D Mark IV; albeit at 720p instead of 1080p:
Canon 1DX Mark II 120 FPS – 1080P Slowmotion Surfers Paradise by Charliemedia:
(Visited 6,303 times, 1 visits today)