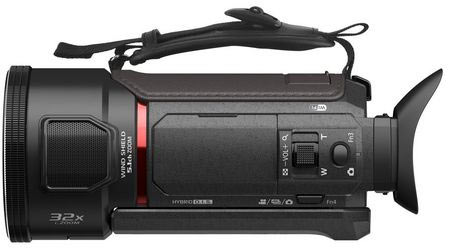 Panasonic besides formally announcing the GH5s Lumix camera at CES 2018, also introduced 3 new camcorders that will replace their current offerings, in what could be a dependable yearly occurrence.   Panasonic seems to avoid the fact that camcorder sales are probably as rare as Blackberry devices these days but whatever their motivations are, it seems Panasonic, Sony & Canon are keeping the flame alive.
With every introduction, Panasonic seems to improve steadily in image quality and features with continued innovation especially in the areas of HDR imaging and O.I.S Optical Image Stabilization which now sports a hybrid system that uses three technologies to create what might be the best stabilized camcorder ever produced. The demo is certainly impressive and should make every high zoom fan excited about the possibilities of this technology in higher end gear.
HC-WXF1K – Premium Model 4K Camcorder features professional-level functionality including EVF and Manual Ring Operation $999.99 USD
HC-VX1K – provides performance without compromise with 4K picture quality and new 4K cropping functions $799.99 USD
HCV-800K – Full HD Camcorder features newly developed Leica lens and new large MOS sensor
HC-WXF1K Main Features:
4K Cinema-Like recording experience with advanced in-camera capture and button control options.
LEICA DICOMAR 24X optical zoom lens (25-600mm, F1.8-4.0), and large 1/2.5" BSI MOS Sensor for impressive capture even in low light.
Three Optical Image Stabilization (O.I.S.) technologies work together for impressive stability under many shooting conditions; 5-Axis Hybrid O.I.S. Plus, Ball O.I.S., and Adaptive O.I.S.
Electronic Viewfinder (EVF) and manual control ring that emulates a professional recording experience.
For a more natural looking image, a new Active Contrast feature equalizes contrast, and the HDR Movie mode enables a wider dynamic range between dark and bright areas.
4K High-Precision AF
Enjoy high-speed, excellent tracking performance and stability. With Custom AF, you can also choose from three focus modes.
Active Contrast
Automatically equalizes the gradation in response to the brightness distribution within the image.
4K Cropping
When shooting in 4K, your subjects stay framed, without blurring, because you can edit the images in the camera and save them in Full-HD.
Cinema-Like Effect
Allows Dolly Zoom and other professional-like shooting techniques used in cinema films.
Wide 25mm* and Optical 24x Zoom Lens
The New 4K lens covers the range from 25mm wide-angle to 600mm tele with a 24x zoom achieved by a 4-Drive Lens System. The stunning wide-angle setting not only fits large groups of people and background images into narrow locations but is also convenient for taking selfies with a rotatable LCD.
* 35mm camera equivalent. Available with 4K and FHD/24p mode.
5-Axis HYBRID O.I.S. +
Uses five-axis correction to thoroughly suppress blurring all the way from wide-angle to powerful zoom shots.
Adaptive O.I.S.
Automatically optimizes the O.I.S. effectiveness by adjusting the O.I.S. mechanical control to various shooting positions, conditions, and user characteristics.
Ball O.I.S.
Reduces wear on the drive section, and greatly improves correction for small-amplitude hand-shake.
Level Shot Function
Automatically detects and corrects the tilting of captured images.

HSC- We will only focus on the WXF1 and the VXF1 which share most of the features except manual ring control and extra software enhancements.
Slow Motion Feature

120fps Only

:
As far as slow motion goes the two cameras only offer 1080p 120fps high frame rate with no mention of 240fps interpolation like the previous iteration. The cameras have a new BSI CMOS sensor that should make the cameras shine in low light compared to the previous model. Expect the gains in low light to be conservative at most as it is very hard to improve on such tiny sensors with high zoom ratios.  However, Panasonic press says otherwise:
"Create brilliant videos even in dimly-lit places
The new large BSI MOS Sensor found in the 4K camcorders (HC-WXF1K / HC-VX1K) and the Full-HD camcorder (HC-V800), combined with the bright F1.8 lens, improves low-light shooting performance by approximately 70 percent compared to previous 4K models. By suppressing noise when shooting in low light situations, such as indoor scenes and nightscapes, videographers are able to capture the perfect footage anytime, anywhere"
That should be pretty good performance along with the improved HDR recording.
The new Adaptative O.I.S technology above seems to combine gyro stabilization along with warp electronic image stabilization to create a very convincing result for extreme handheld zoom.  This is the best stabilization we have ever seen on a camera of this kind. Panasonic seems to innovate even in product lines that find it hard to create a growing market. Hopefully, these technologies will find their way to other cameras in their line.
Three Optical Image Stabilization (O.I.S.) technologies work together for impressive stability under many shooting conditions; 5-Axis Hybrid O.I.S. Plus, Ball O.I.S., and Adaptive O.I.S. "
We will have some slow motion samples in the future as they begin to ship, expect at most the same quality as last year models.  120fps is no longer the expected frame rate, 240fps is going to become commonplace and these devices will not be ready. Maybe Panasonic will change that next year. Still these camcorders are some of the best ever produced. We would recommend them for people who want extreme portability and no learning curve. They just work and create beautiful pictures that simply are unmatched by cameras just 3 years ago. -HSC

More information on these Panasonic cameras:
HC-WXF1K :  http://shop.panasonic.com/cameras-and-camcorders/camcorders/HC-WXF1K.html
HC-VX1K : http://shop.panasonic.com/cameras-and-camcorders/camcorders/HC-VX1K.html
(Visited 3,350 times, 1 visits today)