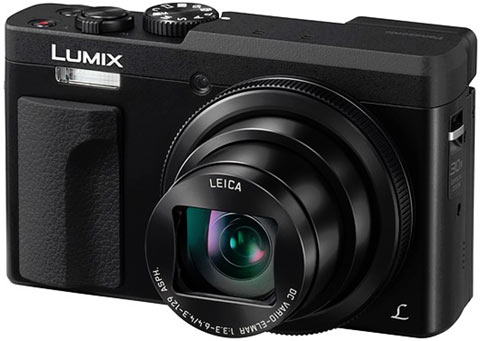 Panasonic has released a new compact super zoom camera in the  Lumix DC-ZS70 (TZ90 outside of US & Canada). The camera is no slouch with a 20.3 MP new MOS Sensor with their Lumix Depth from Defocus or DFD AF technology; present in cameras like the GH5 & GX85. The camera also re-stocks the bundle with the compact lens that is able to offer 30X, 24-720mm in 35mm equivalent terms.
The camera also has 4k video at 30fps but excludes for some reason the 24p mode which film makers crave. Slow motion features are present but modest at 1080p 60fps and 720p 120fps which work across the entire 30x zoom range.  This camera is a powerful point & shoot option that won't break the bank at $447.99 USD MSRP.
Panasonic Lumix ZS70 / TZ90 Main Features:
20.3MP 1/2.3″ MOS Sensor
Leica DC Vario-Elmar 30x Zoom Lens
24-720mm (35mm Equivalent)
1.166m-Dot Live View Finder
3.0″ 1.04m-Dot Tilting Touchscreen LCD
UHD 4K Video Recording at 30p
5-Axis HYBRID O.I.S.
ISO 6400 and Up to 10 fps Shooting
4K Photo Modes
Focus Stacking and Post Focus
Video Resolution
3840 x 2160 (30p), 1920 x 1080 (60p, 60i, 30p), 1280 x 720 (30p), 640 x 480 (30p)
CODEC Format
MPEG-4, AVCHD
Shooting Modes

3840 x 2160 @ 30p / 100 Mbps, MOV, H.264, AAC
1920 x 1080 @ 60p / 28 Mbps, MOV, H.264, Dolby Digital
1920 x 1080 @ 60i / 24 Mbps, MOV, H.264, Dolby Digital
1920 x 1080 @ 60i / 17 Mbps, MOV, H.264, Dolby Digital
1920 x 1080 @ 60p / 28 Mbps, MOV, H.264, AAC
1920 x 1080 @ 30p / 20 Mbps, MOV, H.264, AAC
1280 x 720 @ 120p / Mbps, MP4, H.264, Linear PCM
1280 x 720 @ 30p / 10 Mbps, MOV, H.264, AAC
Panasonic Lumix TZ90 by Panasonic:
Looking at the video performance it's easy to see the Panasonic TZ90 will not win any prizes with a 30x lens zoom range. The images look a bit dreamy and soft depending on the lens mm range. The 4k footage is detailed but not class leading with chromatic aberration apparent. It is also hindered by it's smallish 1/2.3″ (6.17 x 4.55 mm) BSI sensor which at 20MP is a little cramped for light gathering. The dynamic range suffers greatly in harsh contrast conditions but there is no doubt the camera will match or exceed most smartphones.
The AF uses the Depth from Defocus algorithms that work most of the time but the continuous performance is not good for VLoging as faces will come in focus but hunt sporadically creating a completely blurred image at times.  The DFD technology works perfectly for still images but suffers in video as evidenced in the GH5 Autofocus tests that have created quite a bit of negative press for that camera.  Panasonic needs to fix these algorithms in video mode to be able to at least remain in focus with face detection.  Loosing focus while perfectly still on faces with little motion makes this technology a no go for the needs of VLogers worldwide.
The Slow Motion capability should be marginal and the zoom range will be good for far away subjects like birds and other wildlife. 120fps is hardly class leading as the Sony RX cameras offer better value for money "See our Best Slow Motion Cameras of 2016"  albeit with a more limited zoom range.
There is a small crop when shooting 4k compared to 1080p so you will for instance get 35mm in 4k when full HD will use the whole wide aspect at 30mm. You will have to keep that in mind.
Vlogging with the Panasonic Lumix TZ90 by Photogearnews:
We will try to get slow motion samples of the Lumix TZ90 / ZS70 camera when available but rest assured this is not a slow motion enthusiast's tool.  You should look at Sony's RX100 III & IV for a better overall camera. We expect the RX100 IV to be price competitive within $100 USD in less than a year's time as new models are introduced. If you can afford a more pricey but increasingly future proof camera with amazing Slow Motion and continuous AF capabilities then we suggest you check out the RX100 V.


New LUMIX TZ90 / DC-ZS70 Press Release:
24mm Ultra-Wide-Angle 30x Optical Zoom* in a Compact Body for 4K VIDEO/4K PHOTO
Newark, NJ (April 18, 2017) – Panasonic is proud to introduce a new LUMIX DC-ZS70 as a new model in the popular "Travel Zoom" ZS series. By upgrading the sensor to 20.3-megapixel resolution, the LUMIX ZS70 boasts a 30x optical zoom (35mm camera equivalent: 24-720mm) packed in a pocket-sized body while enabling 4K VIDEO/4K PHOTO capture. The new tiltable rear monitor allows users enjoy a variety of selfie shots including 4K selfies and panoramic selfies.
The versatile ultra-wide-angle 24mm 30x optical zoom LEICA DC VARIO-ELMAR lens is useful in virtually all situations. Having passed Leica's stringent standards, the LUMIX ZS70 boasts exceptional optical performance with stunning clarity and minimum distortion and flare. 
The new 20.3-megapixel High Sensitivity MOS sensor and Venus Engine image processor allows users to capture high-quality images even for high-sensitivity recording in dimly lit environments. 
The LUMIX ZS70 is capable of recording smooth, high-resolution QFHD 4K videos in 3840 x 2160 at 30p (60Hz) in MP4. *1*2 Taking advantage of 4K technology, users can capture fleeting photo opportunities at 30 fps in 8-megapixel equivalent resolution as a 4K PHOTO. Additional functionality based on 4K technology are also available. Post Focus enables users to easily select the in-focus area after shooting. The Focus Stacking function allows users to adjust the depth of field after shooting by combining multiple images shot with the Post Focus function, all inside the camera. In addition, the LUMIX ZS70 incorporates a Light Composition function with which the camera synthesizes the images by choosing and saving brighter pixels. This makes it possible to produce more luxurious, dramatic images of situations such as fireworks or night scenes inside the camera with ease. 4K Live Cropping in video recording achieves stable panning or zooming with high-resolution 4K video footage. Users can make perfect Full-HD videos by adding impressive effects after recording the original footage in 4K. Thanks to camera's digital operation, this can be done without physically moving the lens.
For even faster response and higher mobility, the LUMIX ZS70 integrates the DFD (Depth From Defocus) technology*3 to achieve ultra-high-speed AF of approx. 0.1 sec. It contributes to high-speed burst shooting at 10 (AFS)/5 (AFC) fps. The LUMIX ZS70 also features a variety of AF functions, such as Touch AF, 49-point AF, and Low-light AF that help users to get the best results in a wide range of shooting situations.
The 3.0-inch 1,040k-dot rear monitor with touch control tilts up by 180 degrees and the camera goes into Self Shot mode automatically once the monitor is flipped. In Self Shot mode, various functions for selfies are available on the LUMIX ZS70, including a newly added 4K Selfie mode. The beauty functions enable users to shoot portraits – especially of women – more attractively with Soft Skin, Defocusing and Slimming effects. After shooting, aesthetic/make-up retouching can even be applied inside the camera with the Beauty Retouch function. And users can choose to capture the background clearly or defocus it depending on the situation with Background Control mode. Panoramic pictures can also be shot in Self Shot mode. A 0.2-inch 1,166k-dot EVF (Electronic View Finder) with eye sensor is also equipped for easy shooting even in sunny outdoor conditions. The Control Ring on the lens barrel enables quick, intuitive operation. For more creative freedom, RAW image recording, Creative Control filter mode, and Creative Panorama mode are available.
With Wi-Fi® connectivity, users can also connect the camera to their smartphone or tablet to expand the flexibility in shooting, storing, and sharing images. 
Packing a powerful 30x optical zoom and 4K VIDEO/4K PHOTO shooting performance in an ultra-compact body, the new LUMIX ZS70 offers the enjoyment of a high-quality photo/video shooting and selfie experience in versatile ways any time and any place.
Other Features
5-axis HYBRID O.I.S. (Optical Image Stabilizer)+*4, Creative Control, Panorama Shot, AC/USB Charging
(Visited 3,671 times, 1 visits today)