Sony is taking straight aim at Canon and Nikon's Professional sports photography market with the new Alpha a9 Mirrorless. It shoots 20fps full frame at 24.2 Megapixels RAW 14 bit up to a maximum  241 raw frames or 12 seconds before writing to the card. This is not only impressive but world class leading. Furthermore the camera is able to do it with full AF using a new 693 point system and without frame blackout in the viewfinder.
The Camera has a now standard slow motion mode in Sony cameras of 120fps at Full HD 1080p resolution with great detail. This is done with the help of a new stacked full frame sensor which is the technology perfected in the Sony RX series and now the Xperia Phones. However the lack of any professional video profiles like S-Log3 will put off the video centric crowd.
Sony a9 Mirrorless Main Specs:
24.2MP Full-Frame Stacked CMOS Sensor
BIONZ X Image Processor
Internal UHD 4K Video "NO S-Log"
120fps Full HD Slow Motion Video*
5-Axis SteadyShot INSIDE Stabilization
693-Point AF with 93% Frame Coverage
Blackout-Free Quad-VGA 3.7m-Dot OLED EVF
3.0″ 1.44m-Dot Tilting Touchscreen LCD
20 fps Shooting and ISO 204,800
Built-In Wi-Fi/Bluetooth, Dual SD Slots
Integrated LAN and PC Sync Terminals
NO touch screen!
Sony | α | α9 Unveil by Sony:
There is no question the camera is not only amazing in it's processing power but shows the future of the evolution of the sports camera with no end in sight to performance.  The completely silent shutter if needed at 20fps full frame still images can now be used in any event that requires complete and utter silence. Golf, olympic events like track & field; or even weddings can now be shot with perfect clarity on a camera that has no sound.  You can still enable an audio shutter if you need the feedback but it is hardly a need when the camera is this stealthy. It is almost like shooting video but with RAW stills.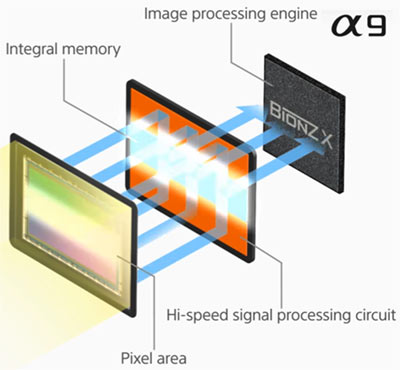 The camera is pegged at 20fps which is just 4 frames short of cinema 24 which would enable 24.2MP of RAW video to be shot in the camera for about 10 seconds.   The shutter being electronic will not degrade by use since the absence of a mirror negates the shutter count which is the Achilles heel of every DSLR.
Sony | α9 | New image sensor – 35mm full-frame stacked CMOS sensor with integral memory by Sony:
As you can see the now commonplace stacked sensor technology pioneered on the Sony RX series of cameras is now present on a full frame professional solution. Sony has pushed the envelope of sensor block design by using built in memory buffers in the Exmor sensor to be able to record an unprecedented amount of data at up to 1/32000/sec shutter speed. This is 4x faster than the 1/8000 common on DSLRs in the semi and professional segments. The rolling shutter is also greatly reduced by the new sensor stacked technology but not entirely eliminated from the frame. Still it should provide the best rolling shutter performance in a mirrorless or DSLR full frame camera to date.
There is a lot of expectation for the Sony a7s III to be using the new Sony stacked sensor technology and the new a9 makes it ever more possible by debuting the technology on full frame. In theory an a7s III camera with stacked sensor and 12 megapixels should be able to produce 4k 60p with no problems and up to 240fps in full HD slow motion. Maybe even faster 720p if Sony is permissive enough with their specs.
No S-Log or flat profiles?
Sony A9 Hands on First Look – Amazing EVF – 20FPS RAW! NEW BATTERY! Max Yuryev
From the video above you can see that Sony has opted to cripple the camera in the video department as to probably not cannibalize the sale of other more professional camera solutions. A camera that creates full frame 4k from up-sampled 6k with incredible detail and dynamic range could create a vortex that swallows a lot of the professional video customers.
With the ISO performance being also class leading at ISO 204,800 on the high end makes it for a pretty formidable video powerhouse. It is unclear if the maximum ISO will be usable in video mode or capped at something lower. By including flat picture profiles like S-Log3 Sony could effectively be making a camera rivaling the image quality of best of breed video only cameras in their stable. However we thing crippling the camera by not including these profiles will only reduce possible sales of the camera and benefit the competition like Canon or Panasonic.
Sony could in theory produce firmware that re-introduces the profiles tab with S-Log3 Gamma. Such an update for the a9 Mirrorless  would cement Sony as a real headache for other mirrorless ILC video competitors.  If Sony disables the tab on an upcoming camera like the a7s III it would really create a climate of distrust from the video production community.  We hope this is not the case.
Sony | α | α9 High resolution full-frame 4K by Sony:
From the video sample above you can see the camera is in real need for an S-Log3 profile so highlights are not lost in contrasty situations. This camera screams for a flat curve to really unleash it's full potential. The video crispness and down-sampling from 6k is pretty impressive and creates an image even in 4:2:0 8 bit color space that looks inspiring.
Sony a9 Mirrorless Slow Motion Specs:
3840 x 2160p at 24, 25, 30 fps (100 Mbps XAVC S via H.264)
3840 x 2160p at 24, 25, 30 fps (60 Mbps XAVC S via H.264)
1920 x 1080p at 100, 120 fps (100 Mbps XAVC S via H.264)
1920 x 1080p at 100, 120 fps (60 Mbps XAVC S via H.264)
As you can see the 120fps recording has two modes in the camera with a much better codec implementation in the 100 Mbps spec than the limited 60 Mbps.  The camera should deliver outstanding color, detail and dynamic range for this frame rate as well.  It is also not cropping the full frame sensor for producing the 120fps mode which means full frame slow motion goodness. We will have samples of this mode when available.
As a slow motion camera, the a9 is not really cost effective with a hefty price tag, you will be better served by a Sony a6500 or Panasonic GH5; in the high frame department with much less investment dollars.
Since there are no a9 samples in the 120fps mode yet; we have included below an a6500 120fps full HD video that shows the feature in use. You can expect pretty close performance but on a full frame sensor for the a9 mirrorless camera.
Sony a6500 1080p 120fps slow motion test by Mike TV:
Pricing and availability:
Other notes:
There is no question the new Sony a9 Mirrorless is an amazing piece of photography technology. There is in a sense, signs of the beginning of the end for all DSLR mirrored cameras plastered all over this camera. With AF that should rival all others or maybe even exceed it, performance that eclipses the 12fps record of RAW full frame on their competitors, and a fully silent without black out shooting experience; Canon and Nikon must start to transition. We see a world where events in the realm of sports, press conferences and weddings start to prohibit mirrored cameras due to noise.
Trump, Obama Meet at The White House: Full Press Conference by ABC News:
The video above shows the problem directly with historically significant events being interfered by camera shutter sounds. The mirrored camera is directly interfering with the experience of live events for video recording and it must be phased out.  Sony has shown that a professional camera can be pin drop silent while outperforming in speed by a high margin. In our view any photo journalist should really start to transition to something like the a9 to #1 don't miss the shot and #2 be stealthy.  Paparazzi will probably also be first in line for cameras like these.
Sony is throwing a flying javelin at the professional camera establishment, hope they are paying attention and respond in kind. 


(Visited 5,265 times, 1 visits today)