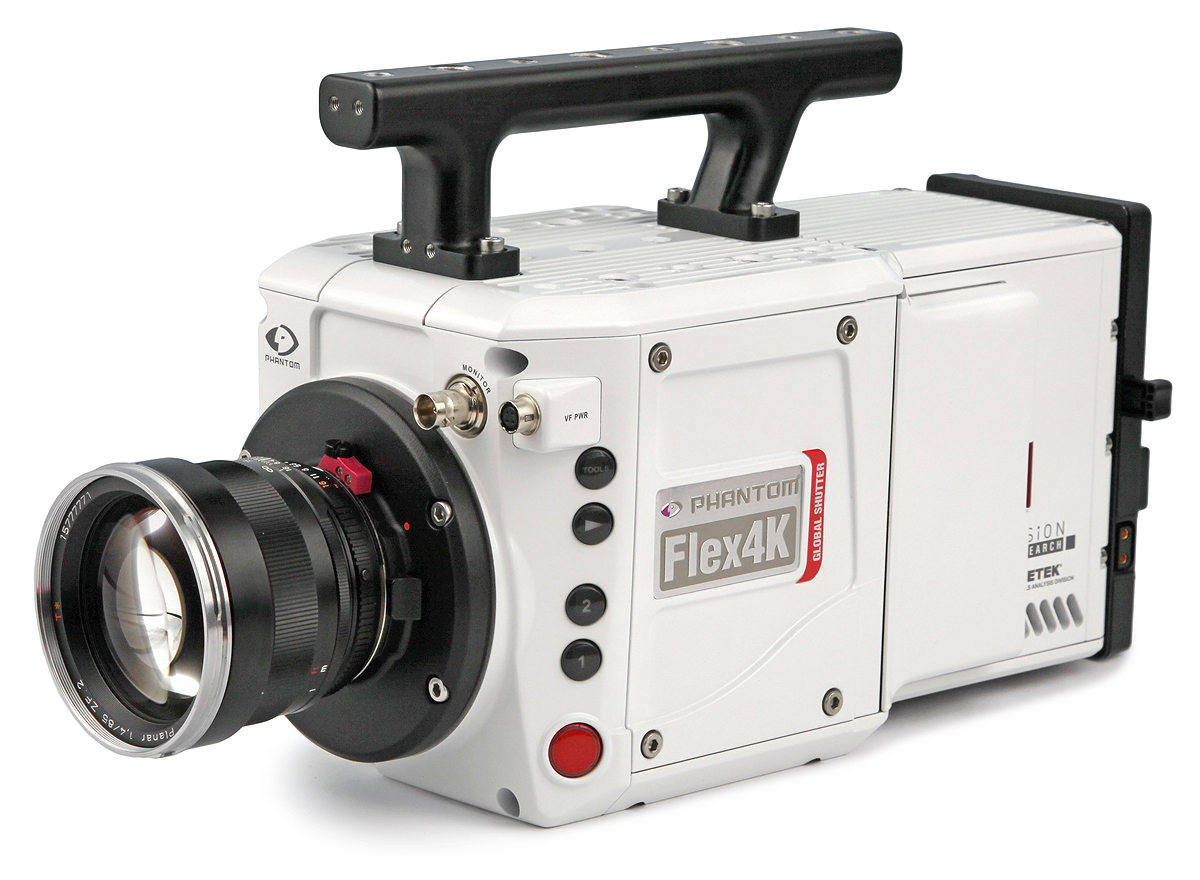 The Phantom Flex 4k camera has made a big splash in TV, Film and Youtube with it's amazing 4k resolution at 1000fps with a large S35mm sensor. However the first iteration of the camera only had a very fast reading; but in the end a rolling shutter sensor. This made the camera an option for visual recording only; leaving scientific research at 4k out of the realm of the camera due to distortion.
That changes today with the Phantom Flex4k-GS which offers the option to use the sensor in both rolling shutter and Global Shutter mode which is a first on a camera of this resolution. Now scientists can use the resolution prowess of the camera  to examine minute detail that needs extreme speeds to be recorded.
Phantom Flex4K-GS Main Specs:
9.4 Megapixel resolution
S35 Sensor 27.6 mm x 15.5 mm – 31.7mm diagonal
4K at up to 1,000 fps
2048 x 1080 max speed is 1977 fps
Super-16mm windowed format at 1920 x 1080
Global Shutter (GS), Switchable to Rolling Shutter (RS)
Global Shutter (GS): Base ISO 640T Color; 5000T Mono
Recommended ISO range GS mode: 1000-1600 Color; 10,000 – 20,000 Monochrome
6.75 µm pixel size / 12-bit pixel depth
8 Giga Pixels/second
Full featured on-Camera Control Menu
CineMag IV Compatible
Choose between Raw and Compressed Recording Formats
10 seconds at 1000 fps, 4096 x 2160 resolution and into 128 GB of internal memory
2TB CineMag IV holds 2 hours of 4K Cine raw playback at 24p
2TB CineMag IV holds over 4 hours of 4K ProRes HQ playback at 30
Cine raw and Apple ProRes 422 HQ CineMag recording
PCC Cine file conversion to: Cine Compressed, Cine RAW, AVI, h.264 mp4, Apple ProRes .mov, Multipage TIFF, MXF PAL, MXF NTSC, Uncompressed QuickTime, Windows BMP, OS/2 BMP, PCX, TGA, TIFF, LEAD, JPEG, JTIF, RAW, DNG, DPX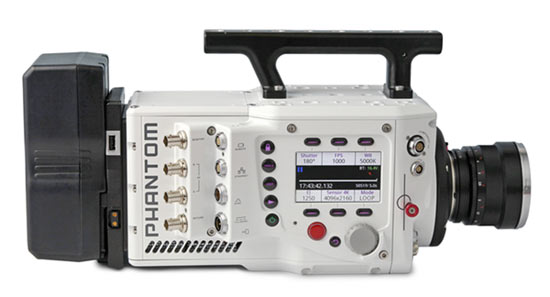 One Impressive State of the Art Camera:
One thing you can clearly see is that this camera is not only unique but in a class appart. At 8 Gigapixels/sec it is eclipsing other similar cameras by several orders of magnitude.  Samsung's recent anouncement of the Exynos 9 8895 has a maximum 1 GPixel bandwidth so effectively 7 times slower than the new Phantom Flex 4k-GS.
The cost is not mentioned but by going by the original Phantom 4k which doing a quick search on Google says $110k starting price.  Sure far from affordable to the common man and many small production studios. But for scientific labs, enterprise and Youtube slow motion channels it seems like a rig of $150k is a sure possibility. Being cutting edge will be costly but you have to admire the image quality and features the Phantom Flex 4k and GS are capable of.
This camera is better suited for the rental market and even then it is far from cheap. Prices quoted on some sites are: Daily Rental $3500 Weekly Rental $10500.   You could get a full featured edgertronic SC2+ for the weekly rental price and get near 5k fps at 720p. However if you are a production house and just need the camera for a day and absolutely require 4k resolution; there is no other game in town.
The examples below are from the original Phantom 4k non GS version for you to see the 4k 1000fps capability.
Phantom Flex4K – "Let me know when you see Fire" by  Gregory Wilson:
Scarlet Macaws Phantom Flex 4K 1000fps by Chater Camera:
Phantom Flex4K Creative Painting UltraHD/4K 1000fps by info123pl:
Phantom Flex4K-GS Rundown from Vision Research:
Built upon the Phantom Flex4K cinema camera platform, the Flex4K-GS incorporates a global shutter with its 4K, 9.4 megapixel, 35mm sensor.  The camera's 4K resolution results in the ability to capture sharp, detailed images for enhanced measurements.
At its full 4096 x 2304 resolution the camera is capable of capturing 938 frames per second (fps). At 4K 4096 x 2160 the frame rate goes up to 1,000 fps and at 2K resolution the camera can capture over 1900 fps.  The minimum exposure is 5 microseconds.
The main difference between the Flex4K-GS and the original Flex4K is the addition of a global shutter mode.  This enables the camera's use for industrial and scientific applications where a rolling shutter cannot be used due to possible motion artifacts and the progressive scan behavior of each exposure.  While rolling shutter cameras typically achieve higher dynamic range and lower noise, the way the electronic shutter integrates can create motion artifacts, making high precision measurements impossible.  The Flex4K-GS has the unique ability to switch between global and rolling shutter modes to take advantage of both scenarios.
The camera works with Phantom PCC software or on its own using an integrated control menu. This along with the CineMag IV media lets you customize the best workflow or capture technique based on the subject at hand. The Cine raw format ensures the fastest high-speed capture on set and maximum quality and versatility for post-production. Alternatively, choose Apple ProRes 422 HQ to improve download time, hard drive space and simplify the workflow, while maintaining excellent image quality.
Key Features
Full resolution 4096 x 2304
Up to 1,000 fps at 4096 x 2160
Global shutter (GS) mode, switchable to rolling shutter (RS) mode.
Phantom CineMag IV recording media (1TB & 2TB)
Cine Raw and Apple ProRes 422 HQ recording formats at full resolution
Up to 128GB of internal memory
Video monitoring: 4x 3G HD-SDI outputs and one additional component viewfinder port.
Optional Integrated battery mount supporting industry standard batteries
Lens mount: Interchangeable between Nikon F/G, Canon EF and PL mounts.
2x 12V and 2x 24V accessory outputs
What's in the Box
Power supply
Ethernet cable
Flex4K MiniBOB
Camera ships in a sturdy Pelican case with custom foam
Windows-based Phantom PCC software (camera control, image manipulation, download / transcoding)
User manual
You can read more and get all the pertinent information on the Phantom Felx 4k-GS at the Vision research website here:
https://www.phantomhighspeed.com/Products/Flex4K-Products/Flex4K-GS
(Visited 1,743 times, 1 visits today)