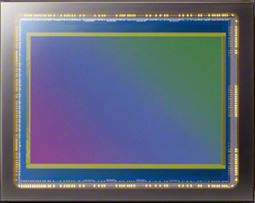 A rumored Sony sensor  part code IMX189AEG  has been captivating the camera rumor world last week. The specs seem almost like a fictionalized version of a wish list but it may well be not only real but a sign of things to come in sensor technology. The sensor specs are as follows:
6K Video at 240fps
2K Video at up to 16,000fps 16 bit
1080p  max 24,000fps
1.5″ Sensor Close to Micro 4/3ds size
4.85 megapixels using Active Pixel Color Sampling
Global Shutter
Native ISO of 5120
Max ISO 655,360
Active Pixel Color Sampling reads RGB signals on a single pixel so a 4.85 Megapixel sensor equates to a Bayer pattern sensor of about 15 Megapixels. This creates huge pixel spaces and increased dynamic range along with faster read out times and a global shutter.
EOS HD has an in depth analysis that explores the capabilities of the rumored chip and its implications for a camera that will sport this impressive new sensor technology.  The takeaway is that this sensor will probably be used on a high speed Sony camera and not on a regular video camera.   This is all speculative but makes sense.
Sony has been gaining a lot of headway in sensors and cameras that provide high speed imaging to the average film maker and video enthusiast. The FS700 and FS7 are examples of this trend and the new paradigm suggests that high frame rates might be the killer feature that Sony will use to trump competition and differentiate their cameras from the rest.
Sony's sensor technology is some of the best in the world and innovates constantly, if this sensor is to be released into a product, it would pave the way for adoption of high frame rates with great resolution, color accuracy, global shutter and ludicrous ISO levels which will be needed for such high frame rates.
The sensor is rumored to be included on the upcoming Sony Xperia Z4 smartphone but the size alone seems to be the wrong fit for a phone sensor. It could also be a phone like the Galaxy Camera from Samsung using a servo retractable lens. We just cant seem to believe that this technology will be in a phone at this time.
We can do nothing but speculate on the implications but we may very well be at the branching point in camera technology that will allow low cost Phantom camera like performance for an affordable or at least sensible price.
Happy Thanksgiving in the US to all who celebrate it!
(Visited 1,049 times, 1 visits today)